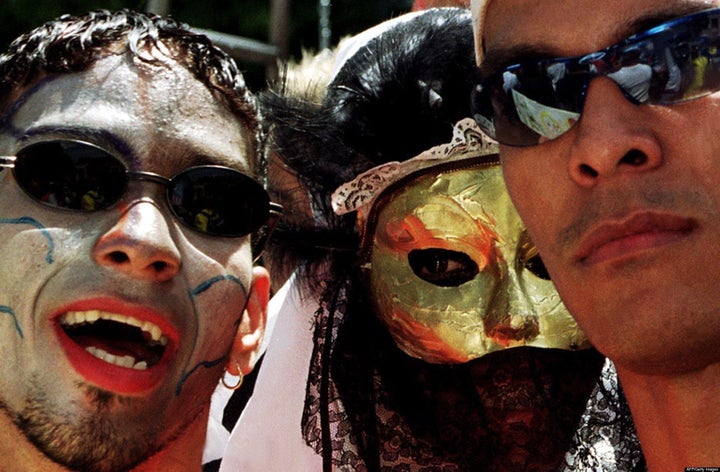 CARACAS, Nov 4 (IPS) - One Friday at around midnight, on Villaflor Street, a favourite spot for gays and lesbians in the Venezuelan capital, Yonatan Matheus and Omar Marques noticed two Caracas police patrol vans carrying about 20 detainees, most of them very young.
When Marques and Matheus, who are gay leaders of the Venezuela Diversa (Diverse Venezuela) organisation, approached to find out what was happening and take pictures, they were picked up too.
"Like most of those arrested, our identity documents and mobile phones were taken away, we were beaten, our sexual orientation was insulted in degrading language, and we were refused permission to speak to the Justice Ministry officials and members of the National Guard who were present," Matheus told IPS.
The vans set out for the Caracas police headquarters with their load of detainees, but Marques, Matheus and two minors were left by the main highway crossing the city. They had to walk to the city centre, where they contacted officials at the Ombudsman's Office to file complaints.
This incident in October was one of the multiple arbitrary arrests carried out against the GLBTI (gay, lesbian, bisexual, transvestite, transgender and intersex) community, within the framework of Operation Safe Caracas, a campaign to crack down on crime involving personnel from several police forces and the National Guard, a military body with police functions.
The Venezuelan capital, with five million people living in the metropolitan area, is one of the most dangerous cities in the world; the annual murder rate is in excess of 135 per 100,000 population. In the third week of October alone there were 65 murders, and the central morgue has been stretched beyond capacity several times this year.
"Operation Safe Caracas has meant more insecurity, because it adds police harassment to attacks by common criminals and homophobic citizens," César Sequera of the Venezuelan GLBTI Network, a recently formed coalition of groups defending the rights of sexual minorities, told IPS.
In Caracas and the oil-rich western state of Zulia, where Venezuela Diversa is also active, "so far this year nine transsexual persons have been killed in violence related to their condition, so one of our most urgent claims is proper guarantees for the right to life," Matheus said.
Astrid, a transvestite sex worker who finds her clients among drivers on Libertador Avenue in Caracas, told journalists that "sometimes the police stop us, take our money and even force us to have sex with them under threat of being beaten or dropped off in a dangerous part of the city."
One of her co-workers said that on one occasion, a police patrol car drove up and without warning, its occupants shot pellets at her legs while laughing and hurling insults at her. Then they sped off into the night.
Even someone as well known as Giannina Cadenas, the transsexual host of the programme "Brújula Sexual" (Sexual Compass) on the state Ávila TV channel, has said that "those who discriminate against us the most are the police, who need reeducation in order to understand that they are supposed to provide a public service."
"When I'm travelling by car, I'm always stopped at the police control points and they ask me whether I'm a man, a woman or a transvestite. I'm made to feel like a cockroach. The police have taken money off me just because I'm transsexual," Cárdenas said.
The non-governmental organisation Citizen Action against AIDS (ACCSI) carried out a 2008 survey of 742 people in the GLBTI community in Caracas and the western cities of Maracaibo and Mérida, to investigate negative experiences with the police.
Half the interviewees said they had experienced situations in which their rights had been violated, although most did not report them, out of fear or a sense of shame. The most common behaviours they complained of were verbal aggression (36 percent), extortion (20 percent), physical aggression (12 percent) and deprivation of freedom (11 percent).
"GLBTI persons suffer strong rejection in Venezuela, because of dogma, social prejudice and mistaken medical or psychiatric diagnoses," said Edgar Carrasco, who directed the survey. "And the worst of," he added, "is that the discrimination and impunity is related to the spread of the HIV/AIDS epidemic."
The depth of this rejection was spelled out to IPS by Fernando, a 22-year-old cookery student who came to Caracas "practically in headlong flight, because if we are excluded in Caracas, where gays gather in large groups to go out or spend time together, imagine what it's like in a small town full of prejudice like Altagracia de Orituco," in the central plains of the country, where agriculture and ranching are the main activities.
Article 21 of the 1999 Venezuelan constitution states that all persons are equal before the law and, consequently, discrimination based on race, sex, creed or social condition is prohibited.
On this basis, the Supreme Court ruled in March 2008 that no individual may be discriminated against by reason of his or her sexual orientation in any way that implies treating him or her in an unequal fashion.
Yet based on article 77 which protects marriage between a man and a woman, in the same ruling the Supreme Court refused to equate the rights of stable homosexual unions with those of heterosexual married couples.
Sequera of the GLBTI Network emphasised that "many of our rights are still being infringed: in the first place, respect for our identity and self-image, and secondly the right to health, since we are often denied access to public and private health care centres, and we aren't even considered as possible blood donors, for example."
Matheus also complained of "employment discrimination in terms of access to jobs and treatment in the workplace, as well as discrimination in schools and educational institutions, where we are harassed by teachers and other students, leading many of us to drop out."
"But police harassment remains a serious concern, because in effect it abrogates our right to freedom of movement, to use the public thoroughfares of this country, or to freely and peacefully go to night clubs or shopping centres to exercise our right to leisure and entertainment, just like everybody else," Matheus concluded.
Related
Popular in the Community