Videos of armed motorcycle gangs attacking protesters have emerged from Venezuela with increasing frequency in recent weeks despite a "media blackout" by the regime in control. A brutal government crackdown on protests has already left at least 15 dead, and Venezuelan President Nicolas Maduro stands accused not only of punishing those who rally against him, but also of turning a blind eye toward intimidation and violence by pro-government vigilantes.
The first casualties in the ongoing unrest came at a Feb. 12 rally in the capital city of Caracas, when government supporters on motorcycles opened fire on crowds, inciting panic and leaving three dead, as reported by the Associated Press.
Born out of Venezuela's urban guerrilla warfare in the 1960s, "Colectivos" re-emerged under late President Hugo Chavez as ideological henchmen. According to Reuters, the socialist paramilitary groups run community services, including bookstores, summer camps and pensioner coffee mornings. But they have recently been blamed for the spike in violence.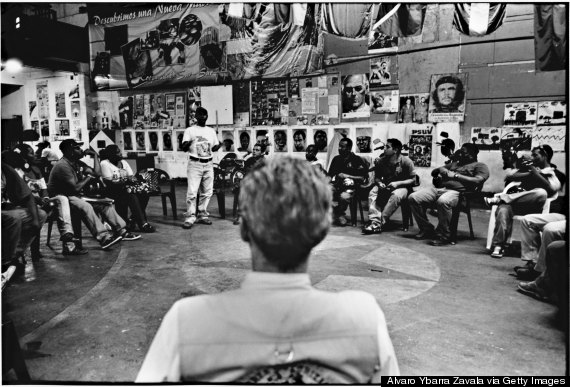 The headquarters of one of the colectivos of Caracas, during a meeting.
(Alvaro Ybarra Zavala/Getty Images)
Reaching far beyond community service, the well-armed colectivos remain committed to enforcing the will of Venezuela's Bolivarian government. They have harassed opposition demonstrations for years, guarded government rallies against protesters and corralled votes for the Socialist party at elections.
By no means united, different colectivos have occasionally battled one another. Even so, they served as a key support base for Chavez and remain devoted to the late leader.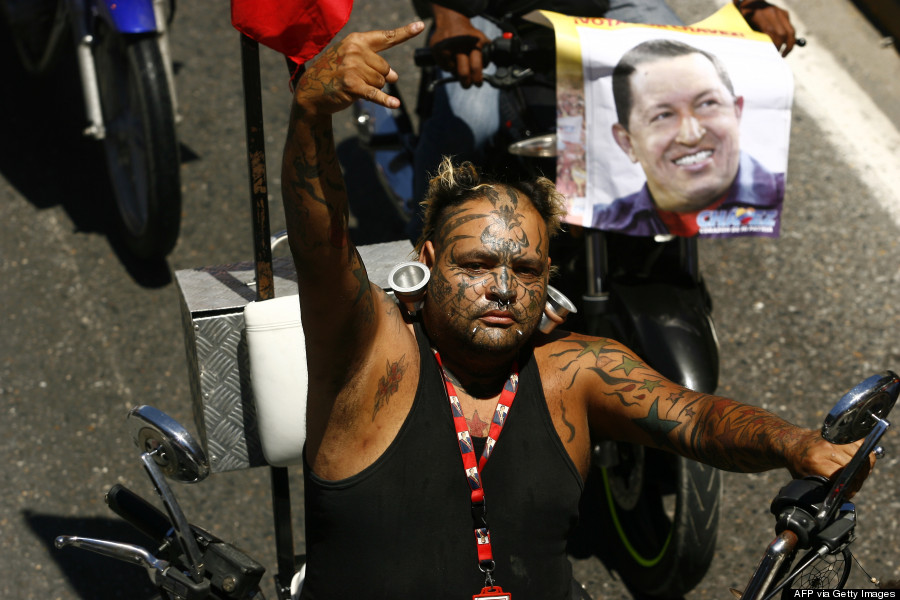 A Hugo Chavez supporter gestures during the late president's election rally on Oct. 2, 2012.
(GERALDO CASO/AFP/Getty Images)
According to the International Crisis Group, colectivos "describe themselves as socialist, anti-imperialist and anti-capitalist, while their activities include vigilantism and social cleansing." Motorcyclists attend a pro-Maduro rally in Caracas, Feb. 24, 2014.
Some Venezuelan officials are even publicly gleeful about the vigilante terror. Prisons Minister Iris Varela tweeted the opposition was "shit-scared" of the colectivos and called the biker gangs a "fundamental pillar in the defense of the homeland," according to The Economist.
Colectivos say they are defending a democratically-elected government against the militant right, but critics say they are doing the government's dirty work.
As Robert Beckhusen writes for Medium, "The militias can attack the opposition without the government taking the blame for injuries and loss of life. The militias operate with a great deal of autonomy. It's just that government doesn't seem very interested in stopping them."
Recent YouTube videos illustrate the unrestrained violence on the streets of Venezuela. In one clip, motorcyclists stream into Caracas, apparently lighting firecrackers and inducing panic.
In another, colectivos purportedly smash up vehicles in the town of Merida.
And one video appears to show a gang beating a man in San Cristobal, Tachira, a city at the center of protests.
Protesters and the political opposition are demanding Maduro disarm the colectivos immediately as part of peace talks, the Miami Herald reports. But for now, there is no indication Maduro will do anything but squelch dissidence—or let armed motorcycle gangs do it for him. Motorcyclists attend a pro-Maduro rally in Caracas, Feb. 24, 2014. (AP Photo/Rodrigo Abd)
Related
Before You Go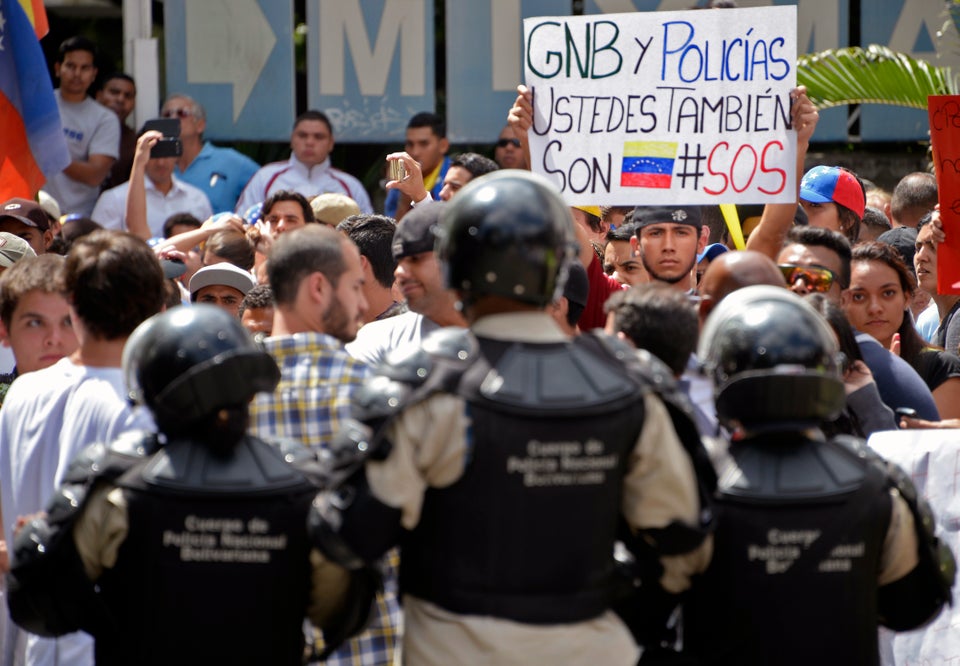 Protests In Venezuela
Popular in the Community