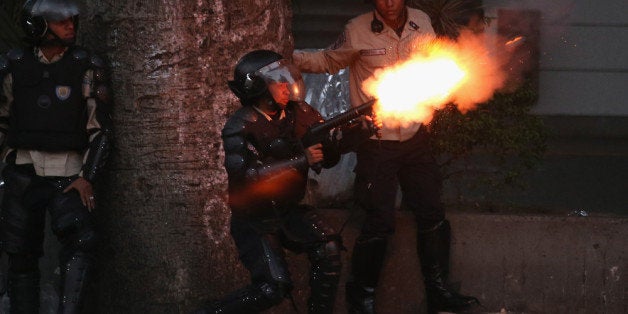 Former presidents of four Latin American countries scolded the Venezuelan government this week for using force to contain a series of protests that have rocked the country since last month and on several occasions erupted into deadly violence.
The former presidents' open letter, posted Tuesday by two U.S. think tanks in Washington, is one of the first major criticisms of the Venezuela's actions to come from liberal politicians in a region where the political left remains wary of foreign interference in national affairs. The letter is signed by Oscar Arias Sánchez of Costa Rica, Fernando Henrique Cardoso of Brazil, Ricardo Lagos of Chile and Alejandro Toledo of Peru -- all of whom identify as left of center.
"We have observed with concern and alarm developments in Venezuela in recent weeks," the letter reads. "Peaceful student demonstrations protesting against government policies -- a normal feature of any democratic society -- have been met with disproportionate repression by security forces and with attacks by illegal armed groups which some sources report are linked to government parties."
The letter, published by the Inter-American Dialog and the Wilson Center's Brazil Institute, goes on to call for the release of jailed opposition leader Leopoldo López and an investigation into allegations of torture. The former presidents also ask the protesters to be peaceful.
The recent tumult began on Feb. 12 with a series of student-led protests against government economic policies, shortages of consumer goods and restrictions on the press. Opposition politicians later joined in, with López calling for "the exit" of the government in public appearances and on social media.
The administration of President Nicolás Maduro said those calls amounted to an attempt to overthrow the country's constitutional order, and accused the United States of financing the opposition. The government arrested López on charges of fomenting violence.
Former President Hugo Chávez held the presidency from 1999 until his death last year. Campaigning as a champion of the poor and working class who used the profits from the state-owned oil company to expand social spending, he won four presidential elections and defeated a recall referendum. Maduro has struggled to retain Chávez's broad appeal, however, winning the presidency in least year's election by a thin margin of 50.7 percent to 49.1 percent.
Most of South America's countries are currently governed by leftwing presidents allied with the socialist government started by Chavez and continued by Maduro. While several have lamented the situation in public comments, they have largely refrained from criticizing the government's response.
"It doesn't seem appropriate that there can be violent actions aimed at destabilizing a democratically elected government," Bachelet said. "When we assume control of the government, what we're going to do is offer support to the government and people of Venezuela to truly search for democratic channels and social peace, so that Venezuelans themselves can find that path."
Reluctance to condemn the Venezuelan government's actions doesn't just spring from political sympathy. In a region where U.S. intervention has repeatedly helped topple elected governments, many Latin American leftists take a hands-off approach when it comes to judging their neighbors' internal affairs.
At least three South American presidents -- Mujica of Uruguay, Bachelet of Chile and Dilma Rousseff of Brazil -- were tortured and jailed by U.S.-backed military dictatorships in the 1960s and 1970s.
REAL LIFE. REAL NEWS. REAL VOICES.
Help us tell more of the stories that matter from voices that too often remain unheard.
BEFORE YOU GO
PHOTO GALLERY
27 Reasons Why The U.S. Shouldn't Lead The War On Drugs