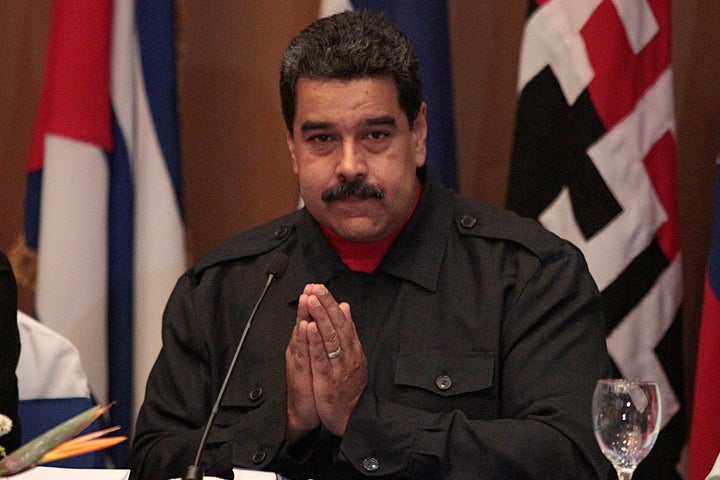 Venezuelan President Nicolás Maduro urged world leaders Tuesday to create new rules governing the use of force in the wake of a series of violent conflicts in the Middle East and North Africa that have sparked a refugee crisis, as hundreds of thousands of people flee to Europe looking for safety.
Speaking for the annual gathering of heads of state at the United Nations General Assembly, Maduro said he supported a plan by proposed by Russian President Vladimir Putin to create an international coalition to coordinate foreign military action in Syria.
Arguing that the Middle East is more more violent and unstable than it was before U.S.-led military interventions in Afghanistan, Iraq and Libya, along with foreign military support of rebel groups in Syria, Maduro called on the U.N. to restrict the ability of powerful countries to wage war.
"We should take advantage, we believe, of the total and complete, tragic failure of these four wars," Maduro said, drawing applause from the crowd. "So that from the Security Council, from the United Nations, we can move forward toward creating new rules that prohibit the use of interventionist methods to bring war, to sow terror, to bring destruction and death to people who are declared by the elites of the world to be undesirable people or enemies."
Some 250,000 people have died in Syria since the fighting broke out in 2011. The violence there has fueled the largest refugee crisis facing Europe since World War II.
While the Obama administration has refrained from sending American troops to Syria, Congress has authorized $500 million to finance rebel groups opposed to the Islamic State group.
"Who is going to pay for the crimes committed against Libya, against Iraq, against Afghanistan?" Maduro said. "And Syria looks like a horror film, like those that they make in Hollywood."
Maduro's words may have some impact on the debate. Venezuela took a non-permanent, two-year seat on the U.N. Security Council this year, and Maduro says his government plans to press for diplomacy there. The Obama administration, which has veto power in the Security Council, has yet to comment on whether it would support the Russian military cooperation proposal.
Obama and Putin cast the blame on one another for exacerbating Syria's crisis on Monday, with Obama faulting Putin for backing the authoritarian government of Bashar al-Assad and Putin arguing that al-Assad represented stability in a country fighting the Islamic State.
Watch some of Maduro's comments, in Spanish, below.
Support HuffPost
The Stakes Have Never Been Higher
Popular in the Community