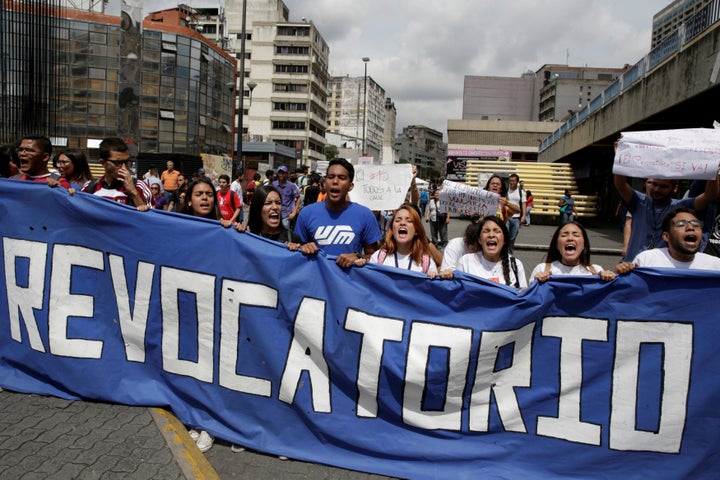 This piece was written for the launch of HuffPost Mexico on Sept. 1. To read this article in Spanish from HuffPost Mexico, /beta.huffingtonpost.com.mx/diego-gmez-pickering/gracias-sr-trump/?utm_hp_ref=mx-homepage"}}">click here.
Hundreds of thousands of disenchanted Venezuelans are marching in the capital, Caracas, Thursday, as part of a campaign by the opposition to push the national electoral council to speedily hold a referendum so that citizens can decide if they want President Nicolás Maduro to stay in power.
The mass rally comes at a time when Venezuelans are desperate for change in their country — which is currently experiencing its worst economic depression in more than 200 years, soaring crime rates and a shortage of basic goods.
"There's been a collapse in Venezuela, an economic, social and political crisis," Lilian Tintori, a Venezuelan human rights activist and the wife of Leopoldo López, a hardline opposition leader put behind bars in 2015 for "inciting violence" during protests, told HuffPost Mexico.
"And the worst of it is that there is no medicine or food," Tintori said in a phone conversation from the city of Barinas, where she was mobilizing for the peaceful march to Caracas.
Together with other Venezuelan activists, Tintori has been demanding the recall referendum since March, but the national electoral council has repeatedly put it off. Stalling the process is in the ruling party's best interest — if the vote is delayed until January, even if Maduro is toppled his vice president, a Socialist party member, would retain the right to serve out his term, which ends in 2019. An earlier referendum date — the scenario the opposition is hoping for — would bring about fresh elections. Polls indicate that an overwhelming majority of citizens would opt to vote Maduro out of power.
"We want a change of government and a change of system. We want new people, leaders who are respected by Venezuelans, and, most importantly, who are democratic," Tintori said. 
Nicolas Maduro's government doesn't want to open a humanitarian channel because it still does not acknowledge that there is a crisis.

Lilian Tintori
The current protests calling for "la salida" or the exit of Maduro have been preceded by waves of dissent criticizing the regime's failure to address corruption, security challenges and economic struggles.
Maduro's popularity has continued to plummet as citizens stand in mile-long lines to access nearly empty supermarkets, endure power outages and struggle to make ends meet. 
"To feed a family of four, you need 16 minimum wages," Tintori explained.
In addition to her work defending López and other political prisoners, Tintori has also called on the government to open a humanitarian channel that would allow international aid, including medical supplies, to reach those in need. Her efforts have fallen on deaf ears, however.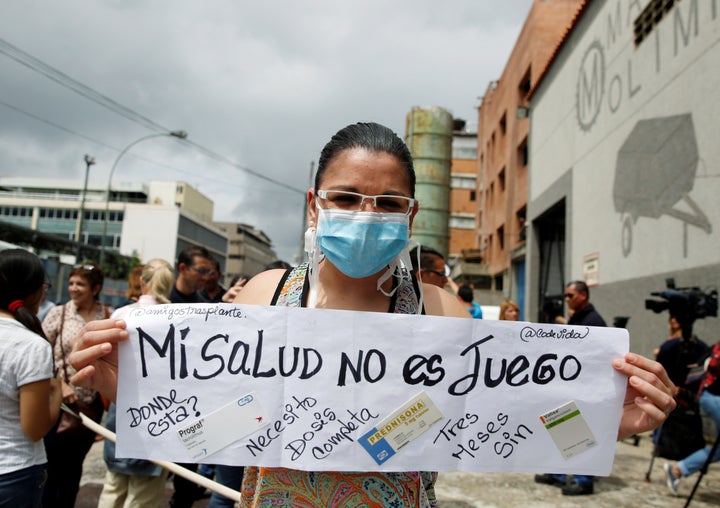 "Nicolas Maduro's government doesn't want to open a humanitarian channel because it still does not acknowledge that there is a crisis," she said. Refusing to declare a state of emergency means that supplies from international aid organizations can't enter the country.
Thursday's mass protest aims to make a public show of the people's anger. In a recent interview with Venezuelan radio station RCM, manager of polling firm DatinCorp Jesus Seguías estimated that 34 percent of Caracas' residents — 1,258,000 people — would attend the march. Members of indigenous tribes from the Amazonian state have also made their way to the capital to show their discontent and demand Maduro's ouster.
The government's history of putting down mass protests has made it difficult for the opposition to mobilize the public in recent years. In 2014, protests called for by hardline opposition leaders López, Antonio Ledezma and Maria Corina Machado were met with police retaliation, leaving 43 dead.
López is currently serving a 14-year sentence for his role in organizing and taking part in the deadly protests. Tintori says he is staying strong, despite enduring physical and psychological abuse.
"Leopoldo is resisting; he is holding on," Tintori said. "He tells me, 'Lilian, they can put me in a shoebox, but I will not bow down and I will not compromise on my freedom, because my freedom is Venezuela's freedom.'"
Amnesty International has deemed López a "prisoner of conscience," and has called for his immediate release. "Leopoldo López is the victim of a vicious 'witch hunt' against anyone who dares to disagree with the Venezuelan government," Carolina Jiménez, Americas deputy director for research at Amnesty International said earlier this month.
"It's been difficult," said Tintori, who has two children. "I have to stand up for my Leopoldo and others, and tell the world what is happening in Venezuela."
"There are thousands of Venezuelan families separated by exile and displacement who are fleeing from the lack of security, the government and the theft of their lands or companies," she added. "Every day, I try to find comfort in the thought that all these families, my own included, will meet very soon."
Calling all HuffPost superfans!
Sign up for membership to become a founding member and help shape HuffPost's next chapter