 CARACAS, Oct 8 (Reuters) - Venezuela's President Nicolas Maduro was going to parliament on Tuesday to seek decree powers he says are needed to tackle corruption and fix the economy but opponents view as proof he wants to rule as an autocrat.
The National Assembly, where Maduro's socialist government has a nearly two-thirds majority, is widely expected to grant him the fast-track legislative powers in a revival of a measure used several times by his predecessor, Hugo Chavez.
Maduro, 50, says he needs the so-called Enabling Law to toughen a crackdown on graft in the South American OPEC nation as well as tackle economic problems that are turning into the main challenge of his fledgling presidency.
"I will exercise the Enabling Law against corrupt people and saboteurs of the national economy! Onwards to socialism!" he tweeted before the debate scheduled for the afternoon.
Having risen from Caracas bus driver to Chavez's vice president, Maduro won an April election to succeed Venezuela's leader of 14 years after the latter's death from cancer.
Opponents mock Maduro as a poor imitation of Chavez, arguing that he is ruining Venezuela by continuing the same model of authoritarian leadership and failed leftist economic policies.
Though Maduro has ordered no new state takeovers of businesses, he has kept in place controversial Chavez-era currency controls and the black market price of dollars has soared to seven times higher than the official rate.
Inflation, a decades-old problem from Venezuela, is at an annual 45 percent, and the restricted access to dollars has fueled a shortage of imported goods ranging from toilet paper and motorcycle parts to Communion wine.
Maduro says Washington is helping the local opposition wage an "economic war" against Venezuela. Last week, he expelled three U.S. diplomats he accused of plotting with anti-government activists to damage the power grid and commit other sabotage.
The president likens the current accumulation of problems to the 2002-2003 period of Chavez's rule, when there was a brief coup and an oil sector strike against him.
Opposition leaders, in a nation of 29 million people broadly split 50:50 between pro- and anti-government supporters, accuse Maduro of inventing excuses to cover up his own incompetence and the dysfunctional economy he inherited from Chavez.
"Maduro and his gang will be remembered as presiding over the most corrupt period in the history of Venezuela," opposition leader Henrique Capriles said on Twitter, vowing that his coalition's legislators would try to block the measure.
The last time Chavez was granted decree powers - in 2010 for 18 months - they caused a political uproar, despite his insistence that he needed them to deal with a national emergency caused by floods that left nearly 140,000 people homeless.
Having repeatedly promised to ease the country's complex currency controls to let a greater flow of dollars reach importers, Maduro may initially use the decree powers to tinker with the current complicated foreign exchange regime. (Editing by Daniel Wallis and Cynthia Osterman)

Before You Go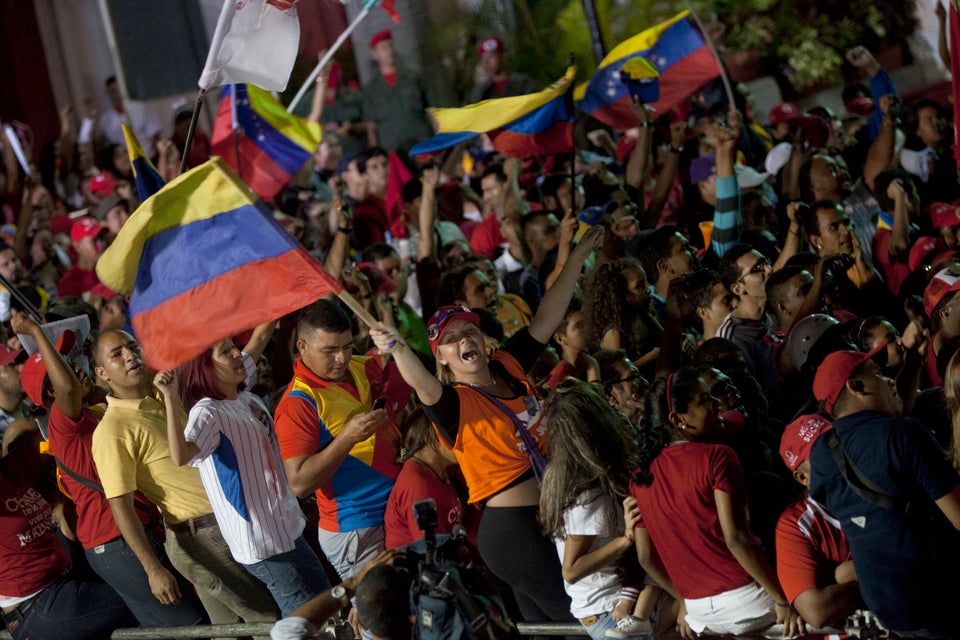 Maduro Wins Venezuelan Election
Popular in the Community