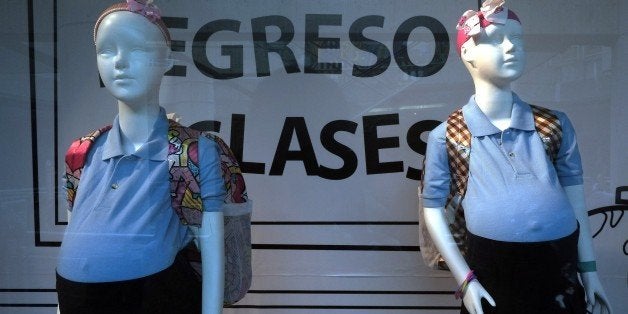 Several news outlets have reported on pregnant teen mannequins in Venezuela used by charities to draw attention to the country's high adolescent pregnancy rate. As researchers who have worked closely with young expectant and parenting women, we find this tactic misguided and shaming of young parents.
The adolescent pregnancy rate in Venezuela is one of the highest in the continent. Reuters reported that one Venezuelan girl under the age of 18 becomes pregnant every three minutes, and that this age category accounts for 23 percent of all births in the country. They also note that the United Nations is troubled by the alarming rates of adolescent pregnancy and subsequent maternal deaths.
But shame campaigns are not the way to approach teen pregnancy. The mannequins are merely a cheap trick that only serves to shock rather than educate or address underlying issues. These kinds of techniques completely ignore the socioeconomic realities of these young women.
We have a similar problem in the United States. We, too, ignore the context and conditions of young motherhood. Over the past few years, U.S.-based media treatment of teen pregnancy virtually ignored the subject of teen parenting. When teen parenting was discussed, teen parents were largely dehumanized and positioned as a cautionary tale. These young people experience an incredible amount of shame and stigma both in the media and in their lives. In 2013, for instance, the Candie's Foundation launched the #NoTeenPreg celebrity campaign, which perpetuated stigmatizing messages. In that same year, New York City's teen pregnancy campaign shamed teen parents with posters of babies with negative messages.
Our research and work through the Hear Our Stories project with Latinas in Holyoke, Massachusetts -- where the teen birth rate is the highest in the state -- reveals stark social and reproductive health disparities. Young parenting is connected to so many other issues, such as immigration status, education, family and community support, state support, and disinvestment of communities.
Almost two-thirds of the participants in our project have been pushed out of high school by their sophomore year, many before becoming pregnant. Studies show that young parenting Latinas also experience many obstacles that keep them from finishing school, including lack of access to affordable childcare and transportation, discrimination and stigma. According to a study published in The Journal School of Nursing, teen mothers begin with a wide variety of social and educational adversities, and many recommit to their education for the sake of their futures. Often the biggest obstacle that parenting teens face is a lack of support from their families and schools. A large majority of young parents express the need for emotional support and encouragement from people in their lives, especially adults.
The need to humanize teen parents -- both globally and domestically -- is urgent. The discourse surrounding teen pregnancy and parenting is too often shortsighted, lacking the broader context of the lived realities that are essential to helping young people reach their goals. Shame only serves to disempower these young women. Support gives them the resources they need to be successful and raise strong families.
Calling all HuffPost superfans!
Sign up for membership to become a founding member and help shape HuffPost's next chapter