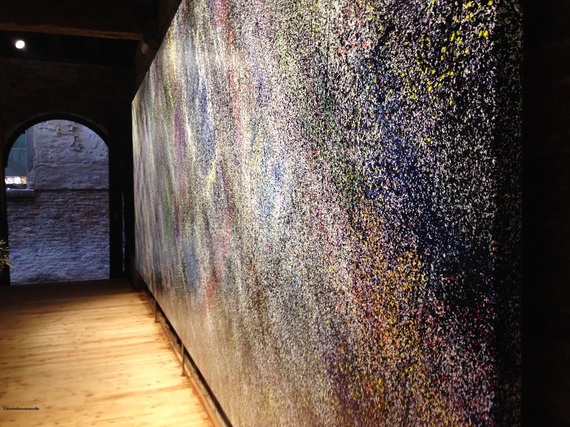 On May 9th the 2015 Venice Biennale Arte officially opens to the public. Yet for the last week the Jewel of the Adriatic has been buzzing with activity. The stylish art crowd, dressed with a proper dose of eccentricity, arrived early and from around the globe. Holding envied invitations to a plethora of exhibit inaugurations and vernissage, the press, contemporary artists, patrons and the who's who of the art world crossed ancient thresholds into Venetian gardens, Renaissance palaces, galleries and the multitude of Country sponsored pavilions to raise their prosecco chalices to creative expression.
Last Wednesday, Save Venice, the New York based organization which has raised more than 20 million dollars to restore 400 works of art and architecture in Venice, Italy, debuted as an advocate for contemporary art. A cherished invitation to their event led me passed the Accademia di Belle Arti--Academy of Fine Arts--down a tight secluded alleyway lit by a sliver of early evening sky, and into Doug Argue's Scattered Rhymes satellite Biennale exhibit. Off the calle and up worn marble steps, I entered the 15th century Palazzo Contarini dal Zaffo's rectangular shaped magazzino where four aging brick walls, an ancient wood beamed ceiling and floor contrast and embrace the American artist's four Venetian inspired oil on canvas pieces. Time and Again, Cosa Mentale, Mother Tongue and my favorite, Calle: a 91 x 280 inch blast of color, energy and light. Mr. Argue, a talented and gracious man, explained that the sliver of Venetian sky I had left in the alleyway was his inspiration for this painting. Perhaps that explains why I find Calle--Italian for alley--so intriguing.
Gazillion miniscule drops of color cover the enormous canvas like the aurora borealis weaving through the Milky Way. Calle, like Argue's other three works on display, draws you in and holds you there to study and examine its detail only to send you across the room, never letting you take your eyes away, until you're drawn back, once again, to discover tiny letters falling across the canvas forming the word consolations; bits of communication floating in the midst of a grand presence connect, like the night sky, to deliver a larger message.
What makes the piece all the more interesting is Mr. Argue's technique of using the brush and medical syringes to create a constellation of texture, movement, and layers. Holding a syringe loaded with paint in one hand and standing above the blank canvas that he had extended across the floor, Argue used the palm of his other hand to shoot the color up into the air, injection after injection, and let the drops fall onto the canvas. Drops form more perfect circles when they fall freely, is what he told me.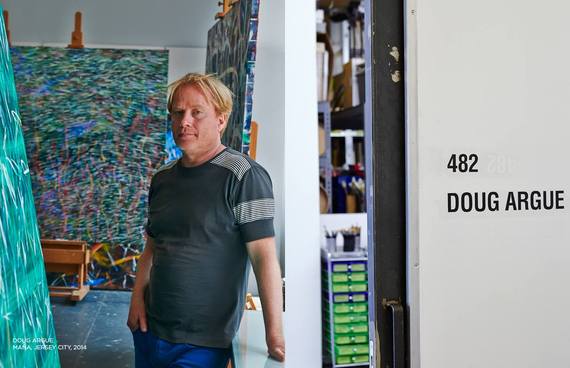 Born in St. Paul, Minnesota and now based in New York City, Doug Argue was twenty-four years old when he first visited Venice, Italy. Now, almost thirty years later, he describes the work he is proud to exhibit in the city that continues to inspire him--words I think well define Venice and her contemporary dilemmas, too:
"There are many different histories in the world, in both art and politics, and we often see things in the current moment, yet have no idea what lies beneath. One language is always turning into another, one generation is always rising and another falling, there is no still moment. I am trying to express this flux--this constant shifting of one thing over another, like a veil over the moment itself."
Recently, two of Doug Argue's paintings were commissioned for the lobby of One World Trade Center in Manhattan, and others are held in the collections at the Minneapolis Institue of Art and the Weisman Art Museum. Other pieces have been shown in solo exhibitions from Santa Monica, California to Yerevan, Armenia. Now, I expect, and hope, that his Venetian inspired pieces will find good homes, too. My "know what you like, know what you don't like" layperson's opinion is that Calle merits a special place--perhaps in a European or American modern art museum, where the Venetian sky can be seen by many and for many generations to come.
Calling all HuffPost superfans!
Sign up for membership to become a founding member and help shape HuffPost's next chapter