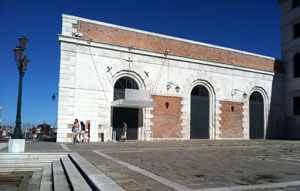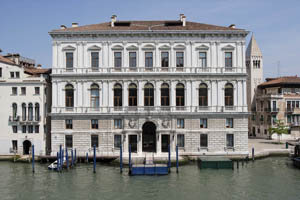 Punta della Dogana and Palazzo Grassi
The Venice Biennale is the mother of all art gatherings, a months-long and city-wide celebration of international art that is blessedly cleansed of hard-sell commerce -- in one of the world's most mesmerizing towns. In recent years, two of its most prominent exhibition spaces -- Palazzo Grassi and Punta della Dogana (one a grand Neoclassical manse, the other a sprawling customs house smack at the entrance to the Grand Canal) -- have been adapted by architect Tadao Ando to be added to the local stage by a French potentate who needed a proper showcase for his ever more ambitious collection of postwar and contemporary art.
François Pinault is a billionaire whose vast holdings include Gucci, Christie's, Converse and Vail Ski Resort. Michael Govan, the galvanizing and charismatic director of LACMA, is a respected art administrator and curator who used to run DIA Art Foundation in New York. The two men met over a mutual love for a work by Bruce Nauman, "For Beginners" (which Pinault ended up purchasing and donating half ownership of to LACMA). That encounter led to a dialogue about trends in current art, as seen in contrast to the period for which they shared an abiding affection, 1960s Minimalism. Pinault invited Govan to co-curate, with Pinault's own curator Caroline Bourgeois, an exhibition for this year's Biennale, composed of works from his collection.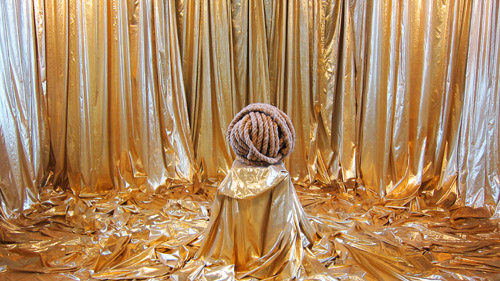 James Lee Byars, Byars Is Elephant (1997) © Estate of James Lee Byars
The exhibition's eventual title -- "Prima Materia" -- suggests matters fundamental, subtle, profound. Govan says that there were several issues in the mix, not least the problem of how to find clarity in the chaos of global pluralism, underscored by the Biennale's multi-national mosaic of pavilions and transformed palazzi. He cites the video installations of Ryan Trecartin and Lizzie Fitch as a prime example of how "the media" is becoming a kind of unifying emulsion for current art expression. And he was interested in how time and place, once distinctive factors, are increasingly blurred in an accelerated and shrinking world.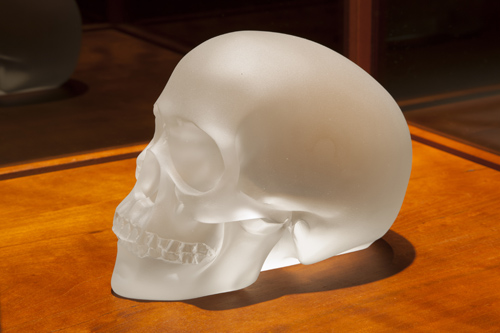 Sherrie Levine, Crystal Skull (2010) © Sherrie Levine
"Obviously American art comes from European tradition but it gets mixed in a different way and does not have that weight of history. And that aspect is emphasized even further on the West Coast, where there's even less history. I think there are ways to look at culture geographically, the difference between an Asian sensibility and an American directness, but there's also the time issue -- that question of when a culture emerges. James Turrell always used to say that culture moves West because the time goes that way, the sun goes that way, and LA is the end of that progression of culture. What's interesting about collectors like Pinault, who travel the globe -- they are in artist studios in Beijing and LA and Paris, not just picking things out of auction catalogues."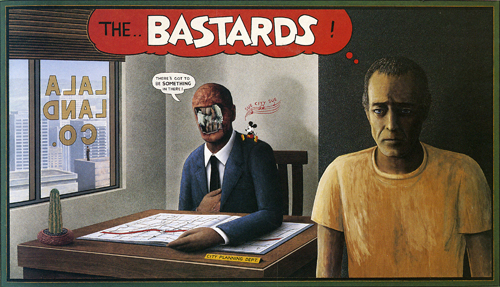 Llyn Foulkes, The Rape of the Angels (1991) © Llyn Foulkes

The exhibition takes on preconceptions about art practice from one time zone to another.
"A lot of people want to say that European art is dead, that it's American now and the future of art is Asia. But what's interesting is how many young artists are coming out of places like Paris, which we associate with old culture. In Dominique Gonzalez-Foerster's case, it's the sound of rain and water in the coat-room of the exhibition. Philippe Parreno has a marquee at the entrance, a sign of media, that you would be going in for an experience not an object. He's made several of these but this one he's made for Venice uses that nostalgia for a media past, that sense of glamor, of the ceremony of entering a space like that. So young European artists are using the weight of history to turn aesthetics a little bit upside down by not being obsessed with the object in and of itself, but by manipulating situations."
In the video below, Govan talks about how specific works in the "Prima Materia" reflect current art trends, the Los Angeles artists who were included and his thoughts about this year's Venice Biennale overall.
Michael Kurcfeld is an arts video-journalist (stonehengemedia.com).
Related
Popular in the Community