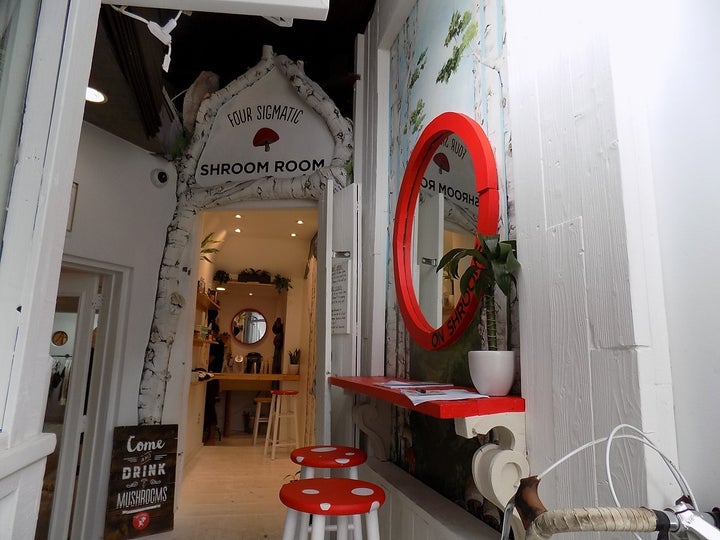 I got interested in mushrooms when I was reading the hobbits' obsession with them in J.R.R. Tolkien's The Lord of the Rings. Since then, some of these fungi have been celebrated by gourmands and the psychedelic community, but have been largely ignored in the West when it comes to their ability to heal and provide energy. That is likely to change with the October 2017 publication of Tero Isokauppila's Healing Mushrooms: A Practical and Culinary Guide to Using Adaptogenic Mushrooms for Whole Body Health (from Pam Krauss Books on pre-sale now at https://us.foursigmatic.com/pages/healing-mushrooms-book). That's quite a mouthful in every respect, but the Shroom Room opened in Venice, Calif., in August to explain and offer samples.
It's a tad hard to find at 1629 Abbott Kinney Blvd., but look for the mushroom that marks the passage to the shop with stools that look like mushrooms (generally open 10:30 am-6 pm seven days, but call 855/400-8584). On one wall are lots of products and gear and Bryce heated up water for my wife, Sandra Wells, and I to try out some of the mushroom superfoods in teas, coffees, cacao drinks, and smoothies from Four Sigmatic https://us.foursigmatic.com/, Isokauppila's company, which has been selling in 55 countries (when it comes to the wisdom of traditional medicine, we Americans are slow to reach for an alternative to drugs).
The goal is to build a local community that fully appreciates mushrooms and wants to connect with others who do. The Mushroom Academy can teach you everything you want to know before the book comes out http://www.academy.foursigmatic.com.
The advance copy of the book blew my mind. A few things I learned:
*Mushrooms are in 40% of pharmaceuticals.
*92% of plants are in some way dependent on mushrooms.
*25% of the earth's biomass consists of fungi (to which mushrooms belong).
*85% of human RNA and half our DNA is shared with mushrooms, which is why their benefits can be so available to us.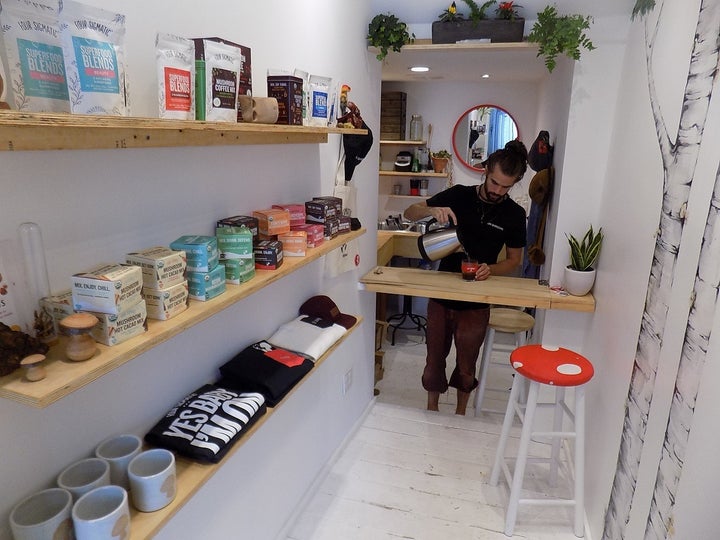 Mushrooms are adaptogens, which means, like ginseng, they can optimize our physiological functions, boosting immunity, decreasing stress, and protecting us from toxins. There are 10,000 varieties and Four Sigmatic provided us with elixirs with these types (benefits documented in the book):
Reishi: For better sleep, relaxation, and warding off viruses, bacteria, and parasites.
Chaga: For glowing skin and shiny, thick hair, as well as to combat stress (Isokauppila says he has traveled the world and warded off even colds for a decade by relying on this).
Cordyceps: For better athletic performance (allegedly including the bedroom), reducing fatigue, and boosting energy.
Lion's Mane: To improve memory, help concentration, protect the nervous system, and treat digestive disorders.
The company also blends these with small amounts of coffee and cacao for pick-me-ups, and it has several superfood blends, including Viking, with five ingredients (a single teaspoon gave us noticeable energy) and Beauty (with five anti-aging ingredients). The book also has 50 recipes (most vegan- and paleo-friendly), from Reishi Chocolate Almonds (for hormonal balance) and Cordyceps Cubes with Coconut Water (sports performance).
Mushrooms appear to be the about-to-be-discovered superfood and we're making them part of our daily lives now.
Popular in the Community