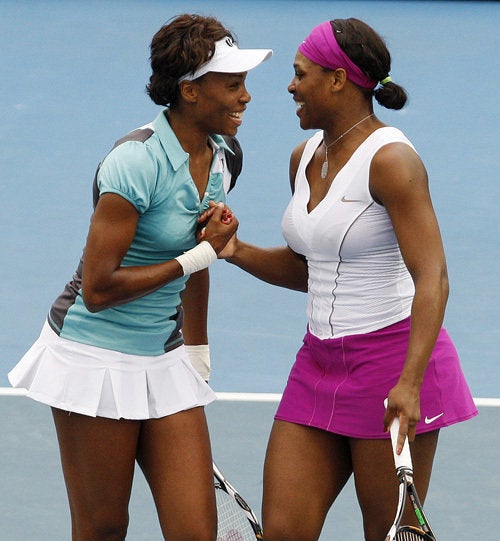 Per usual, Venus and Serena Williams continued to dominate on the court last weekend with big sister winning her 40th singles title in Dubai, after barely nudging past younger sister in the semifinals.
And, as always, the more uncomfortable questions about their extraordinary careers are taking place outside the tennis court lines. In the lily-white world of women's professional tennis, the two statuesque sisters with chocolate skin, flamboyant style and curvaceous figures are pretty hard to ignore. But somehow the Williams sisters were omitted from a list of the 10 Most Beautiful Women posted on the official Web site of the 2009 Australian Open.
The list was filled with sleek, thin images, and European names such as Dementieva and Hantuchova, and gushings over Jelena Jankovic?s ?No. 1 body to go along with her No. 1 ranking.? Curiously, there was no mention of the two women of color whose unique looks have challenged Eurocentric standards of beauty all around the world.
In general, black athletes have always had to struggle with the elevation of their physical gifts above their mental gifts. Black male athletes are consistently praised for their physical prowess. Sports Illustrated did an entire feature dedicated to gawking over LeBron James' body with poetic prose describing how his "raised veins run like tiny interstates up his arms and calves."
Black female athletes, on the other hand, are put in the unique position where developing their bodies makes them the object of spectacle. For female athletes, the perennial insult is, "You look like a man." As a result, any girl?black or white? involved in sports has to make choices that a boy never has to make.
In the same way Don Imus infamously referred to black women athletes as "nappy-headed hos," these constant slights, insults and even thoughtless oversights still must hurt. I have always wondered whether Serena's interest in fashion and beauty was somehow related to the way she constantly has to fend off criticism of her weight or questions about her commitment to her profession because she does not look like her opponents.
Serena, when asked about her body yet again, said, "Just because I have large bosoms, and I have a big ass [laughter], I swear, my waist is 30 inches, 29 to 30 inches, it?s really small! I have the smallest waist, but just because I have those two assets, it looks like I?m not fit."
Imagine that! You are the most dominant person in your sport in the world, but you consistently have to defend having your curves. Listening to commentators persistently speculate and scrutinize Serena about her weight and fitness?which are metaphors for her body?is like having the buttocks and breasts of Hottentot Venus debated for public consumption.
As the husband of a woman who looks like Venus and Serena, it offends me that my standards of beauty are not recognized or validated in professional sports. And as the father of a 6-year-old black girl who loves to run, jump, sweat, grimace, grunt and do all the things that are necessary for her to excel as an athlete, it pains me to think of the choices that will be forced upon her as she gets older because of these standards.
So, to the Williams sisters and their family, I would like to say to you: Most of us don't know the cost and sacrifice it takes to excel in a sport that has so few African Americans. Many of us had never heard of the tragic and triumphant story of Zina Garrison and her constant battles with depression stemming from bulimia?a life-threatening eating disorder that also affects women of color?exacerbated by never being validated in the elite world of tennis.
If the Williams sisters were stung by the slight, you wouldn?t know it. Serena is too busy opening a school in Kenya, writing her own manuscript and developing a fashion line. Venus is holding it down as CEO of her own interior design firm, cultivating a dynamic client base and developing her own clothing line.
In other words, the Williams sisters are too busy redefining what it means to be "black and beautiful" to wait for the world of tennis to catch up.
Jewel Woods is an author and a gender analyst specializing in men's issues. He is the Executive Director of the Renaissance Male Project Inc, an advocacy and accountability organization for men and boys.
WATCH a related photo slide show of the Williams sisters over the years.
Originally published at theRoot

Popular in the Community