In Goodman Theatre's intense production of David Ives' hit play, Venus in Fur, palpable onstage chemistry is critical (read my review here). It's what elevates this two-person dark comedy from a tawdry romp into a thrilling exploration of dominance and power.
In Goodman's production, Rufus Collins and Amanda Drinkall embody Thomas and Vanda, the writer/director of the play-within-the-play and the unexpected actress who isn't exactly who she seems. I had the chance to chat with both actors to get their viewpoints on establishing authentic onstage chemistry.
So you've just completed a Saturday matinee of the show. Do matinee audiences differ from evening audiences -- particularly given the scandalous subject matter? Are they more vocal?
Rufus Collins (RC): Well, matinee audiences typically are more quiet and reserved, which, honestly, does make it more difficult to perform this play. But this particular audience was pretty engaged, which was nice.
Amanda Drinkall (AD): Yes, but those matinee ladies really do love this show. It's great. I'm sure Shades of Grey has something to do with it.
How aware were you of this play before the audition process? Did you know what you were getting yourself into?
RC: I had read the play and seen a regional production, but honestly didn't know how I felt about it. It wasn't until we started rehearsal and dug our feet in that I really understood what made this play so fascinating, and I feel that comes across in this production.
AD: Same with me. I had also read the play when I heard it was coming to the Goodman about a year ago, and wasn't sure what to think of it. Working with [our director] Joanie [Schultz] really helped us unlock this play. Her deep understanding and passion for the material helped us gain a better understanding into the themes of gender, dominance and submission.
Did you audition together? When did you meet?
RC: We actually auditioned separately and met on the first day of rehearsal.
Really? So how did you move from the table read to "hey, I'm going to straddle you shirtless now."
RC: Well, on the first day, Amanda really broke the ice by running up to me, leaping in the air and wrapping her legs and arms around my torso.
AD: [Laughing] Rufus is saying I hugged him.
RC: We didn't have much time to get this show up and ready for an audience, so we just had to quickly gain trust in each other and be ready for anything.
AD: And each day in rehearsal it's, "Ok, I'm going to do this scene without a shirt today, and now, without pants."
In addition to the themes of dominance and power, the play has some pointed things to say about the artifice of theatre.
AD: Yes, I think audiences really like getting that "behind the scenes" look at what goes into the rehearsal process, which this play offers.
RC: The play switches tones so quickly, given that we keep dipping back into the play-within-the-play, and we worked hard at ensuring the audience could follow us. For example, we carefully considered the correct accent our characters should use when in the play-within-the-play to help indicate where we were.
Amanda: The physicality of this play is pretty remarkable. How do you prepare for it?
AD: I've been working out! I have a personal trainer. Something about being onstage in your underwear for 95 percent of the show makes you really focus on being in shape. We also worked really closely with our fight choreographer, David Woolley, to make sure those more physical scenes are exciting but also safe.
Is there anything you've learned from this experience that you'll take with you?
RC: As with any part, it's given me some distinct experiences that I know I'll draw on throughout my career.
AD: Don't show up in your underwear for an audition. Unless you are more than confident it will get you the role.
[Interview edited and condensed for publication]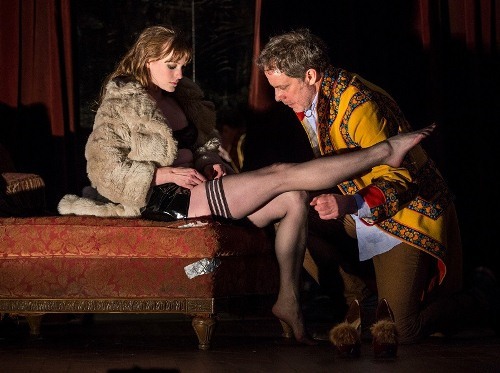 Amanda Drinkall and Rufus Collins in Goodman's Venus in Fur, now playing through April 13. More info here >
Popular in the Community