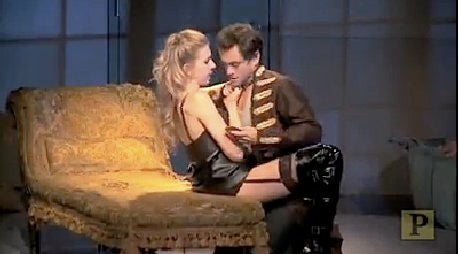 I finally got to see Venus in Fur on Broadway.
I have been in and out of town for the past few months and tried to make the show twice but had to cancel because of last-minute schedule changes. I had heard so many good things about it from people who love theater. They kept telling me, "It would make a great movie."
Then I ran into Hugh Dancy, the star of the play, at a Met Ball after party -- one of those ridiculously packed affairs attended by every star imaginable. "Oh, excuse me, Kanye... Sorry, Mick Jagger, I'll try to squeeze my ass around Jeff Koons to get out of Beyonce's way." While pressed up against Hugh's chest, I reintroduced myself and told him that I had twice tried to see his show and was trying desperately to get there. He said thanks but warned me that there were only six weeks left in the run. Then, only because those parties can be awkward and one grasps at whatever is available to make conversation, I stupidly asked if he thought the play would make a good movie. He probably assumed I was sniffing out his role for myself for some terrible Hollywood version, but I promise that was not my intention.
In fact, I generally feel ripped off whenever Hollywood adapts a play and takes the meatiest roles away from the stage actors who were undeniably half of what made the show great in the first place. I know that films based on plays need all the support they can get, and that casting recognizable names helps secure financing. But I still believe that, when it comes to adapting stage plays, it's as important to faithfully preserve the performances as it is to preserve the text. That's how a little-known actor named Marlon Brando, starring in an adaptation of A Streetcar Named Desire, changed American acting.
Before being sucked into the crowd making its way to see Alicia Keys perform, Hugh diplomatically said that he didn't know if the play would make a good adaptation, that I would need to decide for myself. And I did.
We went, Nana (trusty hair person/close friend, half-Japanese/half-German) and I. It was fab, but fab as a play. How would it best be captured on screen? After the show, Nana and I walked for several blocks looking for a cab and discussing how David Ives' slightly mystical two-person play would change if it were brought to the screen.
The actors were marvelous. Hugh Dancy brings a keen intensity to the role of the uptight playwright, and Nina Arianda is breathtaking, switching back and forth between her character's ditzy sex pot and austere bondage queen personas with such deftness that no one will ever know which side is the real her. Nana and I agreed that we would hope to preserve the performances.
The setting, however, poses a problem. Like many plays, Venus in Fur has only one location, and what can keep an audience's attention on stage doesn't always work on screen. Plays depend on the energy of live actors -- their "aura," as Walter Benjamin defined it. Films can't match that immediacy, but they possess something just as valuable: the ability to travel anywhere and show any kind of action. That's why so many play-to-film adaptations transfer scenes from one or two settings to as many as possible. But the action of Venus in Fur is inseparable from its solitary location: two characters, working late into the night, in one room -- they can't escape each other. Somehow, the film would need to find one place capable of encompassing the fiery dynamic between its two characters. Nana asked for an example of a successful, single-location film, and the best I could come up with were Ingmar Bergman's Scenes From a Marriage and Tommy Lee Jones' recent HBO version of Cormac McCarthy's play Sunset Limited. It's probably not a coincidence that both were made for television.
But even if the play doesn't shift geographically or break from its linear, real-time chronology (it doesn't even have an intermission), it does shift in and out of a play within the play -- an adaptation of Leopold von Sacher-Masoch's 1870 novel, Venus in Furs. Sacher-Masoch's didn't just popularize (and give a name to) sado-masochism; it also inspired the Velvet Underground song "Venus in Furs." (I always wondered why Lou Reed kept repeating the name Severin, and now I know: it's the protagonist's name.)
This play within the play, written by Hugh's character, involves counts and countesses, sexual slavery, and a battle for domination between the sexes. A filmmaker could choose to stylistically differentiate the contemporary action and the 19th-century action through the use of lighting, framing or camera movement. But Nana and I realized that the play draws much of its impact from the gradual blending of the two narratives, to the point where Hugh's character loses track of where one ends and the other begins. The movie version would have to preserve that blurring effect.
The play is so well-crafted that it gets away with having a clunky, old-fashioned text at its core. If the adaptation of Sacher-Masoch's novel were presented on its own, it would be a horrible bore, but because it is part of a collage, and firmly anchored in contemporary sexual politics, it is elevated to post-modern pastiche. Still, after deliberating at length, Nana and I realized that the play does have one problem: it exposes the exploitation of women by men in life and in art, but it does so by having the woman flaunt her body. There is a moment when the man could be just as easily exposed, as she has been the whole play, but his clothes stay on.
That's one thing that Nana and I decided should definitely change in the film. Naked Hugh, tied to the column.
Support HuffPost
The Stakes Have Never Been Higher
Popular in the Community