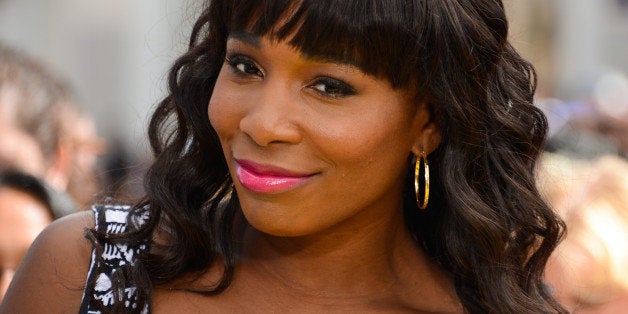 Venus Williams is one of the greatest female tennis players of all time. She started training alongside her younger sister, Serena, on the public tennis courts of Compton, Calif., when they were just little girls. At the ripe old age of 14, Williams turned pro.
Now, at 33, Williams has won seven Grand Slam Singles Titles, four Olympic Gold medals and has been ranked World No. 1 in singles on three separate occasions by the Women's Tennis Association. She's also the second-ranked prize money earner among female tennis pros, winning a total of $29.5 million throughout her career so far.
If her athletic accomplishments weren't enough, how about changing history? Back in 2005, Williams launched a personal campaign to fight for a female tennis player's right to equal prize money at Wimbledon. She succeeded in 2007, ending a historic inequity between male and female champions at the highest level of tennis.
The champion (in all senses of the word) was in Santa Monica, Calif., Wednesday for a day of fitness in the sun as an ambassador for Jamba Juice. Williams, who owns a handful of franchises, sat down with The Huffington Post in between exercise sets to chat about how work on the court translates to life off the court.
HuffPost: Do you ever wake up in the morning and not want to work out?
VW: Oh yeah! Absolutely. But for me, it's like when you wake up and you don't want to go to work. My work is a great big workout, five or six days a week, and sometimes weeks and weeks without a day off if I'm playing tournaments.
I'm human, but at the end of the day I love how I feel at the end of the workout.
What exactly is your workout?
Four to 4.5 hours a day of training. I do cardio with bike, running, swimming and elliptical. And of course I play tennis.
I don't do classes, because my workouts are very specific to my sport. They're tailored to get me stronger, not get injured, and to help me be better on the court.
What is your motivation/pump up routine?
I just think about how every day contributes to the next. On the days that I'm unable to do as much as I want or I'm not as motivated, then I go and do maybe half of the workout. Just doing that contributes to the next day's workout. Sure, there are some days that we have to take off, but you can't really keep saying, "Hey, I'm not going." That could get really, really easy to keep doing.
Instead of doing the long run, do the short run. Instead of doing arms and legs, just do the arms. Just contribute to the next day so that you don't lose pace.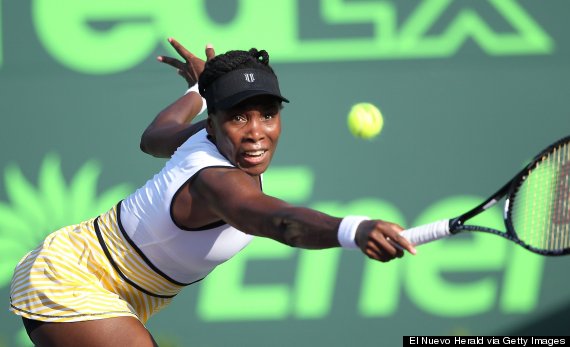 Venus Williams returns the ball to Australia's Casey Dellacqua during the Sony Open tennis tournament in Key Biscayne Fla., on Sunday, March 23, 2014. (David Santiago/El Nuevo Herald/MCT via Getty Images)
What is your interior monologue during a really tough workout set?
A zillion things. And if one thing doesn't work, I'll go to the next one. I'll say to myself, "Keep fighting!" Then if that doesn't work, I might say, "You're so much better!" I keep changing my strategy, and when I find one that works, I stay with it. You have to just keep flipping the script and changing the cards.
Are there principles from your athletic life that carry over into other parts of your life?
Absolutely. Being able to get through rough patches. Being able to lose but still make it a success by learning from it. Working hard, setting goals. Understanding what it takes to be successful and then reapplying it.
The thing is that I'm not done learning. Just when I think I've got something that's going to get me set for every match from here on -- it's not enough. You still have to learn some more. Everyone's learning. If you're not learning, then you're not moving forward. And if you're not making mistakes, you're probably not trying.
Immediately after a good, tough workout, how do you feel mentally?
My workouts drain. I'm putting 100 percent into it, and multiple hours. So at the end of the workout, I'm tired, but at the same time I feel successful because I know I've paid the price and I know I'm ready and prepared. I know I've done the work. So when I step out on the court, I can just be confident that I'm ready and prepared. Venus Williams of the U.S. shakes hands with Alize Cornet of France after she beat her in the final match of Dubai Duty Free Tennis Championships in Dubai, United Arab Emirates, Saturday, Feb. 22, 2014. (AP Photo/Kamran Jebreili)
How has the autoimmune disease affected your exercise routine? [In 2011, Williams was diagnosed with Sjögren's Syndrome, an autoimmune disease that can cause joint pain, digestive problems and fatigue. To cope with symptoms, she has since adopted a vegan diet.]
I have to modify on some days. I try to listen to my body and push myself at the same time, while still making a platform that I can succeed with.
On season is from January to October. Then I try my best to have four weeks off, and then six weeks to really get a strong baseline. I try to really get strong, really get fit, and try to maintain that [baseline] for the whole year.
How do you work out during that break?
I don't want to go to the gym [during those 4 weeks]. I mean, you could. But at some point you have to step away so you can be refreshed. And if I don't do that, then for the next season I'd just feel exhausted because I haven't rested.
Because the rest is just as crucial as building the baseline?
Yes, definitely. Growing up I trained six days a week, and on Sundays I was off. But at some point, it kind of dawned on me that I need a little bit more time, because you break your body down so much.
So then I started this new thing [in 2010] when I would take the weekend off. And sometimes I'd come back stronger -- I'd be like, 'Wow, OK, so my body was so taxed that I couldn't really use the strength I was building.' I was so tired! When I can, I do take 2 days in a row off now.
(Interview has been edited for length.)