On a bright Saturday in August, about 17 Sai volunteers from Massachusetts descended on Breezy Point Boulevard and 217 Street. Ranging in age from 15 to 70 years, they worked simultaneously on two houses wrecked by Hurricane Sandy. Wearing yellow scarfs that said: "Love All, Serve All," they seemed chirpy, despite having left home at the crack of dawn to help those in need.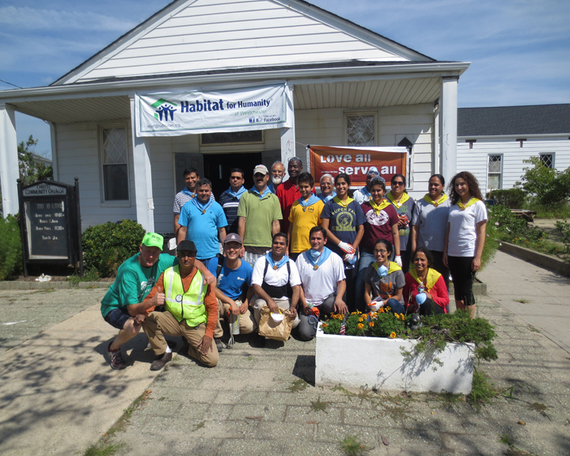 The Sai volunteers -- those who follow the teachings of the Indian spiritual leader Satya Sai Baba -- have been busy helping out ever since Sandy vastly devastated neighborhoods in New York. They initially helped out by preparing and serving hot vegetarian food in churches, street corners and apartment lobbies.
In January, the volunteers got involved with Habitat for Humanity of Westchester, which set up a command center at Christ Community Church in Breezy Point, Queens. From this vantage point, volunteers were dispersed to houses where residents were desperate for help. Over the long spring and summer, Sai volunteers removed water from basements, cleared debris and prepared homes for reconstruction.
Working on the first house, Sundar Venogopalan, a software architect and Sai volunteer organizer, explained that its owner, a World War II veteran, had left after Sandy's occurrence to stay with a friend.
"This house is nearly complete," said Venugopalan. "Here the flooring has been done, as well as the sheet-rocking. Today we will be sanding the place and painting. Over the summer, we gave this rebuilding effort a name, 'Rebuilding Homes, Restoring Lives,' and that is what we are doing today."
Sonali Razdan, a grade 11 student from Boston, Massachusetts, was covered in drywall dust. Lifting her face mask, she took time to reflect about what she was doing and said: "This work is rewarding, as I feel the harder you work the better the feeling that you've helped someone rebuild their own home."
The volunteer guide that stresses that all construction matters is Sesh Chari, a Sai volunteer who has been helping out daily.
"I started out as a volunteer, but then became project manager for Habitat for Humanity. I coordinate many volunteer groups that come out to help, and have overseen the rebuilding of many houses from Breezy Point to the Far Rockaways," said Chari, who has recently been made operations manager for Habitat for Humanity.
The second house, owned by Marilyn Maloney and her husband Ray Lisk, was in far worse condition. Maloney, like many residents, refused to move out before Sandy hit and was living on the second floor, as the ground floor was uninhabitable. Having received no help whatsoever from the government, Maloney was grateful for all the assistance provided by the Sai volunteers.
"Habitat has been a godsend for us. I am very thankful that they have been rebuilding my house," said Lisk.
Venugopalan, has organized groups of volunteers to come by bus from neighboring states every weekend over the summer. Now he says volunteers help out only on an ad-hoc basis.
"We try to help people with any service that they may need to come back from the storm. We are one of the many organizations helping out. And if everyone comes together, this place can bounce back in no time."
PHOTO GALLERY
Sai Volunteers Rebuild Homes Destroyed by Hurricane Sandy
REAL LIFE. REAL NEWS. REAL VOICES.
Help us tell more of the stories that matter from voices that too often remain unheard.