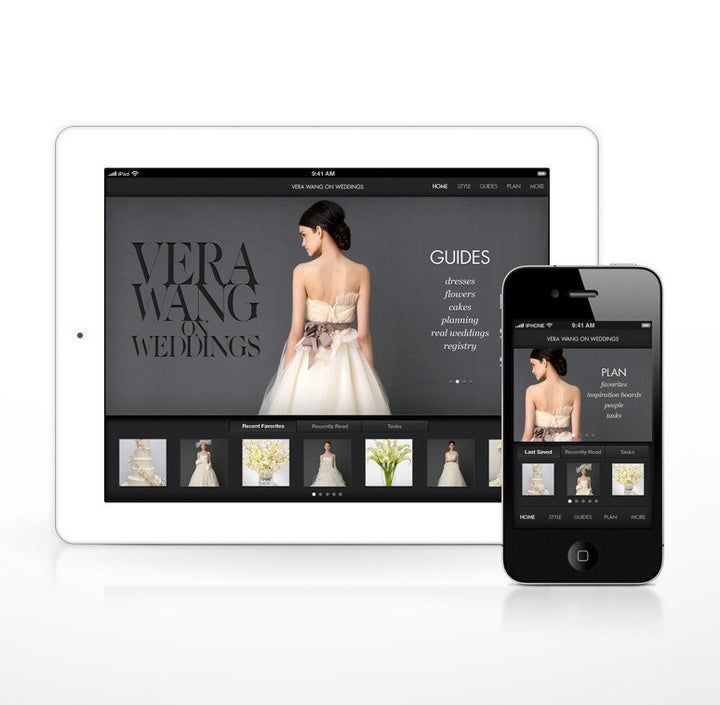 Vera Wang, the iconic wedding gown designer, recently launched a wedding planning and design app to help brides with more than just the search for their dream dress. The app, Vera Wang on Weddings, includes 1,000+ images of everything from cakes and flowers to real weddings and stationery and of course wedding gowns, over 100 planning articles and some of the most innovative wedding tools out there.

Brides can keep track of their guest lists -- everyone knows brides make both an A and a B list -- vendor meetings, and their inspiration. They can file their favorite images in the app, or add photos from the camera roll or web and create an unlimited number of inspiration boards to share with mom, the groom, bridesmaids and vendors.

I had a chance to ask Vera for her advice to brides on finding the one (I'm referring to the dress, not the guy), the wedding planning process and why she decided to develop an app. Here's what she had to say:

What are the first to-do's to be checked off a bride's task list?

The first step is to set a date, time and choose a location. The style of both the wedding and dress will be determined on these three decisions.

How should a bride approach the search for her dress?

A bride should look at everything she possibly can and try on all the different possibilities, just so she can experiment and see what makes her really feel beautiful or glamorous or classic, or whatever she desires to be on her wedding day.

When a bride is trying on wedding gowns, what elements should she be considering?
The wedding's location and time of day as well as how many guests can influence a bride's choice in how she looks. But it's also important for a bride to consider both the headpiece as well as the bouquet. When you look at a dress, and it might be extremely complex, one doesn't remember that you're going to be holding a bouquet and there's going to be a veil and these two factors can actually make or break a wedding gown.

Is there one wedding dress style that always looks good on a bride?

It's important that a bride choose a dress that is true to her own style. She should feel comfortable in how she looks and feel beautiful wearing it.

What's your #1 piece of advice for brides?

Really try to enjoy yourself and the day. One place to take in the moment is right after the ceremony. So many couples just race up the aisle when they should take time to look at their guests who have come to honor them and savor the moment.

What things should a bride consider as she goes through the planning process?

I think the most important thing about the engagement period for a bride, as well as her fiancé, is that this is the time when you're blending two lives. And it's a bit of a dress rehearsal for the rest of your life. It involves families, compromise and friends. Not only the two of you. Make this a learning experience and understand that part of a successful wedding, and a successful marriage, is about compromise.

When deciding on the wedding's details, what should a bride keep in mind -- tradition, trends?

It's important that couples plan their ceremony and reception with their own tastes and not give into family, friends, tradition or trends. Personalize the day with details that feel right to you.

Why did you decide to develop a wedding app?

I'm here, hopefully, as a voice of tremendous experience and also coming from a place that is so dedicated to bridal. The Vera Wang on Weddings app is my way of leveraging all of my wedding knowledge and I hope brides will find ideas and inspiration for both their personal style as well as the style of their wedding day.

The app has a really cool inspiration board. Can you share why you made it part of a wedding planning app?

I think brides are great researchers. I don't know one that hasn't come with pictures of dresses. They're voracious about collecting information and inspiration and it's those two things that make the bridal process so fascinating.

An inspiration board is helpful because you're able to crystallize an idea visually with so many tear sheets and so many books and so many films and you're able to really envision where you're trying to go.

Vera Wang on Weddings is available for free at the App Store through February and beginning March 1st will cost $9.99