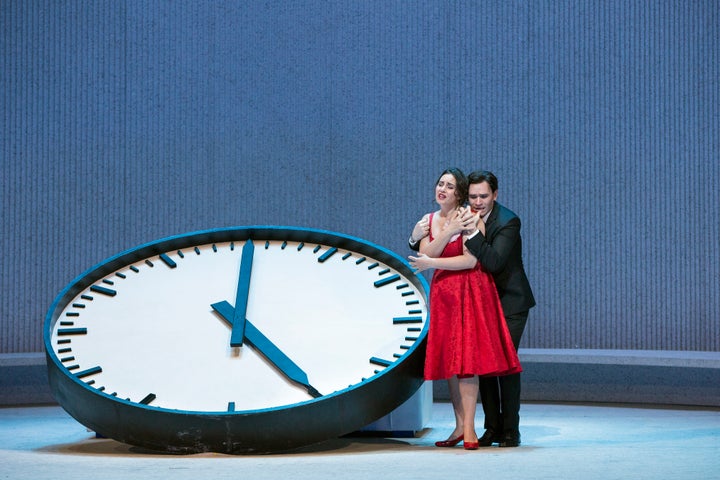 There is a reason some operas become perennial mainstays of the repertory, namely because the music touches a chord in the human soul and can overcome any distraction, as Sonya Yoncheva and Michael Fabiano ably demonstrated Friday night when the Met returned its modernistic production of La Traviata to the stage.
Whatever one may think of the Met's current incarnation of Verdi's tuneful yet tragic tale of the courtesan who finds true love only to lose it – and it has its admirers and detractors – the opera itself remains one of the company's most popular.
The Met will offer its 1,001st performance of La Traviata to audiences around the world on Saturday, March 11, when it simulcasts the matinee to over 2,000 theaters in some 70 countries as part of its Live in HD series.
Yoncheva, a Bulgarian soprano, overcame a slightly shaky opening act "E strano" and "Sempre Libera" to deliver an admirable Violetta, stronger as the woman in love than the good-time girl the audience first meets. She is excellent in the demanding Act II confrontation with her lover Alfredo's father, ranging from fiery defiance to agonized pleading, and in the last act "Addio del passato," singing the ringing high notes with tender pathos and resignation.
Fabiano, a tenor from Montclair, N.J., gives a solid performance as Alfredo with an ardent boy-next-door naivete in the opening act that turns to raging jealousy when he thinks he had been betrayed. He has a pleasant and warm voice that can reach the upper register comfortably. The famous Act I "Libiamo" toast to love was festive, if not exactly rousing, and his big opening aria "Un di, felice" was assured.
Thomas Hampson is a proper stuffed-shirt as Alfredo's father Germont senior as he persuades Violetta to leave his son for the sake of the family honor and adding a fine "Di Provenza il mar," one of the great baritone arias, in Act II. Rebecca Jo Loeb, in her Met debut, Jane Bunnell, and Dwayne Croft all filled supporting roles well.
Verdi wrote La Traviata for the Fenice theater in Venice. It is based on a play and novel by Alexandre Dumas fils titled La Dame aux Camelias about a Parisian courtesan (Violetta) who falls in love with a young man from a respectable family (Alfredo), only to be persuaded by his father to give him up. Feeling jilted, Alfredo publicly insults her, fights a duel with her new sugar daddy, and flees abroad, returning contrite just as she is dying from consumption.
This Met version of La Traviata, by the German director Willy Decker, replaced another beloved Franco Zeffirelli Bel Epoch production six years ago. Set and dressed in contemporary times, all three acts are played on a unit set that is the epitome of minimalism and is fairly dripping with symbolism.
The curtain rises on a mostly bare stage with a huge semi-circular wall stretching from wing to wing and a curved bench placed in front of it. A gigantic clock leans against the wall at stage left and a man dressed in black, with white hair and stubbly beard, sits on the bench next to the clock, hands on his knees, staring off into space as though waiting for someone to arrive.
He, of course, represents Death, or one of his henchmen, and he will stalk Violetta throughout the opera, popping up unobtrusively in various scenes until the final one when he (played by James Courtney) sings the small part of the doctor attending her in her final hours.
During the Overture, Violetta herself enters wearing a bright red dress. She first collapses on the bench as though exhausted from a night of partying, then hauls herself up and staggers across the stage as though her feet hurt, kicks off her shoes, and sits next to the man.
The walled-in stage serves as the set for all scenes, allowing for both scenes of Act II and Act III to be sung without pause. Some boxy IKEA-like couches are added for Violetta's and Alfredo's villa outside Paris where Alfredo prances around in boxer shorts. The chorus, all dressed in black suits and ties, men and women alike, invade the stage for the party scenes, emphasizing a male-dominated society. The clock gets moved around some. It's all very arty.
But it's Verdi's lyrical and dramatic music that lifts La Traviata out of any setting and Yoncheva and Fabiano make it another memorable operatic outing. The Italian conductor Nicola Luisotti, the music director of the San Francisco Opera, led the Met Orchestra in a deliberate, at times almost ponderous, reading of the score, especially in Yoncheva's arias, that underscored the melancholy and wistful mood of the opera. The Met will offer 14 more performances of Traviata this season, some later ones with different singers.
Related
Popular in the Community