*Scroll down for photos.*
During a Thursday keynote event at the the Consumer Electronics Show (CES) in Las Vegas, Verizon CEO Ivan Seidenberg and COO Lowell McAdam took the stage with Time Warner CEO Jeffrey Bewkes to praise Verizon's 4G LTE broadband network. The executives conjured images a lifestyle so connected that CNET dubbed the vision a "4G World."
Later that day, at Verizon's 4G LTE press conference, Verizon laid out its plans for network expansion across the U.S. "Verizon expects to have the United States covered for 4G LTE access within the next 36 months and to double in size in the next 18 months," writes Mashable. Then, the audience of eager bloggers got a taste of a few devices that will be leading the "next evolution of 4G LTE for consumers."
The HTC Thunderbolt, the LG Revolution and the unnamed "Samsung 4G LTE," along with the Motorola Droid Bionic (unveiled on Wednesday), are some of the first Android-equipped models built for Verizon's 4G LTE network.
Engadget obtained a spec list for the HTC Thunderbolt, which operates on Android 2.2 and boasts a 4.3-inch WVGA TFT capacitive touch screen, a Qualcomm MSM8655 processor, a memory capacity of 8GB emmc + 768 RAM memory card and a preinstalled 32GB microSD, as well as dual cameras. (Visit Engadget for full specs.)
Verizon released a limited spec list for the LG Revolution, which Mashable also listed. These specs reveal the LG Revolution to be "running Android 2.2, featuring a 4.3-inch screen and offering support for video telephony, the ability to act as a mobile hotspot for up to eight Wi-Fi devices, and support for HD streaming, playing and recording."
Mashable also listed specifications for the Samsung 4G LTE smartphone. The device runs on Android 2.2 and features a 4.3-inch Super AMOLED Plus touchscreen, a 1 GHz processor and dual webcams.
CNET got some hands-on time with the Motorola Droid Bionic and reports that the dual-core processor, 4.3-inch qHD display, 512MB DDR2 RAM and dual webcams make for a desirable, attractive unit.
Alas, there has been no mention of a Verizon iPhone so far. However, we've got photos of some of the newly unveiled handsets to cheer you up.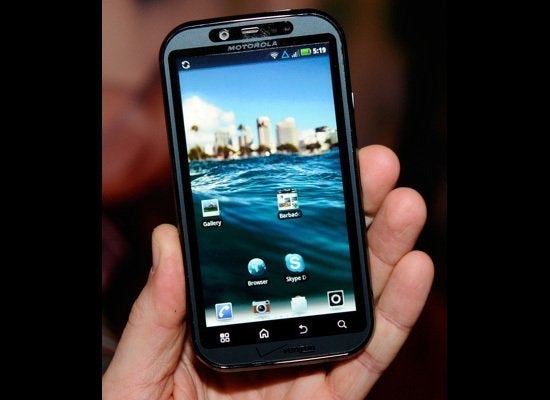 Verizon Unveils HTC Thunderbolt, Motorola Droid Bionic At CES 2011
Popular in the Community