The Verizon NY 2016 Annual Report was just published.
The IRREGULATORS created a separate analysis of these financials, which is tied to our previous work.
There is an ongoing investigation at the NY Public Service Commission (NYPSC) of Verizon NY's quality of service as well as Verizon NY's cross-subsidies of the other lines of business.
As of now, Verizon NY has decided to settle instead of doing an evidentiary hearing that was scheduled for June 26th, 2017.
Alongside all of this, the FCC is on a path to 'shut off the copper', privatize/deregulate parts of the state utility, and erase all of the accounting rules that created the cross-subsidies, yet not fix any of the harms.
NOTE: The FCC's accounting rules are federal so much of this discussion impacts all state-based utilities, not only those of Verizon, but also those controlled by AT&T and CenturyLink.
At the core of this – Verizon NY has allowed the mostly copper-based state utility network to deteriorate and has not been upgrading NY State to fiber optic services to the home, FTTP. Instead, there has been a manipulation of the accounting books so that the other Verizon subsidiaries, like Verizon Wireless, received financial benefits, including using the state utility construction budgets for wireless deployments, as opposed to wiring the cities properly (or maintaining the networks until they are upgraded).
In fact, Local Service has not been losing money. As the financial report shows, it is actually the FCC's distorted cost accounting rules that have created massive cross-subsidies, dumping the majority of expenses into Local Service that made it look unprofitable. In fact, in New York, these losses were used as an excuse to raise local residential phone rates multiple times as well as get various tax benefits. Even the accounting of the landlines has been manipulated to not account for whole classes of services, like the Business Data Services, to further distort the financial picture.
The most likely scenario going forward? No one should expect that this is going to get NY State upgraded to fiber to the home, much less have the copper networks properly upgraded and repaired until then. But, what happens in NY State will have a ripple effect throughout the rest of the Verizon states, not to mention the other US state-based utilities.
Verizon: 'You Can't Touch Us.'
Verizon, in a footnote, detailed how it feels about upgrading New York State in areas where it failed to previously bring fiber to the home. I summarize their position as You can't touch us.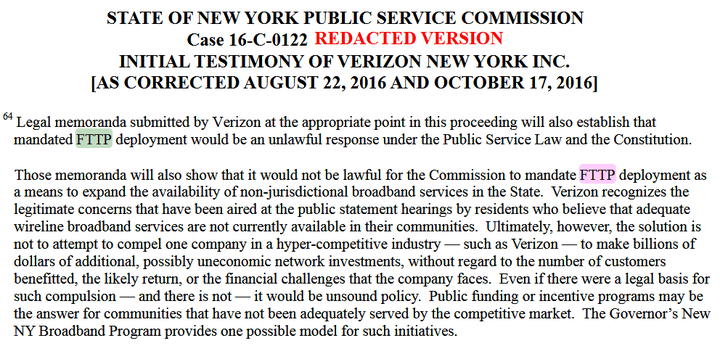 Should Verizon be forced to do upgrades to FTTP – and what about wireless? Let's start with the wireless issue, but as you will read, it permeates this entire discussion of wired upgrades and maintenance.
The 'Wireless Is Taking Over the World' Scenario?
I hear those screaming – But everyone is wireless. Everyone is not wireless when one considers that wireless services require antennas which are attached to fiber optic wires. Moreover, few go home and watch Netflix on their iPhone. At home, most people want high speed internet broadband and lots of it, for cheap. They don't want pay-per-gig wireless with caps, even on unlimited plans (which aren't), at much slower speeds.
And so the issues surrounding the wires (or shutting them off) are not about voice calling phone service, but all services that can use a copper or fiber optic wire.
"5G"? It is still a mythical wireless beast and currently has an estimated range of 500-1000 feet, (a city block or two) and without interference, like trees or buildings. Again, it requires a fiber optic wire to the antenna.
But the "tests" all show giga-XXX… Yawn. All telecom-tech 'tests' historically have been nothing more than a controlled situation to increase the PR for the companies' plans to get public policy changes vs actual deployments.
If history is our guide, then Verizon et al. have no serious plans to bring rural areas, much less places where they have not already put in fiber, to offer a wireless replacement and competition for the high speed triple play. Thus, there is not going to be serious competition to cable, or lower prices, and many areas will have their wires 'shut off' for inferior, more expensive wireless, not on 5G but the existing 4G networks—with 1G of hype.
In fact, AT&T and Verizon have been touting this new 'wireless-first' future since 2012.
Why Did Verizon Stop FiOS Fiber to the Home? To Save Money and Get Rid of the Unions.
According to Verizon, this is not about building infrastructure of the state utility, but is being done because it is cheaper and gets rid of the unions.
Francis Shammo, now-former EVP, Verizon, stated at the Goldman Sachs Communacopia Conference, September 22, 2016, that the plan was wireless, not wires and "the labor involved with that (wires), all that goes away…"
"But it's going to be a fixed broadband wireless solution.
"And if you think about the cost benefit of that, today, if you think about FiOS and what it costs me to connect a prem to FiOS. I have to lay the fiber down the street, but then I also have to then connect the home, go into the home, make sure the wiring is right, put in install the boxes, install the routers.
"If you think about 5G, you put the fiber down the road, which is what we're doing in Boston. Then all of the labor and the expense of drilling up your driveway connecting the OT to your house and all the labor involved with that, all that goes away, because now I can deliver a beam into your - into a window with a credit card size receptor on it that delivers it to a wireless router, and there's really no labor involved and there's no real hardware other than the router in the credit card. So the cost benefit of this is pretty substantial, at least, we believe it is."
This has been a long standing plan. Lowell McAdam, Verizon Chairman & CEO, (and former CEO of Verizon Wireless), stated on June 21, 2012, five years ago, that the plan was to 'kill the copper' because it's a "pot of gold".
"But the vision that I have is we are going into the copper plant areas and every place we have FiOS, we are going to kill the copper. We are going to just take it out of service and we are going to move those services onto FiOS. We have got parallel networks in way too many places now, so that is a pot of gold in my view.
"And then in other areas that are more rural and more sparsely populated, we have got LTE built that will handle all of those services and so we are going to cut the copper off there. We are going to do it over wireless. So I am going to be really shrinking the amount of copper we have out there..."
Let's just focus on 'following the money' and examine the construction budgets and the "massive deployment of fiber optics", a phrase that was used by Verizon to obtain rate increases.
1) Verizon Received Multiple Rate Increases to Pay for "Massive Deployment of Fiber Optics".
This quote is from a 2009 Verizon NY filing for a rate increase. This rate increase, the third to be granted, specifically states that it is for the "massive deployment of fiber".

2) Did Verizon Get Paid to Build Non-Jurisdictional Broadband?
Verizon's previous footnote threatens a "legal memoranda", where Verizon's claims it can not be 'mandated' to do fiber because it is would expanding "non-jurisdictional broadband services in the State". This is because broadband is classified as an "interstate" service and therefore NY State has no jurisdiction to require Verizon to do any build outs, as the State can only regulate and oversee "intrastate" services.
The above quote, then, shows that Verizon was granted a rate increase based on an 'interstate' service. Was that illegal? Did the NYPSC err?
It gets worse. In another Verizon quote, below, it would appear that Verizon didn't remember that the company was able to convince the NY State PSC in 2005 that the FTTP was part of the existing state infrastructure and not a 'non-jurisdictional' interstate FTTP broadband service.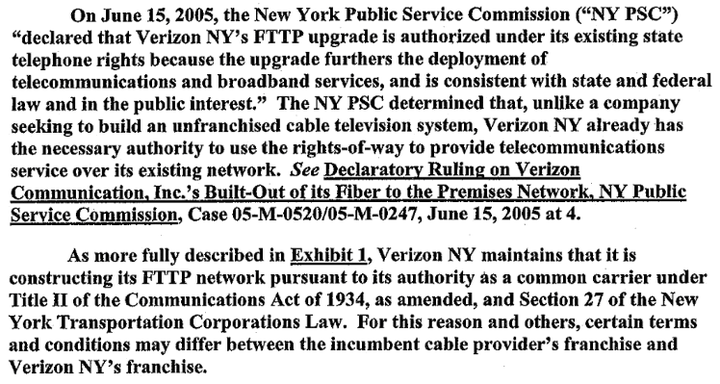 These two quotes directly contradict Verizon's 'footnote' about FTTP services. We will return to this in a moment.
3) The Utility was Hijacked by Cellco Partnership (D/B/A Verizon Wireless) and the Other Verizon Subsidiaries.
Let's continue to follow the money for the 'massive deployment of fiber optics'. Verizon NY received 3 rate increases for residential phone service tied to the FTTP build outs, starting in 2006 and yet, with the ink still drying on the 3rd increase in 2009, in 2010, Verizon states it was ending FiOS, the FTTP, fiber to the home deployment.
"Verizon to End Rollout of FiOS.
"Verizon Communications Inc. will no longer seek new cities to roll out its FiOS TV service as the company nears the end of its $23 billion network upgrade project."
At this time, 2010, Verizon Communications shifted gears and moved Lowell McAdam, then the head of Verizon Wireless, to become Verizon's new CEO.
And, according to Verizon NY's press releases from 2010 through 2012 there was a major deployment of wireless cell sites in NY (and all of the Verizon territories). And low and behold, the build out of these sites are part of the wired infrastructure expenditures. The Verizon 2010 headline reads:
"Verizon Spent More Than $1.4 Billion in New York's Landline Telecom Infrastructure in 2010."
This release clearly establishes that for the year 2010, Verizon spent $1.4 billion on wireline construction in New York State, and part of the focus was FiOS TV. But there were also 2,800 cell sites being put up as part of the wireline network.
"Deployment of fiber-optic links to wireless providers' cell sites throughout New York as these carriers expand their infrastructure to meet ever-growing demand for wireless broadband and advanced 4G services. In 2010, Verizon deployed fiber optics to connect more than 2,800 of these sites."
The New York State Attorney General's Office found that 75% of Verizon NY's capital expenditures for Local Service had been diverted to fund FiOS and the wireless networks.
"Verizon New York's claim of making over a 'billion dollars' in 2011 capital investments to its landline network is misleading. In fact, roughly three-quarters of the money was invested in providing transport facilities to serve wireless cell sites and its FiOS offering. Wireless carriers, including Verizon's affiliate Verizon Wireless, directly compete with landline telephone service and the company's FiOS is primarily a video and Internet broadband offering… Therefore, only a fraction of the company's capital program is dedicated to supporting and upgrading its landline telephone service."
Based on the press releases and industry interviews about the costs per cell site, it appears that Verizon New York, the state wireline utility, put in 5,515 cell sites as part of the wireline capital expenditures from 2010-2012. Based on our cell site cost model, this cost an estimated $2.8 billion, about 80% of the Verizon NY wireline construction budget. (We note that much of this data pertaining to the use of the wireline networks for wireless has not been updated in public statements or documents.)

NOTE: There are no 'affiliate' payments by Verizon Wireless to Verizon NY that would cover these build outs.
And this is not a Verizon NY or a Verizon specific activity.
AT&T is using the same accounting game. Bill Smith, President, Technology Operations, AT&T, at the Wells Fargo 2016 Convergence & Connectivity Symposium, June 21, 2016, made clear that the wireline side of the business has been funding the wireless build outs.
"I came more from the wire line business and had always a little bit of frustration for me because for many years before I picked up operations in construction and everything for the wireless side of the business, in the wire line world, I was spending a lot of money that was directly supporting the wireless operation, but it showed up as wire line spend. So we're not that good at allocating those expenditures."
Some Points of Contention
Customers had multiple rate increases based on "massive deployment of fiber optics", starting in 2006, which was based on the announced rollout of FiOS, a fiber to the home (FTTP) service. The 3rd increase was in 2009.
In 2010, Verizon announced it was halting the FiOS build out throughout its territories.
In 2010-2012, the construction budgets of Verizon, NY, the state wireline utility, were used to build the wireless networks and the other lines of business, as told by Verizon's own press releases and the NY Attorney General's Office.
Unfortunately, the rate increases were never removed or reduced post-2010.
Thus, built into current rates are increases that were used to fund other Verizon lines of business, including Verizon Wireless, and not to wire the cities.
And since Verizon is not doing anymore FiOS fiber to the home deployments, where's all the money going in the construction budgets being charged to Local Service in 2016?
NOTE: Verizon is also being sued by the City of New York for its failure to complete the franchise to upgrade 100% of NYC to FiOS for cable service.
Should Verizon (and AT&T) be required to deliver FTTP, fiber to the home – finally? And what about Verizon's legal memoranda that is going to be submitted at the appropriate time?
"Legal memoranda submitted by Verizon at the appropriate point in this proceeding will also establish that mandated FTTP deployment would be an unlawful response under the Public Service Law and the Constitution. Those memoranda will also show that it would not be lawful for the Commission to mandate FTTP deployment as a means to expand the availability of non-jurisdictional broadband services in the State."
Did the state err in granting Verizon the right to charge local phone customers for the FTTP 'non-jurisdictional' broadband?
And if so, should there be refunds?
Should those who already paid over $1500.00 per line be made whole and the money refunded, plus penalties?
And is it even legal for Verizon New York, the State wired utility, to build out the wires to the cell sites instead of upgrading the cities that it has a franchise with as part of the state wireline utility?
And if the wireless company did not pay for the build out but the work was charged, in part, to Local Service, then should the wireless company be required to refund the money to the customers who a) were never upgraded and b) were overcharged as these expenses helped to cause 'losses' for Local Service, which, in turn, were used as part of the reason for the rate increases?
And finally, is NY State going to deal with these issues and cross-subsidies or allow Verizon to simply get away with a slapped wrist and some promises the company may just give lip service to?
If Verizon Wireless and the other subsidies are required to pay back the expenses it had generated, or the cross-subsidies are stopped, there is plenty of money to upgrade the state's utility to FTTP.
Popular in the Community