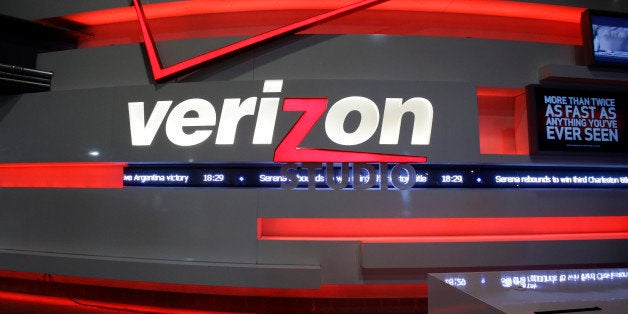 NEW YORK -- Verizon now owns AOL.
"The Internet path is well worn, but the mobile brands, mobile video, and mobile advertising path -- all tied to the coming Internet of Things -- has few footprints," AOL CEO Tim Armstrong, who will remain at the helm of the division, wrote in a memo to employees on Tuesday morning. "AOL and Verizon's combined assets create an ability for us to blaze a new trail in a newly mobile and connected world."
Verizon agreed to buy all AOL stock at $50 per share.
The deal, announced last month, comes 15 years after AOL's catastrophic merger with Time Warner. The dot-com bubble burst of 2001 resulted in a $98.7 billion loss for the combined company in 2002 and forced it to write down the value of AOL, creating the biggest annual corporate loss in history.
In 2009, Time Warner finally spun off AOL, which then began investing heavily in media properties. AOL acquired TechCrunch in 2010. A year later, it purchased The Huffington Post for $315 million.
By 2013 -- the year online video ad sales topped $2.8 billion for the industry overall -- AOL began investing heavily in video products. That year, the company bought the programmatic video ad platform Adap.tv for $405 million. A month later, HuffPost Live -- HuffPost's streaming network -- launched. In April, AOL promoted to advertisers a slate of new reality programs starring celebrities including James Franco and Oscar-winner Jared Leto.
That same month, AOL unveiled One, an automated platform for buying ads across different media. The service, which provides open data to ad buyers, pits AOL against tech giants Facebook and Google, which limit the data clients can access.
Rumors emerged soon after the AOL-Verizon deal was announced that the telecom would spin off AOL's publications, including HuffPost and TechCrunch. Verizon had a brief stint in the content business last year with the short-lived Sugarstring. But the controversial tech news site was shuttered in December after The Daily Dot reported that Verizon refused to allow editorial staffers to write about net neutrality, a principle which Verizon opposed.
Armstrong and Verizon Chairman and CEO Lowell McAdam have repeatedly said they have no plans to exit the content business and vowed to maintain the editorial independence of all the company's journalistic enterprises. Last week, Arianna Huffington, the chair, president and editor-in-chief of HuffPost, signed a new four-year contract to remain at the company.
"Today, I can say that we are in a stronger position than we've ever been in, with the wind at our backs," Huffington wrote at the time in an email to staffers. "With input from our newsroom and our tech and business leaders, we have a detailed plan to execute our vision and build on our core mission of informing, inspiring, entertaining and empowering audiences around the world."