This is Part 1: Broadband Scandal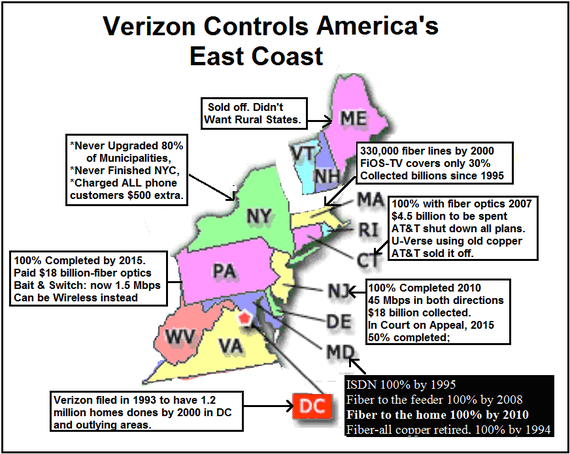 (Map: Historical Atlases and Maps of U.S. and States)
One of my friends suggested that Verizon was buying AOL just to shut me up, so I couldn't expose the phone and cable companies' questionable business practices and bad acts any more on Huffington Post. It is owned by AOL after all. I seriously doubt this is Verizon's main motivation. According to Verizon:

"AOL is a leader in the digital content and advertising platforms space, and the combination of Verizon and AOL creates a scaled, mobile-first platform offering directly targeted at what eMarketer estimates is a nearly $600 billion global advertising industry."
Should this merger even be considered? Hell no!
While there are those who care about editorial issues and what will happen to Huff Po, Techcrunch and Engadget if Verizon takes over, as a telecom analyst, I have different concerns.
Why Should the Merger be Blocked? Three Reasons
First, Verizon has a monopoly over the phone networks and thus controls critical infrastructure of most of America's East Coast, from Massachusetts to Virginia, (with the exception of most of Connecticut, formerly SNET). And this control isn't simply the phone and broadband (including DSL), networks, but also the 'secret' 'special access' networks that are used to handle wireless services, as almost all wireless, 'hot' spots or WiFi traffic ends up using a wire.
Note: Verizon originally controlled Maine, New Hampshire and Vermont as well, but sold off the state utilities because it didn't want to bother with rural areas. It has also been selling off the GTE territories it obtained during the merger that created "Verizon"; most recently the telecom properties in Florida and California.)
Second, allowing the company to continue to grow larger in areas like advertising and digital content diverts attention and resources away from properly upgrading and maintaining the wired networks that people, cities and businesses depend on.
Case in point; Verizon has failed to properly upgrade and maintain the majority of the states' critical infrastructure, especially in rural areas, and there are major gaps in every city -- even though the company got paid billions per state in rate increases and tax perks for the work.
Third, Verizon only allows their own Internet, (ISP), cable, and broadband service over the wire coming into your home or office and can block or harm competitors. Commonly known as 'vertical integration', Verizon also can and does fund the company's other services by charging local phone customers or having them pay additional expenses, commonly known as 'cross-subsidization'. (And this even includes expenses like the fiber optic wires to the cell towers.) Adding new lines of business that get advantages over all other competitors is therefore a given.
Bottom Line: Divestiture. If Verizon wants to go into the content and advertising business, great. Let them divest all of the wires that customers paid to have upgraded - i.e., all of the wires to homes and businesses, including FiOS, as well as the special access wires, the wires to the cell towers, and all enterprise-business wires.
I'll be addressing why we need to divest the companies' control, subsidiary cross-subsidies and content from the wires in future articles (assuming... well you know).
Addressing Verizon's Broadband Scandal
NOTE: This is not about history, but current and future affairs, though some background would be useful.
It's 1991 and one of the Clinton-Gore presidential ticket's main objectives is what then-Senator Al Gore dubbed the "Information Superhighway", which was a plan to have America's state utilities replace the existing copper wires with a fiber optic wire to make America the first, fully fiber optic nation by 2010.
From 1991-1995, Verizon, (which was created out of the companies, NYNEX, Bell Atlantic and GTE), had teams of lobbyists, etc. barnstorm the FCC, Congress, and the states' legislatures and state commissions, claiming that they would bring America a fabulous fiber optic future. And note that now-AT&T and CenturyLink worked with what is now Verizon and ran identical campaigns and lobbying throughout America.
First, the companies had to get the approval of the FCC and filed 'video dialtone' applications to be able to offer video and cable services over the phone lines, which wasn't allowable at the time. They even took the FCC to court to get permission to do this. In 1994, the FCC released its first video competition report which detailed that the Verizon's territories would have at least 4.5 million homes wired with fiber optics and capable of cable TV and video by 2000. (Excerpt from "Annual Assessment of the Status of Competition in the Market for the Delivery of Video Programming FIRST REPORT", September 28, 1994 CS Docket No. 94-48)
"GTE has requested permanent authorizations to serve 90,000 homes in Virginia, 476,000 homes in Florida, 122,000 homes in California and 296,000 homes in Hawaii. Bell Atlantic has requested permanent authorizations to serve 1.2 million homes in the Washington DC metropolitan area and 2 million in the Baltimore-New Jersey-Philadelphia-Pittsburgh area. NYNEX has requested permanent authorizations to serve 63,000 homes in portions of Rhode Island and 334,000 homes in portions of Massachusetts."
Note: The FCC's 16th video competition report was released in April 2015.
These video dialtone deployments dovetailed with the changes in state regulation.
Next, though the flavor of 'commitments' varied by state, Verizon went state to state and submitted almost identical plans to do upgrades in each state.
The Book of Broken Promises detail's one state's complete broadband history, through 2015. New Jersey was supposed to be the first fully, totally fiber-ized state. In 1991, Verizon went to the state legislature, claiming that if the company was granted 'deregulation' and was allowed to raise rates and get tax perks, Verizon would use this extra cash for construction. By 2010, 100% of Verizon NJ should have had the copper wire replaced with a fiber optic wire. And this was not only to homes and businesses, but schools and libraries.
And speed? Verizon New Jersey's 1993 Opportunity New Jersey state law contains this definition of broadband -- 45 Mbps in both directions, which was the standard speed in America for broadband.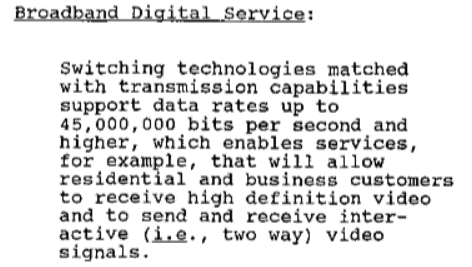 And the hype lasted for years. This Bell Atlantic press release from 1996 details that Bell Atlantic (now-Verizon) would have 12 million 'homes and small businesses' wired with fiber-optic upgrades by 2000, starting in Philadelphia and Pittsburgh.
"Bell Atlantic plans to begin its network upgrade in Philadelphia and southeastern Pennsylvania later this year. The company plans to expand this Full Service Network deployment to other key markets over the next three years. Ultimately, Bell Atlantic expects to serve most of the 12 million homes and small businesses across the mid-Atlantic region with switched broadband networks."
Instead, while profits doubled, Verizon pulled a bait-and-switch, and rolled out DSL over the old, existing copper wires. By 2004, there were no fiber optic wires to homes; not in New Jersey or anywhere on the East Coast.
Around 2005-2006, the company started to deploy FiOS, a fiber optic service, (and applied for local cable franchises, not to mention lobbied for and received state-wide franchises in some of the states they offer phone service. But, by 2012 Verizon announced they would be stopping FiOS deployments, leaving most of their territories incomplete, at best. (In New Jersey, there were still some lingering commitments.)
And, as I said, this is not about history. In 2014, Verizon NJ and the NJ Board of Public Utilities (BPU) cut a 'stipulation agreement' to erase the state law and commitments, allowing Verizon to replace the original commitment with expensive wireless at the speed of only DSL, not the higher 45 Mbps. The NJ Rate Counsel, the state advocate's office, appealed the decision, and as of May 2015, it is still in court.
Unfortunately, this is a model of what happened in every Verizon state along the East Coast and throughout America in the states controlled by what are now AT&T and Centurylink.
Cross Subsidies and Shutting Off the Copper Utility Networks
But it gets worse. Notice that in the opening quote, Verizon is talking about 'wireless'. Verizon now plans to 'shut off the copper networks' claiming that they are 'uneconomical' and force customers onto more expensive wireless.
In New York we tracked how Verizon NY has been engaged in a massive financial shell game to move the monies that were supposed to be dedicated to the wireline networks to pay for the deployment of their wireless networks. Moreover, regular phone customers in New York, including seniors and low income families, were hit with 84% rate increases since 2006 to fund a 'massive deployment of fiber optics' and losses; the losses being created in a large part, by this shell game, which also includes the dumping of corporate expenses into the state utility accounting and giving the subsidiaries of Verizon financial advantages.
For example, in 2011, Verizon NY claimed that it spent over $1 billion on network construction. The NY State Attorney General's Office found that this was "misleading" as the budgets had been shifted, diverted to fund the wireless business and FiOS, which is a cable TV service.
"Verizon New York's claim of making over a 'billion dollars' in 2011 capital investments to its landline network is misleading. In fact, roughly three-quarters of the money was invested in providing transport facilities to serve wireless cell sites and its FiOS offering. Wireless carriers, including Verizon's affiliate Verizon Wireless, directly compete with landline telephone service and the company's FiOS is primarily a video and Internet broadband offering...Therefore, only a fraction of the company's capital program is dedicated to supporting and upgrading its landline telephone service."
Considering Verizon has announced it is no longer doing FiOS build outs, where's all the money going, exactly?
The Cup Half-Empty & Swiss Cheese Broadband Deployments
Based on Census and FCC data, Verizon covers about 34 million housing units and businesses. According to Verizon's Annual Report for 2014, the company claims it has 15 million customers capable of FiOS TV, or only 44% coverage, and 19.8 million, total, of any available FiOS product, or 58% of their territory.
However, based on the holes in deployments reported in New York City and other locations, while an area may be listed as completed, this doesn't mean the service is 'available'.
Take this caveat, which is a footnote to Verizon Pennsylvania's calculations of its broadband coverage. Verizon PA is required to have 100% of their territory completed by the end of 2015, and the company claims it has 96% completed. (I'll get back to this.) But, they are simply making it up as Verizon put in this caveat, that 'deployed' has nothing to do with a customer being able to get the service.

Let's Take a Ride Down the Coast and Highlight a Few States' Broadband Scandal
Massachusetts -- By 2000, Verizon was to have 330,000 fiber optic lines completed. After the law was changed in 1995, while the company claimed it would immediately start work, it just pulled a bait-and-switch and rolled out DSL in 1998. The company eventually started to build out FiOS TV, but Verizon appears to have only 30% of the state upgraded.
In 2014, Verizon MA claims that "At year's end, FiOS services were available to more than 1 million Massachusetts homes and businesses."
Using Census data, Verizon MA covers 2.8 million housing units and 600,000 businesses; 3.4 million total locations - i.e.; only 30% has been upgraded.
New York -- In 1993, the NYNEX Annual Report claimed it would have 1.5-2 million fiber optic lines installed by 1996, (about 1.1-1.6 million in NY State). Never happened.
In 2006, Verizon NY went back to the state commission and received multiple rate increases, 84%, on basic phone service for 'massive deployment of fiber optics'-- i.e.; construction money supposedly for FiOS.
Verizon has a separate franchise agreement to have 100% of New York City's housing units wired by July 2014. Estimates are that Verizon has 80% of NYC completed and has stopped; and there is no requirement to do commercial buildings.
Verizon will also be leaving 80% of all municipalities in NY State with some or no upgrades, yet 100% of phone customers paid for upgrades with the increases, which comes to over500 a line
.
New Jersey -- By 2010, 100% of the State should have been completed with a fiber optic network capable of at least 45 Mbps in both directions. Verizon collected an estimated15 billion by 2013 for these build outs.
In 2012, the law was still on the books and two small towns, Greenwich and Stow Creek, complained and were upgraded, in part based on the original law.
In 2014, the NJ BPU cut a deal with Verizon to erase the laws and it is currently in court, as the state advocate's office appealed the state's decision.
About 50% of the Verizon NJ is still not upgraded, even though 100% of the state phone customers have been and continue to pay the built-in rate increases.
In 2001, Verizon submitted its Annual Infrastructure Report and claimed it had 55% completed with fiber optic upgrades, capable of 45 Mbps in both directions to residential customers--They lied. FiOS wasn't deployed until 2006-2007.
Pennsylvania -- By 2015, 100% of the Keystone State is supposed to have been upgraded to fiber optics, just like New Jersey -- same, exact plan and the laws were changed in 1994.
By 2002, nothing had been built and the state Public Utility Commission questioned Verizon, as every filing and every document claimed it would be offering 45 Mbps in both directions. However, the fine print of the original law stated Verizon was only required to have 1.5 M bps speeds.
The law was changed in 2004 to institutionalize the 1.5 Mbps speed, but the commitment was still for completion by 2015.
NEWS: In PA, Verizon was able to get the state to erase the commitment to do a wired solution and is now allowed to use their expensive wireless service as a substitute.
Verizon claims to have 96% completed; truth is Verizon has less than 50% wired and completed.
Maryland -- According to the "Modernization of the Maryland Telecommunications Infrastructure: A Summary of Plans to Upgrade the Local Networks", the plan, like all of the other states, was for fiber-to-the-home to be completed by 2010, and all copper wiring between the network points (known as 'interoffice', would have all of the copper replaced with fiber by 1994.
Note: I write articles for my Huffington Post blog and other media outlets, which included Harvard Nieman Watchdog until its closing in 2012. I am not on staff or work for Huffington Post but appreciate having the ability to write unfettered by corporate-oversight. And when the work has been questioned -- by Verizon, in fact, as long as I can prove the accuracy of what I said, they didn't interfere.
In fact, I've challenged Verizon now twice to a debate-- but since I use their own data, statements and financials, and other primary sources, etc. they have always declined.
Part 2: Upgrade the Networks? Care about Local Phone Customers? Nah. Verizon's 331 Investments in 150 Countries.
Support HuffPost
The Stakes Have Never Been Higher
Related
Popular in the Community