Here is an excerpt from Verizon's original Massachusetts fiber optic plan that was filed with the State, (then called the Massachusetts Department of Broadband and Cable) -- and was finalized in 1995. I particularly like "immediately begin deploying... fiber-based broadband technologies" and it included Boston. Has a nice ring to it, don't you think?
Is Verizon also going to pay back to everyone who lives in Boston and throughout the Commonwealth and couldn't get service, the $4,000.00-$5,000.00 per household that was already collected to do this work, starting in 1995, not counting interest and 'various taxes, fees and surcharges' collected for 21 years?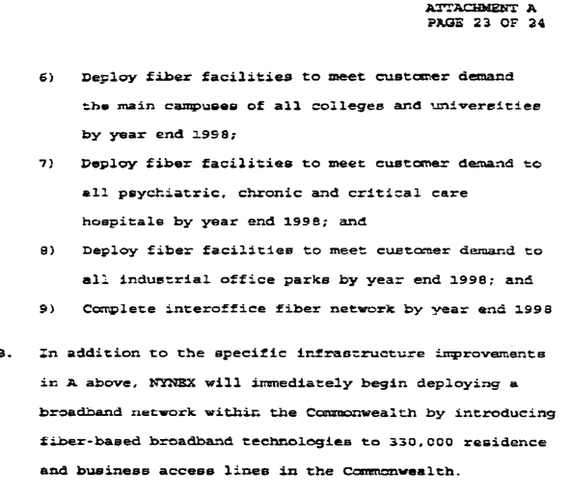 NOTE: Verizon was then called New England Telephone, then NYNEX, then Bell Atlantic.
In a rebuttal opinion piece dated April 13, 2016 titled "Feeling the Bern of Reality -- The Facts about Verizon and the 'Moral Economy'" Verizon's CEO, Lowell McAdam goes after the Bernie Sanders' campaign info about Verizon and claims that the company is building out the networks and does it to benefit America. In fact, Verizon claims it is going to be spending $300 million over six years to finally bring fiber optics infrastructure to Boston, Massachusetts.
And yet, 21 years after the original agreement, Verizon's CEO, Lowell McAdam explains that Verizon is now getting around to doing fiber optics in Boston -- with no mention of the rest of the state.
"Just yesterday we announced a $300 million investment to bring fiber to the city of Boston, which will make it one of the most technologically advanced cities in the nation and expand broadband access for its residents. Boston's Mayor Walsh is partnering with us on this initiative, calling it crucial for providing the foundation for future technology growth. We're making significant investments in New York City, Philadelphia and other metro areas throughout our wireline footprint."
That's nice, but 21 years ago, the corporation now named Verizon started collecting money to build out the state. And New York City, Philadelphia and other cities claim that Verizon never finished the fiber optic build outs under the franchise agreements.
In 1999, a group of us filed a complaint with the Massachusetts Department of Broadband and Cable (DBC), claiming that Verizon (then Bell Atlantic) had overcharged customers by over a billion dollars from 1995-1999, including taking a massive one-time tax deduction to bring 'fiber optic' broadband to the entire state - including Boston.
But, like every other Verizon state, there was sub-plot to this tale. Verizon just wanted to get rid of any regulations, having to file any information about their business activities, or have them investigated or examined. This was included in the original proposed new regulations and laws; don't know whether parts of this ever got added.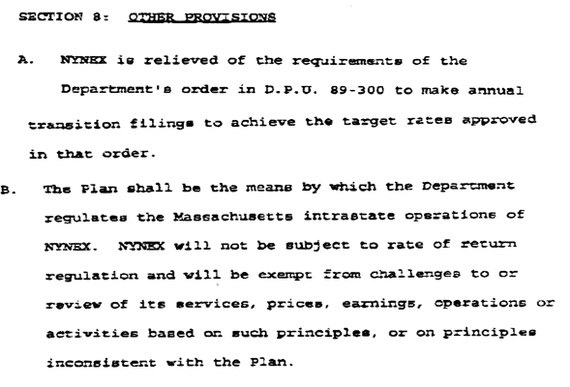 And we wrote the following in our complaint, which was ignored by the DBC.

"(Verizon) Bell Atlantic misled Massachusetts consumers and regulators with promises of advanced network deployments for the purpose of removing important pro-consumer regulation.

"In statement after statement, before consumers, advocates, regulators and the press, employees and executives at the top echelon of New England Telephone made repeated and unambiguous representations that NYNEX would spend over $500 million to build the fiber optic network in Massachusetts, commencing in 1995. On July 15, 1994, New England Telephone Chairman Paul O'Brien announced that NYNEX was '...putting its money behind its beliefs. We recently announced plans to build what is essentially a new....state-of-the-art broadband network.... capable of providing video-on-demand and interactive information services.' O'Brien went on to promise that construction would begin late that year, 1994, in eastern Massachusetts.

"A few months later, the Patriot Ledger quoted NYNEX spokesman Kenneth Horne describing a very specific plan: 'In Massachusetts, NYNEX plans to begin the new service in Somerville, Revere and Winthrop, then move to Brookline, Cambridge and neighborhoods in Boston, including Roxbury, Brighton, Beacon Hill and the Back Bay...'

"In its testimony before the Department as it considered the alternate regulation plan, NYNEX agreed to 'deploy a fiber-based broadband network, with initial deployment to approximately 330,000 access lines, by year-end 1995'."

"NYNEX made essentially the same promise to the FCC in 1994:

'On July 8, 1994, NYNEX filed two (Section 214) applications for authority to provide video dialtone service in certain areas of Massachusetts and Rhode Island. The application to provide video dialtone service in Massachusetts proposes a system that will pass approximately 334,000 homes and businesses.' [FCC 95-50 Order and Authorization, released 3/6/95]

"NYNEX put forward a very specific technological definition of what it would offer if granted relief. As the FCC understood the NYNEX proposal;

'NYNEX proposes to deploy hybrid fiber optic and coaxial (HFC) broadband networks that will provide advanced voice, data, and video services, including interactive video entertainment, multimedia education and health care services.' [FCC 95-50 Order and Authorization, released 3/6/95]

"The State never went back and redid the changes to state law that allowed the company to essentially charge customers for broadband services - that they never got. I.e.; like most states, built into the local phone rates and services have been a defacto payment to Verizon - extra, above and beyond what the service should have cost, to pay for these upgrades."
Verizon announced FiOS in 2004, with deployment starting around 2006, so essentially for one full decade Verizon did not do the wiring "immediately" to homes, much less schools or healthcare facilities. In fact, Verizon pulled a 'bait and switch' and rolled out DSL over the old copper, around 1998.
In Massachusetts, Verizon didn't come to Boston but to scattered municipalities in Eastern part of the state -- and left most of the towns and cities of the Commonwealth without upgrades.
And, around 2010-2011, Verizon announced it had stopped its FiOS deployments - which left most of the East Coast (and Massachusetts) with the aging copper infrastructure, that they now want to rip out in Boston or shut off in the state. And since around 2012, the company's plan has been to not properly even maintain the networks, claiming they are unprofitable -- while there have been no audits or investigations by the MA state regulators about any of these claims.
And this 'Trust us; We're the phone company and we'll do the right thing...' is not "FACTS".
In a previous article we detailed that what happened in the Commonwealth happened up and down the East Coast as the companies (then NYNEX and Bell Atlantic) had teams that went state-to-state to change the laws, with little regard to what was being promised - and paid for - and it cost customers billions upon billions per state; it left them with a skateboard on a dirt road, even though they paid for a Ferrari on the Information Superhighway.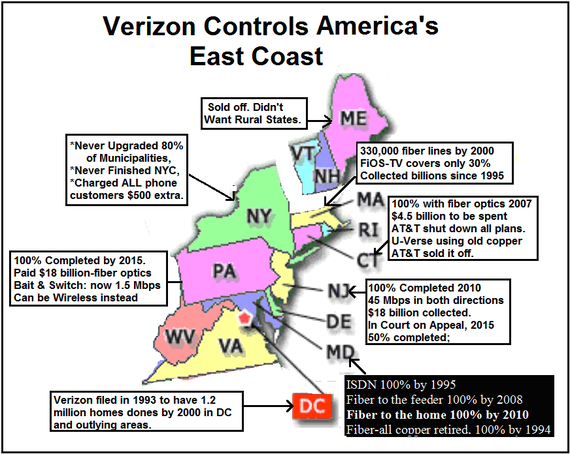 Popular in the Community