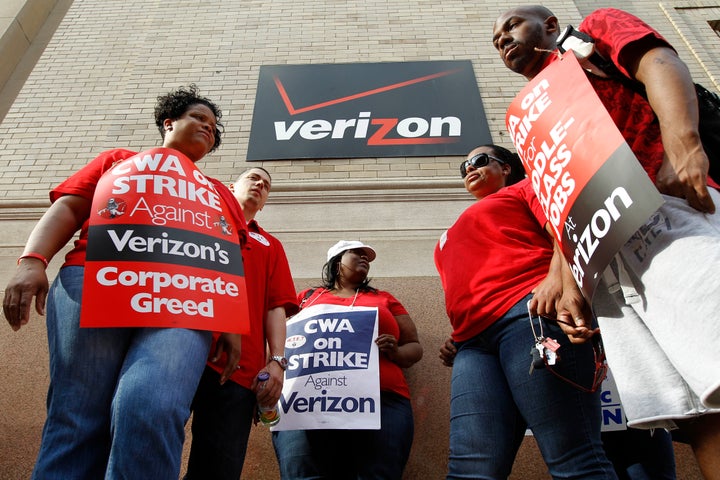 NEW YORK -- A union official alleged Tuesday morning that Verizon is slowing post-Irene repairs for thousands of phone, internet and TV customers on Long Island and in upstate New York to put pressure on its workers during ongoing contract negotiations. Verizon says those payback claims are baseless.
Verizon employees are "ready, willing, and more than able" to work extra hours to fix the problems, said Communications Workers of America District 1 Vice President Chris Shelton, but he claims the company instead is intent on denying them overtime as punishment for their recently abandoned strike.
"The customers who are out, they're leaving them out. They don't care," Shelton said. "They're just sitting there with thousands of repair jobs."
A largely unionized workforce maintains Verizon's landline offerings, including its FiOS cable and internet product. Verizon's cellphone services are tended to separately by non-union employees who were not involved in the strike action.
John Bonomo, Verizon's director of media relations for the region, agreed that there were thousands still without landline service in New York State, but downplayed the importance of that service disruption and denied that the company was forgoing overtime.
Bonomo said the company had not declared an emergency, which the union claims might help in restoring service to customers more quickly, because "the traditional landline phone is not as vital as it had been in past years."
There were "no major outages," he said, and added that customers could use cellphones instead -- although in places like Long Island, some are experiencing problems with those services, too.
"We've had two incredibly sunny days. We've got a full workforce in service," he said, adding that some delays were caused because Verizon first had to wait for power companies to restore electricity before beginning its own repairs.
The dispute over Hurricane Irene phone outages echoes the union and Verizon's broader war of words over forging a new contract for 45,000 workers represented by the CWA and the International Brotherhood of Electrical Workers.
The union says Verizon is trying to slash labor costs regardless of whether that would hurt customers; the company says it must cut costs given the declining importance of traditional landline phones in the face of cellular devices.
In another move designed to put pressure on Verizon during contract talks, the CWA was joined by Manhattan Borough President Scott Stringer at a press conference on Tuesday in calling for the return of some $800,000 the company garnered during the course of the graft-tainted "Project Connect." Department of Education consultant Ross Lanham oversaw the massive program to upgrade internet service at New York City public schools.
Lanham and a ring of subcontractors passed bills through Verizon, which then added an additional margin onto what it charged the city for services. A New York City School District special commissioner's report from April found that Verizon, "by [its] silence, facilitated this fraud."
Verizon said it was unaware of the over-billing allegedly engineered by Lanham, who has been charged by Manhattan U.S. Attorney Preet Bharara for the scheme.
"Verizon's integrity should not be at issue," said company spokesman Bonomo. "Verizon did not participate in and was not aware of any wrongdoing by Ross Lanham. But as we previously indicated, as a matter of goodwill, we have told DOE we would return any inappropriate profits. We have been in discussions with DOE."
Flanked by union representatives, Stringer, a 2013 mayoral hopeful, said at a press conference that "any company that does business with the city on the scale of Verizon must be a model corporate citizen."
He demanded that Verizon return any illicit profits it received from the graft-tainted project. And in a nod to the ongoing contract negotiations, he suggested that "a little respect for workers goes a long way in the city of New York."
Related
Popular in the Community