Two Scandals in the Garden State
Verizon and the NJ Board of Public Utilities (BPU) cut a stealth agreement to raise rates on top of previous rate increases of 440 percent. Moreover, the State undercounted the additional charges and fees over the last two decades.
Fiber Optic Scandal: By 2010, 100 percent of Verizon NJ should been upgraded to a fiber optic network, capable of 45 Mbps in both directions. Verizon collected over 15-16 billion in excess profits and tax perks by 2013 from these rate increases and tax perks -- and didn't upgrade about one half of the State. This includes schools and libraries. This is about4000-5000.00 per household in additional fees.
How the State Undercounted Rate Increases - Based on Actual NJ Phone Bills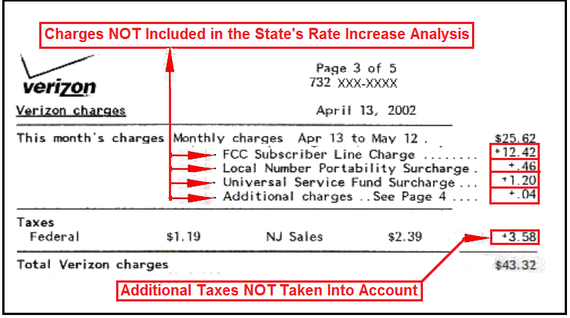 (This Verizon NJ bill shows that the FCC Subscriber Line Charge (which doesn't go to the FCC but is direct revenue to Verizon), and other costs, including the taxes that were applied to these charges, were not included in the State's calculations for previous rate increases. These are only a few examples of the many ways the State 'undercounted' the rates increases.)
Scandal One: Raise Phone Rates
In a stealth move, on May 19th, 2015, the NJ Board of Public Utilities is supposed to grant Verizon a deregulation package to raise rates up to 36 percent and remove basic consumer safeguards. Done as a 'stipulation agreement' that was signed on May 6th, 2015, the State has failed to properly notify even the state Rate Counsel, NJ's consumer advocate office. (We didn't find out about it until after the deadline passed.)
"Left out of the negotiations and only aware of it when the stipulation was signed was the New Jersey Division of Rate Counsel, which has repeatedly opposed efforts to eliminate regulation of the so-called traditional copper line service."

"Rate Counsel Stefanie Brand said the stipulation came 'as a big shock to us'... 'The BPU is just saying to Verizon, Go ahead and do whatever you want', she said. 'They're not going to look into service quality. They're not going to invest in the system. They're going to walk away from the copper landline system that ratepayers paid for'.''
On top of this, Verizon and the State claims that there were no rate increases from 1982-2008 and only minor increase after that. Our data, based on actual phone bills, shows it went up 440 percent. Verizon and the State have decided to leave out almost ALL of the other additions and increases, some shown in the chart above. This is just like those deceptive advertisements where you buy a communications service and you get the first bill only to find that the company left out major expenses that you must pay.
More importantly, the NJ state legislature refused to grant this deregulation over the last few years as it is based on the same plan laid out in American Legislative Exchange Council (ALEC) 'model' legislation (which was written by the phone companies and handed to ALEC-member politicians to push through; most of which are campaign-financed by the companies). Instead, Governor Christie's-appointed NJ BPU has decided to just help Verizon, at the expense of all phone customers, which includes low income families and seniors, small businesses, as well as rural areas that were not upgraded to fiber optics -- even though they paid for it.
Scandal Two: Broadband Scandal
This is a lot worse than that just another rate increase. By 2010, Verizon NJ was supposed to have 100 percent of their entire territory upgraded with a fiber optic wire, replacing the existing copper wires of the State's utility networks. And this includes schools and libraries. And it was supposed to deliver 45 Mbps in both directions, starting in 1996. Verizon collected over $15-$16 billion in extra phone charges (that are built into rates) and tax perks by 2013 to pay for this construction -- and yet left about ½ of New Jersey incomplete. But let us be clear --100 percent of customers paid for these networks, which comes to $4000-5000 per household in extra fees.
Instead of investigations, in 2014, this Commission signed another, previous stipulation agreement to erase Verizon's obligations; the advocate's office appealed this decision and in 2015 it is now in court.
You want scandal? This is an excerpt from the Verizon New Jersey Annual Infrastructure report for the year 2000. It filed with the NJ BPU and sent by mail to interested parties. And it claimed that in the year 2000, Verizon New Jersey had 52 percent of the entire territory finished and could offer customers a residential service that delivered 45 Mbps in both directions.
Excerpt from the 2000 Infrastructure Report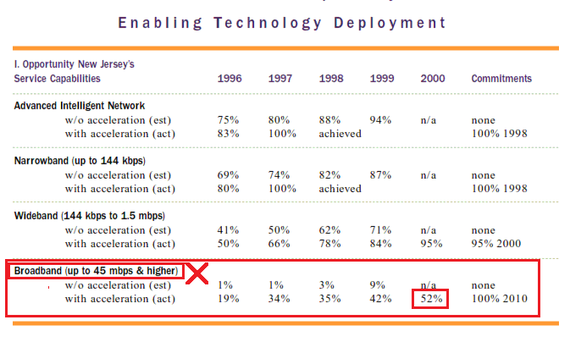 Problem is -- Verizon didn't start any deployment of fiber optic services until at least 2006 in New Jersey. We ask the reader, and any lawyers reading this -- is the fraud?
Conclusion: The NJ Board of Public Utilities should remove the word "Public" from its name and be investigated, along with Verizon NJ by the Attorney General's office or a special investigation by the state legislature.
Every municipality and every customer paid for a fiber optic service, over and over. Isn't time they got what they paid for?
The NJ BPU has, in fact, not done any audits or major investigations of the companies' financials, much less whether these rate increases are valid. And, the fact that the State never examined the actual laws that required Verizon NJ to upgrade to fiber optics in their entire territory, and now wants to give them a new sweet-heart deal, clearly shows that the Garden State needs an exterminator to get rid of the harmful pests in the vegetable garden.
Popular in the Community