Verizon NY lost $11 billion over the last five years and paid no income taxes. Isn't FIOS profitable?

Part II of a new series based on the new report: "It's all Interconnected."

In Part I we outlined that Verizon's FiOS services ride on a Title II, common carriage, telecommunications FTTP, (Fiber-to-the-Premises) network. FiOS products include cable TV, phone, Internet and broadband service. But "Title II" is only one part in solving Net Neutrality. Another question is -- Are customers really defacto investors and are their rights to have 'open networks' being trampled on?
Starting in 2006, Verizon New York (VNY) was able to get the NY State Public Service Commission (NYPSC) to agree to multiple rate increases on business and residential POTS ("Plain Old Telephone Service") customers, including low income families, as well as increased the prices for 'ancillary services', such as Caller ID, inside wiring and non-published numbers. The price of basic local service went up 84 percent while these other services increased 100-300 percent. This added over $500.00 per line to customers' phone bills, about $4.4 billion in extra charges from 2006 through 2013.
The NYPSC allowed these increases in reliance upon Verizon's claims of 'massive deployments of fiber optics' and financial losses, among other reasons.
And Verizon New York is using a Title II classification for their FTTP networks as it gives them the use of the utility rights-of-way and the ability to charge POTS local phone customers for FiOS deployment.
Who's Funding Verizon's FiOS, Title II, FTTP Broadband?
Using the Verizon New York filings and NY Public Service Commission orders, etc, let's go through what happened.
"We are always concerned about the impacts on ratepayers of any rate increase, especially in times of economic stress," said Commission Chairman Garry Brown. "Nevertheless, there are certain increases in Verizon's costs that have to be recognized. This is especially important given the magnitude of the company's capital investment program, including its massive deployment of fiber optics in New York. We encourage Verizon to make appropriate investments in New York, and these minor rate increases will allow those investments to continue." (Emphasis added).
We tracked these rate increases and found that they started in 2006. In granting the 2008 rate increase, the NYPSC said that one of reasons was because of the 'magnitude of the company's capital investments' for fiber optics.
"This is especially important given the magnitude of the company's capital investment program, including its massive deployment of fiber..." (Emphasis added).
Prices Increased 84 percent since 2006.
When tracking the monies, we found:
Based on actual New York City customer phone bills, since 2006 the price of residential 'dial tone' service (one line item on the bill) went up 84 percent, while other services, such as inside wire maintenance, went up 132 percent.
Based on Verizon New York's information about the number of POTS access lines in service from 2006 to 2013, price increases approved by the NYPSC allowed VNY to collect an estimated $2.4 billion extra for the 'dialtone' line. We estimate that between $1.4 to $2.0 billion more in additional charges were added for optional or ancillary services, such as Caller ID, inside wiring and non-published numbers. Including estimated taxes, the total added charges since 2006 amount approximately $4.4 billion.
On average, POTS customers paid about $500.00 in excess charges per line.
Verizon New York also revealed that raising the price of POTS service would force customers to buy bundles of Verizon's other services.
"Moreover, this price change will encourage the migration of customers towards higher-value service bundles, consistent with the trend toward bundled service offerings in the market as a whole."
"There seems to be little question that the company is in need of financial relief; Verizon [New York] reported an overall intrastate return of a negative 4.89 percent in 2006 and its reported intrastate return on common equity was a negative 73.6 percent. i3 For 2007, Verizon reported an overall intrastate return of negative 6.24% and an intrastate return on common equity of negative 46.0 percent."
In fact, Verizon lost $11 billion dollars over the last 5 years, with an 'income tax benefit' of $5 billion that was used by Corporate to lower their tax liability. This whopping amount -- about $2.2 billion annually, was surprising as Verizon Communications overall annual report for wireline services showed no losses in any of these years. I'll get back to that.
But the bottom line is that Verizon New York's financials showed that the company paid no income tax over the last five years.
Unfortunately, tying these losses to POTS service costs is questionable as the price of local service should have been continually decreasing.
There is supposed to be competition that lowers the price.
Most of the copper networks have already been fully depreciated (written off).
POTS is based on the copper networks and they are not being upgraded.
The construction budgets were moved to pay for FIOS.
There have been multiple staff reductions and much of the union employees serving these networks were either moved to other products, like FiOS, or laid off.
The company no longer advertises the product so those costs are all gone.
And while the number of POTS lines has been in steady decline, there is no accounting of the total, actual copper-based lines still in service. (There are a host of other copper-based lines, like DSL, or special access, that are not part of the accounting of access lines.) And ironically, the losses appear to be coming from Verizon's largest competitor --Verizon, as FiOS directly competes (or is being substituted for) the copper-based lines. And, Verizon Wireless is also another major competitor to the wired services.
Losses in Verizon's Other States
Verizon New York wasn't the only Verizon company with losses. In our previous report on five of Verizon's state-based companies (2012) -- New York, Pennsylvania, New Jersey Rhode Island and Massachusetts -- all were all losing money in 2009 and 2010, which was the last year that the SEC-state-based reports were available from Verizon.
From 2009-2010, Verizon's state-based SEC 4th quarter reports revealed $5.4 billion in losses with an income tax benefit of $1.96 billion. While Verizon New York had the largest losses with $2.2 billion in just 2010, in the state of New Jersey, Verizon claimed to have lost $786 million in 2009-2010 and received an income tax benefit of $321 million. These losses appear to be common throughout the Verizon territories as in just 2 years, 2009-2010 New England Telephone (Massachusetts & Rhode Island) claimed to have lost $1.2 billion and had a tax benefit of $477 million while Pennsylvania claimed $202 million in losses and a tax benefit of $62 million.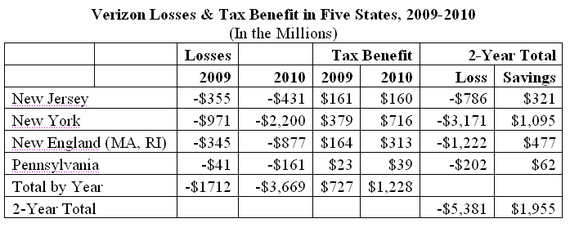 (NOTE: Massachusetts and Rhode Island are combined because they are part of "New England Telephone" which was part of the original regional Bell Company, NYNEX.)
And based on the data from Verizon New York, we assume all of these companies are still showing losses, even though their financial information is no longer publicly available.
Verizon Communications' Overall Wireline Business Showed No Losses.
But here's the real conundrum. In our current report we examined Verizon Communications, Inc, the parent company's overall wireline profits and found that in every year the "Mass Market" wireline services were profitable. The details of Verizon Communications Annual Report for 2011 (covering also 2009 and 2010) showed no loss of revenues and even profits for the wireline 'Mass Market', while other categories of services, such as Global Wholesale, had losses. (Global Wholesale, from 2009-2011, lost $1.56 billion.)
"Mass Markets" Mass Markets operations provide local exchange (basic service and end-user access) and long distance (including regional toll) voice services, broadband services (including high-speed Internet, FiOS Internet and FiOS Video) to residential and small business subscribers."
How can some of Verizon's largest states have had massive losses, but at the same time, Verizon Communications wireline services, which includes Verizon New York, showed no losses?
Here is a clue to this. The next exhibit shows that the "switched access lines", i.e., the utility POTS services, have declined while 'broadband lines' (sometimes called "broadband connections") increased. Verizon apparently makes a distinction as the "broadband lines" are not part of the accounting of lines given to the public. These "broadband lines" include DSL or the FiOS brand of services from Internet, cable TV or broadband services can also be bundled with phone service.



Reading the details of the financial reports by year we see that the 'local exchange revenues', which include the 'switched access lines' are losing money but the FiOS services, using the fiber optic networks, are profitable. This is from the Verizon Communications 2011 Annual report:
"2010 Compared to 2009 -- The increase in Mass Markets revenue during 2010 compared to 2009 was primarily driven by the expansion of consumer and small business FiOS services (Voice, Internet and Video), which are typically sold in bundles, partially offset by the decline of local exchange revenues principally as a result of a decline in switched access lines."
If POTS customers were charged for the 'massive deployment of fiber optics' and if the FTTP is Title II, are the revenues from the FiOS services paying any part of the FTTP, Title II networks? And are the losses being caused by POTs customers or by the expenses to deploy FiOS?
And we mentioned low income families in the opening; our next article will discuss this issue in more detail.

Part III -- Did Verizon Short Change "Upstate" New York, and are POTS Customers, Especially Low Income Families, Paying for Fiber Optic Services They Will Never Get?
Related
Popular in the Community