Consultant for the investigation, March, 2017
"There are strong indications that Verizon New York, and its parent Verizon Communications, engage in practices which misallocate expenses and revenues to the detriment of the regulated New York operations. I recommend the Commission direct Verizon to submit detailed information on these interaffiliate transactions and allocations, and that, in a separate proceeding, the PSC examine Verizon's cost allocation methodologies."
Back in 2010, a group of experts, auditors and lawyers, (now the IRREGULATORS) started to examine Verizon's financials and found massive cross-subsidies between and among Verizon New York, the state telecommunications utility, and the other Verizon subsidiaries and lines of business including Verizon Wireless, Verizon Online, and the 'Business Data Services'. We published the first report in 2012 and continued with a series of reports, Fixing Telecom, the latest being published in July 2017.
New Report: "Verizon NY 2016 Annual Report: Follow the Money: Financial Analysis and Implications"
Along this path, the Connect NY Coalition was formed, (which includes cities, politicians, and active groups from Consumer Union to AARP), mainly due to the deteriorating conditions of the infrastructure of Verizon NY and Verizon claiming it had stopped deploying FiOS, fiber to the home services. In July, 2014, a petition was filed with the state to start investigations. And using some of our research, (including our report "It's All Interconnected", published by Public Utility Law Project, "PULP"), a series of events occurred at the NY State Public Service Commission (NYPSC) that would end up in this investigation. This has mainly been driven by the CWA, the Communications Workers of America, who intimately know the condition of the telecommunications utility networks.
On June 26th, 2017, there was supposed to be an evidentiary hearing in this ongoing investigation of Verizon NY's quality of service (and network) and issues pertaining to misallocation of funds and cross-subsidies between Verizon NY and the Verizon subsidiaries, including Verizon Wireless. (Note: Verizon Wireless is a D/B/A used by Cellco Partners, a subsidiary of Verizon Communications, Inc.)
But, before the dirty laundry was going to be aired publicly, on June 16, 2017, Verizon filed to settle this long standing investigation. (As of August 4th, 2017, this is the status.)
And while we have focused mainly on Verizon and New York, it is clear that every state has the same issues, as they are based on federal regulations controlled by the FCC. Thus, AT&T California or Illinois, or Verizon New Jersey or Massachusetts, which are all state-based utilities, all have similar, if not identical issues. (While this pattern was obvious in every Verizon state, only New York requires a full financial annual report.)
NOTE: Almost all communications services end up on wires, even wireless. Verizon New York controls the copper wires as well as the fiber wires that are used for phone service, but also for 'FiOS' fiber to the home, or the Business Data Services (formerly Special Access) used for ATM machines or alarm services. Verizon NY also controls the majority of the wires that go to the wireless cell sites and hot spots for Verizon as well as competitors. And all of these wires are part of the state utility and "Title II", and mostly funded via the Local Service category, regardless of the 'hype' or obfuscation to hide these facts.
Unfortunately, the FCC's cost accounting rules are, in fact, responsible for much of the cross-subsidies. The rules were created in 2001 and they set how expenses are distributed to the various lines of business that use the state networks—and it was 'frozen' to reflect the allocations of the year 2000—17 years ago. The FCC has done no audits of how their rules have caused major cross-subsidies between the utility and the companies' other affiliates.
Instead, the FCC is now in the process of attempting to just erase the laws.
This NY investigation's findings corroborate our research independently, based on information supplied (or not supplied) by Verizon, CWA and vetted by the NYPSC experts. However, while we back CWA's position, as we will discuss, this investigation does not cover certain areas or go deep enough.
The investigation's goal has been to get the networks back to being in 'good repair' because they are deteriorating, and to highlight the need for an investigation of the massive cross-subsidies—(and, of course, keep/increase the current jobs.)
We agree with those goals – but the Public needs more.
Verizon will most likely just call this a minor skirmish and declare it to be a small amount of money.
We believe that billions of dollars are at stake in this discussion. We will come back to our list of next steps, but we doubt the settlement will fix the primary problems.
What We Found and What Is Part of this Case.
First, Verizon NY has created a massive financial shell game where Local Service pays the majority of expenses, but at the same time, the other subsidiaries, like Verizon Wireless, appear to be paying a fraction of what other companies pay. Also, the wireless company has the state wireline utility paying for some/most of the construction budgets – read local phone customers being overcharged to fund non-regulated affiliate expenses.
NNI's report, published March 2012, detailed some of this:
"These losses are of the state-based phone utility networks, sometimes called the Public Switched Telephone Networks (PSTN). They are being created, it seems, by the manipulation of money and assets through Verizon's affiliates and subsidiaries, from Verizon Wireless or Verizon Enterprise Solutions which provides long distance, or Verizon Online, which offers Internet service. It appears these separate subsidiaries are not paying their fair share back to the state utility for the use of the networks, are dumping expenses into the utility's accounts, while at the same time are shifting assets out of the utility into these separate subsidiaries, which in turn creates massive financial losses on paper. It also seems that Verizon Services, the corporate parent, is dumping billions of dollars in expenses, which could include executive pay and lobbying fees or even foundation donations and legal fees, exacerbating the state-based losses."
Local, Copper-Based Voice Phone Service Pays the Majority of All Expenses.
Over the last decade, Local Service (classified as "intrastate") has been paying the majority of all expenses, while all of the other affiliate companies, like Verizon Wireless or "Special Access" services pay a fraction of the costs.
In testimony, one of the consultants stated that local phone service was bringing in ¼ of the revenues yet paid double the proportion of the expenses.
"While the regulated New York State (Local Service) segment had approximately one-quarter of total Verizon New York revenues, it had about double that proportion in operating expenses. On the other hand, both the Non-regulated and Other (Access) segments reported smaller percentages of operating expenses than their shares of operating revenues."
In our 2017 report, (based on the Verizon NY 2016 Annual Report), we found the same manipulations of the accounting, which we have been documenting since 2010. For example, in 2016, Local Service paid 57% of all expenses but was only 23% of the revenues—Why would the copper basic phone service be strapped with $723 million of Corporate Operations expense in just New York or pay 44% of the entire construction budget? This is an excerpt from Verizon NY's Annual Report, filed with the NYPSC (and part of our report).

In 2016, Verizon NY had $5.2 billion in revenues from wireline services, with Access services accounting for 47% of the business. Local Service was only 23%, and Nonregulated is now 34% of the revenues.
(Access include 'business data services', (also called Special Access), while 'nonregulated' includes some FiOS revenues.)
The Manipulation of Financial Accounting
Local Service is paying the majority of expenses. It is charged 60% of Corporate Operations, (which comes to $723 million in just New York, in just 2016), 54% of the Marketing expenses, 68% of Customer Service, and 44% of the entire construction and maintenance budget ("Plant Specific" and "Nonspecific").
At the same time, the Access category is paying only 27% of the expenses, and Nonregulated is paying just 17%.
Why are these lines of business paying a fraction of the expenses that they generate while Local Service is paying exorbitant amounts? When was the last time you saw 'marketing' for a "POTS", "Plain Old Telephone Service" copper-based phone line?
The Investigation Does Not Address "Business Data Services".
The Verizon NY Access services use the same networks as phone service and much of these services are still based on the copper-based networks.
Verizon NY 2016 Annual Report shows that Access services brought in over $2.4 billion dollars in revenues, ('Special Access' is 83% of the revenues).
Access services have a very high profit margin, 50% EBITDA (Earnings Before Interest, Taxes, Depreciation and Amortization).
The catch is – Access services are 'interstate' and under the FCC jurisdiction, but the majority of expenses are 'intrastate' and charged to Local Service—due to the FCC's negligence in fixing their own rules. Verizon directly benefits from this shell game.
These distortions are caused by the FCC's mal-formed cost accounting rules and have nothing to do with the actual 'cost causers'. The percentage of expenses is based on the year 2000, based on the rules that were set in 2001; neither the FCC nor the states have audited the rules or their impacts for 16 years.
We couldn't make this stuff up. No one would believe that the Local Service networks are essentially profitable when all of these financial shenanigans are eliminated. Local Service is based on copper wires and they have been mostly fully-depreciated, written off. There is no serious construction or repairs of the copper networks, and the staff that worked on these networks have been slashed. There is no marketing; there are no serious 'corporate operations' requirements, and thus all of the other expenses are paying for other non-regulated services. Moreover, if Verizon's other affiliates paid market prices, the networks are 'profitable'. (See the report.)
The Networks Are Deteriorating in NY (and Other States).
CWA's testimony and investigation also focused on the condition of the networks. One of the consultants laid out a litany of issues. These include:
"Verizon is not allocating sufficient resources to the investment, maintenance and repair of its network . . .
In locations where investment, repair and maintenance are neglected or delayed, customers are not ensured of receiving adequate service.
Verizon's network is not in a good condition.
Analysis of… five indicators points to a pattern of neglect that has left the network in substandard condition."
If you want to read an eye opener, read the testimony of one of the Verizon CWA techs about the decline and changes in the networks.
Wireline-Wireless Cross-Subsidies—Billions of Dollars Per State.
One of the CWA consultants writes:
"The Commission should vigorously investigate Verizon's billing practices with Verizon Wireless and non-affiliated wireless providers to determine whether the company is charging all wireless firms equally, based on services provided and volumes used."
In 2010, we made a startling discovery. In every Verizon SEC stated-based financial report there was a paragraph that gave the revenues coming from AT&T and Sprint (and Verizon Wireless) to Verizon New York for use of the networks, known as "network access and billing and collections".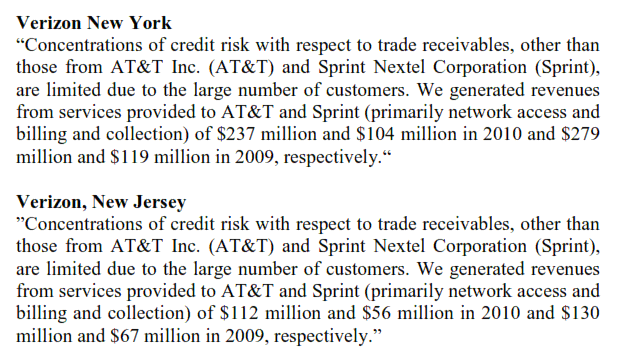 And in each year, the payments from Verizon Wireless to Verizon New York were a fraction of what AT&T or even Sprint was paying.
Verizon Stonewalled CWA; Over a Year+ of Legal Wranglings.
Verizon was supposed to supply the amount of money paid by the wireless services of AT&T, Sprint, T-Mobile and Verizon to use the Verizon New York networks.
"Verizon refused to supply basic data Verizon's reply to this data request referred to the "explanation" immediately above but did not directly address the request for detailed services provided to Verizon Wireless and non-affiliated wireless companies. Verizon did not provide data on charges by services provided to Verizon Wireless and to non-affiliated wireless companies."
While the numbers were redacted, the data provided, even when being compelled by the court, was essentially gibberish.
The Investigation Should have Asked Other Questions about the Wireline-Wireless Cross-Subsidies.
From 2010-2012, Verizon New York appears to have been charged over $2.8 billion dollars to build out 5,515 cell sites in New York – and there are no payments listed by Verizon Wireless for this work to Verizon NY.
In fact, Verizon NY's press releases from 2010-2012 establish that the wireless cell sites are part of the wired infrastructure expenditures. The Verizon 2010 headline reads:
"Verizon Spent More Than $1.4 Billion in New York's Landline Telecom Infrastructure in 2010."
This release clearly establishes that for the year 2010, Verizon spent $1.4 billion on wireline construction in New York State, and part of the focus was FiOS TV. But there were also 2,800 cell sites being put up as part of the wireline network.
"Deployment of fiber-optic links to wireless providers' cell sites throughout New York as these carriers expand their infrastructure to meet ever-growing demand for wireless broadband and advanced 4G services. In 2010, Verizon deployed fiber optics to connect more than 2,800 of these sites."
And this was just 2010, where it is estimated that these 2,800 sites cost Verizon New York over $1 billion in construction expenses that, as far as we can tell, were not reimbursed. Moreover, it appears that this happened in every state.
Local Phone Customers Paid for Wireless Build Outs.
Local residential phone customers were hit with at least three rate increases starting in 2005, which were for 'massive deployment of fiber optics' and losses. In 2010, Verizon announced it was halting the FiOS fiber to the home deployments – but in 2009, we have the third rate increase. This is Verizon paraphrasing the NY PSC which was granted June 2009.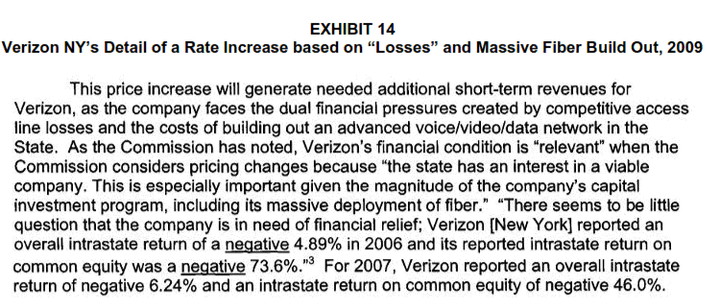 It appears that billions of dollars that should have went to build out the fiber networks in New York State were transferred to build out the wireless networks, but paid for by local phone customers.
During this investigation there was no mention of fixing the local phone rates— lowering them or giving refunds or both, nor was there any discussion to get the money back from Verizon Wireless, which could be used to build out the State's networks in cities that were not upgraded in New York State.
We estimate that $1,000-$1,500 was overcharged (via multiple rate increases) per line from 2006-2015— and this was on anyone with phone service, including low income families, seniors, rural customers, etc.
In 2016, Verizon NY showed 2.2 million access lines, not to mention those who had a line during the last decade. However, there could be millions of other lines, from alarm circuits or ATM machines that are not counted and also had multiple rate increases; they are classified as 'interstate' and not in the 'landline' accounting. (See the report discussion on access lines.)
We also note that the 'losses' were not from the actual expenses incurred but the FCC's mal-formed accounting rules.
Ludicrous Responses by Verizon, Number 1 and 2
While Verizon argues it needs to shut off the copper, and the accounting shows it is losing money (and even though the executives have claimed that local copper based service is a money loser), we get these responses.
Ludicrous Response by Verizon, Number 1
Verizon states it never claimed that the copper networks were unprofitable.
Q. State: What are CWA's contentions concerning the financial status of "the copper network"?
"CWA seems to believe that Verizon's case hinges on a showing that 'the copper network' is losing money. CWA, for example, asserts that 'Verizon New York argues that its copper network is a money loser'."
"In fact, Verizon makes no such claim.
"The financial data that Verizon relies on is total company data, and its point is that the company as a whole is losing money on its New York operations, whether or not — or to whatever extent — that loss is attributable to 'the copper network.' That is because total company data is the only data that is relevant to the company's ability to fund service quality improvements.
"And in any event, the company's case does not hinge on financial issues — we included data on net income and cash flow in order to provide context for the Commission's evaluation of whether to retain the SQIP. (NOTE: Service Quality standards or lack thereof)"
Ludicrous Response by Verizon, Number 2
The State Asks: Is Verizon in fact losing money on its "copper network"?
"Verizon has consistently taken the position that it is impossible to meaningfully attribute any specific level of 'net income,' in the accounting sense, to its 'copper network,' because of the significant extent to which the company's assets are either shared by multiple services and serve multiple classes of customers (including those whose last mile facilities are copper and those whose last mile facilities are FTTP), or else — as overheads — support the operations of the company generally. While it is possible and meaningful to perform certain financial analyses of decisions that are being considered in relation to copper facilities — such as assessing the incremental, forward-looking impact of retiring certain of those facilities or deploying certain new facilities — that is not equivalent to determining an overall cost or net income for providing copper-based service as a whole. The company does not seek to calculate a net income for copper-based service, either in the ordinary course of its business or for purposes of this proceeding. In short, the question is not only irrelevant to this proceeding, but it cannot be answered in any meaningful sense."
If this were true, then how can Verizon claim it needs to shut off the copper because it is losing money?
Verizon NY Claims It has been Losing $1 Billion Annually Since at Least 2008.
Verizon, quoting the findings of the NY State accounting experts, appears to confirm that Verizon is losing about $1 billion a year since 2008.
"Answer Yes. The Staff Accounting Panel, composed of experts from the Department of Public Service's Office of Accounting, Audits, and Finance, states that: (a) 'our analysis confirms Verizon's general claims with respect to investment in its network and overall regulated revenue losses'; (b) 'Staff agrees that the Company lost money over the 2008- 2015 time period'; and (c) 'Verizon is losing close to ($1.0) billion annually, whether subsidiary earnings and the impact of pension/OPEB accounting changes are included or not'."
Verizon Is Not Paying Most Taxes
These losses mean that Verizon is not paying most taxes, even though Verizon NY, the state-based wireline utility, had $5.2 billion in revenues in just 2016. As we pointed out, however, the losses appear to be created via the FCC's cost allocation mal-formed regulations, the affiliates paying a fraction of the required expenses, and the dumping of expenses of the construction budgets or the Corporate Operations expense
The FCC Cost Allocation Rules --- CWA Failed to Identify the Cause; Verizon Is in Denial.
CWA did not mention or recognize that the FCC's mal-formed cost accounting rules are to blame for the cross-subsidies, while Verizon completely wants to deny they exist.
In fact, according to testimony by the NYPSC experts, Verizon claims that the accounting rules are not valid.
"Q. What did the Company state?"
"The Company states that the allocations shown are a throwback to a monopoly environment when rates for regulated telecommunications services were set based on book costs and detailed cost studies. The Company states that 'for reporting purposes, nonregulated, interstate and intrastate costs are developed using frozen factors developed in accordance with Verizon's Cost Assignment Forbearance Compliance Plan, approved by the FCC on December 31, 2008. The Company acknowledges the results for the columns vary due to a variety of factors including product life cycle, technology, obsolescence, as well as the somewhat arbitrary nature of cost allocations in general'."
The NY State experts had a different take; they believe that the cost allocation rules may be skewing the financials to 'saddle' the expenses onto the wireline business.
"Q. Do you agree with the Company's response?"
"A. STATE: No. The answer is too vague, and the cost allocations may be interpreted as skewed or pushing the limits in order to saddle the wireline business, which is already experiencing regulated revenue declines, with higher costs. Staff also expressed its concern over the allocation methodology for allocating pension/OPEB costs between the parent company and Verizon New York in DPS-17(8) and the Company was unable to explain or verify."
The State has not audited these financial books separately for a rate case, and the problem with Verizon's answer is that the financial books show how the costs are allocated today. If Verizon were to base their financials on what was causing the expense, Local Service would be profitable.
Finally, notice the "Verizon's Cost Assignment Forbearance Compliance Plan, approved by the FCC on December 31, 2008". As we pointed out elsewhere, the newly minted FCC Commissioner Brendan Carr worked as a lawyer for Verizon, specifically on this exact FCC proceeding. Its goal has been to get rid of the accounting rules as well as place the company's business under 'price caps' where the company no longer has their profits examined.
However, as of this writing, the State also has not figured out that the rules have become distorted to the point of ridiculous as they are based on the year 2000 and, to repeat, the FCC has done no audits since the rule went into effect in 2001—16 years ago.
This disconnect of the lack of any state examination, the FCC's plans to erase the rules, as well as the 'forbearance' of the rules, the FCC's plans to 'shut off the copper' without regard to the wires being part of the state utility, and other positioning and maneuvers, all help Verizon to manipulate the accounting and obfuscate what has been happening in every state.
Because the regulations are federal, (and most of these utilities were part of the original Bell system and all had the same accounting procedures), AT&T and CenturyLink have the same financial shell game going on in their states as well.
What happens in NY should be a model of next steps in every state.
As of August 4th, 2017, there are settlement discussions underway.
Related
Popular in the Community