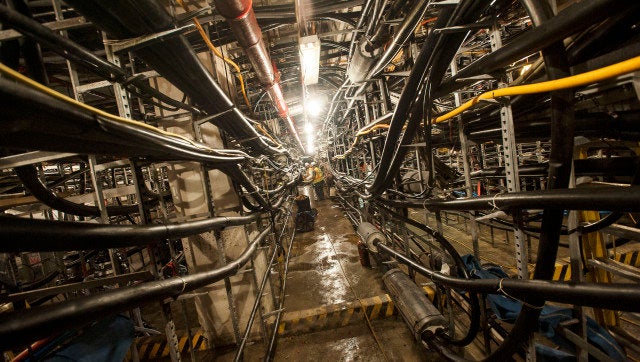 The water came rushing through the lobby, crashing against doors, shattering windows and scattering sandbags meant to stop it. Then, it cascaded down the stairs and flooded the underground cable vault, soaking tangled wires that deliver phone and Internet service to customers across the region.
"It was churning like crazy. You can see the line here," Chris Levendos, Verizon's executive director of national operations, said Saturday, pointing to a 4-foot-high water mark left on the lobby wall. "It was finding all sorts of ways to get into the building."
Heavy flooding this week at Verizon's headquarters in lower Manhattan -- a critical node of its network infrastructure -- has begun to subside, but the company's effort to repair damaged network equipment and restore service to customers after Hurricane Sandy continues.
On Saturday morning, pumps sucked thousands of gallons of salt water from the building's basement and spewed it into the street. A roaring 2-megawatt generator kept Verizon's underground network of switches running until power was restored.
In the cable vault, Verizon employees wearing white hard hats walked amid rows of tangled, multi-colored cables. Some began the tedious process of splicing wet copper wires and drying them out beneath fans and dehumidifiers.
The work offers a snapshot of the challenges facing Verizon and other telecom providers as they scramble to restore communications service to customers five days after Hurricane Sandy.
Verizon, which has about 23 million landline customers in the mid-Atlantic and Northeast, said its repair work was being slowed by flooding, downed power lines, trees and debris, closed roads, and several feet of snow in areas affected by the storm. While most customers would have their service restored in a few days, some who live in the hardest-hit areas could wait up to two weeks, the company said Friday.
But in the storm's wake, Verizon sees an opportunity to modernize its network. While the company has buried fiber optic lines beneath much of its territory, it still serves about a third of its footprint via century-old copper wire technology. Copper is not only slower than fiber; it's also more vulnerable to failing when wet. Instead of fixing damaged copper lines, Verizon plans to replace many of them with fiber, which will be better able to weather future floods, Levendos said.
"If there's an area of the network we didn't build fiber to yet, now is an opportunity to fill those gaps," Levendos said.
Verizon's biggest challenges this week weren't just with its wires, though. Its wireless customers -- along with AT&T, T-Mobile and Sprint customers -- struggled to make and receive cellphone calls after the storm. Wireless providers said the sustained power outages outlasted their back-up battery power at some cell towers. The outages exposed weaknesses in wireless networks during disasters and prompted some experts to suggest that regulators impose rules that require providers to make their networks more resilient during major storms.
On Saturday, Verizon said 98 percent of its cell towers in areas affected by the storm were now working. AT&T said 96 percent of its cell sites were now working across the region.
Verizon's headquarters, located at 140 West Street, sits above a dense network of underground telecommunications equipment in lower Manhattan. It serves as both an administrative building and one of the company's 18 major switching centers on the island, supporting both local and regional phone and Internet service. Another of Verizon's downtown switching centers, located on Broad Street, also suffered extensive flood damage, Levendos said.
The regional network was able to re-route traffic around the flooded switching center. But local customers around lower Manhattan lost service because of power outages and flooded cables, Levendos said.
It wasn't the first time that Verizon's headquarters had been damaged. After the Sept. 11 attacks, falling debris from the nearby World Trade Center landed on its building, which was built in the 1920s and named an official landmark because of its lobby's ornate art deco ceiling murals.
"This building has now experienced another catastrophe -– a different type of one," Levendos said. "We've already seen the beginnings of a Herculean effort to get it back to what it needs to function as a network."
*************************
The Huffington Post is eager for insights from our community, especially people with experience in power, infrastructure and engineering, on the adequacy of emergency preparation in advance of Hurricane Sandy, and the degree to which past disasters have informed adequate planning and construction. Please send a note to sandytips@huffingtonpost.com with insights and suggestions for the important questions that need to be asked of relevant private sector and government officials, and point us toward stories that need to be pursued.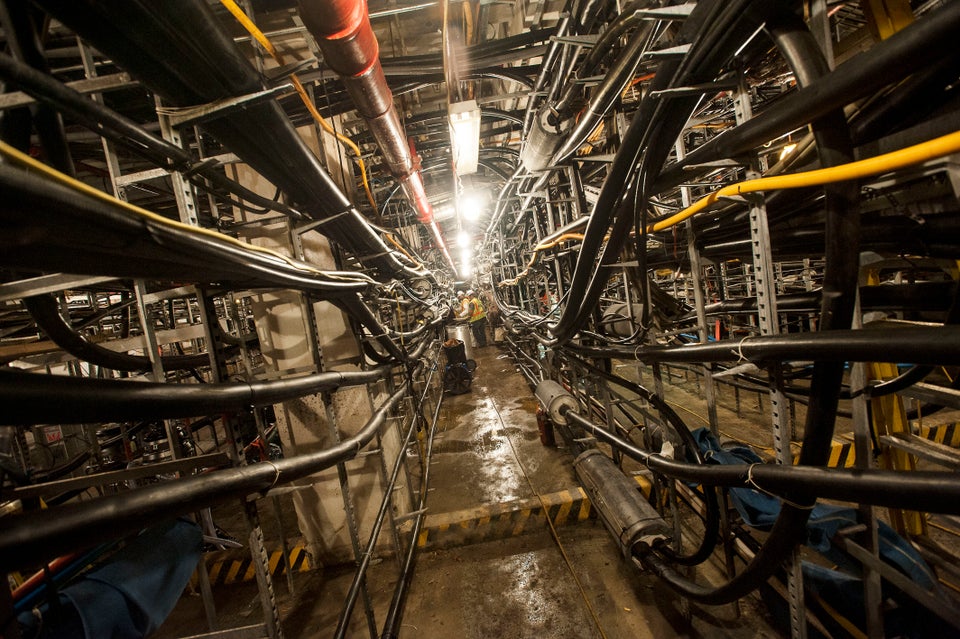 Verizon Headquarters After Hurricane Sandy