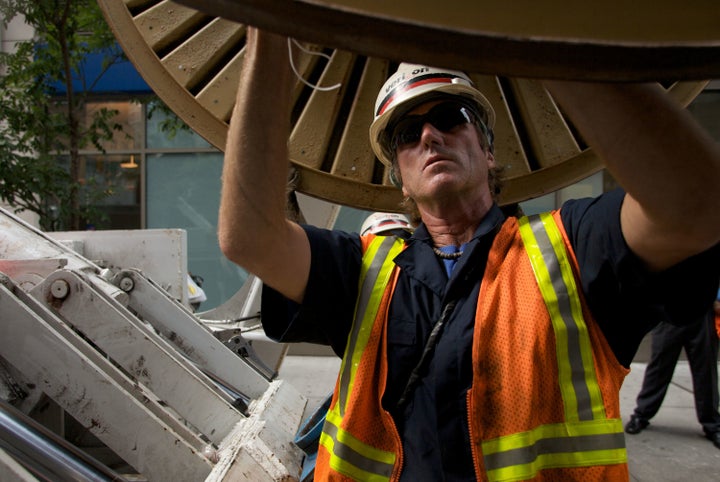 Labor unions representing 40,000 Verizon workers say they will carry out the largest U.S. strike in five years if they can't reach a deal with the company by Wednesday.
The workers are members of the Communications Workers of America and the International Brotherhood of Electrical Workers. Mostly technicians and customer service reps on the East Coast, their last contract expired in August.
The unions say that negotiations have stalled as the company seeks concessions at the bargaining table. Bob Master, a CWA official, said the union is concerned about a lack of layoff protections for newer workers in the proposal, and the possibility that employees could be required to work far from home for two-month spells, among other sticking points.
In a statement, Marc Reed, Verizon's chief administrative officer, said the company was committed to the bargaining process, "but now union leaders would rather make strike threats than constructively engage at the bargaining table." (The Huffington Post's parent company, AOL, is owned by Verizon.)
The two sides have been tangling over a new contract since last summer; unions say the company is being greedy, and the company says the unions are being stubborn. This wouldn't be the first time Verizon workers launched a major work stoppage. The same workforce went on strike in 2011, in what was the largest worker strike since 2004, according to Labor Department data. That strike lasted two weeks and involved 45,000 workers.
Isaac Collazo, a Verizon technician and CWA member in Manhattan, said workers like himself did not want to go on strike, but they were willing to in order to stave off concessions. Collazo said he was most concerned with the lack of layoff protections and the possibility of having to work far from home for weeks at a time.
"Nobody wants to go on strike -- we all have responsibilities," said Collazo, a 19-year Verizon veteran. "People are concerned. They know the company wants a lot from us. Some things you just can't give into."
Verizon said that a strike would pose a "hardship" on the company, but that it had "contingency plans" in place to fill the strikers' roles with thousands of non-union replacement workers.
The company said it has offered a 6.5 percent salary increase over the course of the contract, and retirement benefits it described as "competitive." But the unions say the proposal includes freezing pensions at 30 years of service, and hiking health care costs on retirees. According to Master, workers who came on with the company after 2003 would not be protected from layoffs under the proposal, and "that's the vast majority of the workforce," he said.
Related
Popular in the Community