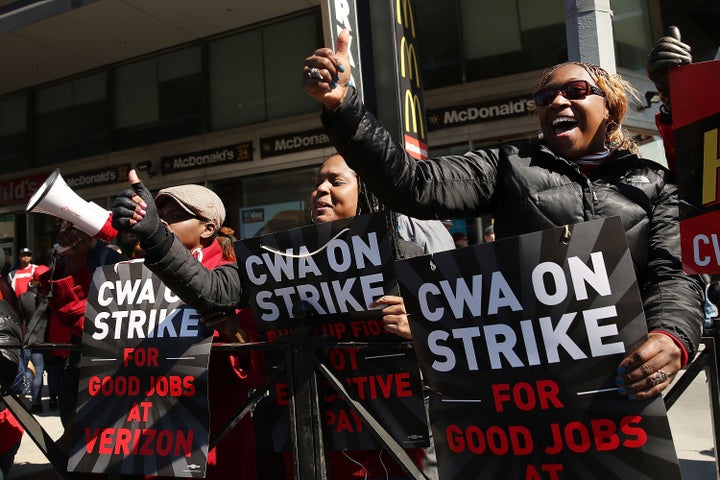 On Thursday morning, Eddie Blackburn, a Verizon technician in Rhode Island, logged on to Facebook to send his colleagues a message. They were scheduled to lose their Verizon health coverage soon while out on strike. Blackburn urged his friends not to buckle and cross the picket line.
"I would personally rather die on that line than sell out my union, and friends I have broke bread with, shared birthdays and family events with, laughed and cried together," Blackburn wrote in a Facebook post. "I have worked with some of you for almost 20 years. Crossing the line for me is not an option, I ask the same from you."
Verizon technicians and customer service reps on the company's wireline phone business walked off the job more than two weeks ago. By modern U.S. standards, the work stoppage is massive -- some 37,000 workers, stretching from the Northeast through the mid-Atlantic. The latest round of talks failed to broker a deal, and both sides are girded for a protracted battle. At this point, the fight is over much more than wages and benefits.
As Blackburn put it to The Huffington Post, "They want to get out from underneath the unionized workforce."
On Thursday, Verizon offered what it deemed a "best and final offer," which was rejected by the unions representing the workers, the Communications Workers of America and the International Brotherhood of Electrical Workers. That offer included a 7.5 percent pay hike over the course of the contract -- a one percent bump over what was previously offered -- along with 401k and pension contributions, and health coverage that was only moderately more expensive than the current plan, according to Verizon, which owns AOL, The Huffington Post's parent company. 
But those aren't the real sticking points. According to Bob Master, political director at CWA, Verizon is willing to extend layoff protections to workers, but only if it can cut into seniority protections, and offer incentives that could help the company nudge unionized workers off the job.
"They are trying to get what they label as 'flexibility,' which undermines our job security and the fairness with which workers are treated," Master said. "The attitude is, 'We want to do with workers whatever we want.'… It's ideological."
Rich Young, a Verizon spokesman, said the company wants the ability to offer retirement incentives for workers in areas where they are overstaffed, which they would need the unions to agree to. He said the packages they have in mind would provide $50,000 or more to workers to voluntarily leave the company. He said the unions don't want to agree to that because it could shrink the union workforce.
"That's what it's about," Young said. "We're not in the business of making sure the unions stay in business. We're in the business of keeping solid jobs for our employees and helping this wireline unit to succeed.
"It's not that we're opposed to unions," he added. "This is a business that has faced challenges."
Kate Bronfenbrenner, the director of labor research at Cornell's School of Industrial and Labor Relations, said the fight isn't simply about "what's cheaper" for the company.
"In the case of Verizon, I would say it is just as much about union avoidance," Bronfenbrenner said. She noted that Verizon has fought back hard against CWA's efforts to unionize employees on Verizon's wireless side, which is non-union and growing.
The current work stoppage marks the largest U.S. strike since the last time Verizon workers walked off the job, in 2011. Union membership in the U.S. is hovering near an all-time low of 6.7 percent in the private sector, compared to a post-war high above 30 percent. Strikes are both rarer and riskier than they used to be, given the deteriorated leverage of organized labor. Last year, there were just 12 major strikes, involving 47,000 workers. Two decades earlier, there were 31 of them, involving 192,000 workers.
Julius Getman, a labor law professor at the University of Texas School of Law, said the current strike will become more difficult for workers as it drags on, and that they need to rally community support if they hope to prevail. Such a large-scale strike being rare these days, their success or failure in the fight will send a strong message, he said.
"The state of the labor movement is significantly dependent on the state of the strike weapon," Getman said.
Given the long-term implications of the wireline workers' contract, the unions have dug in hard. The Verizon employees who are on strike will lose their company-sponsored health coverage on Sunday, the first of May. The unions say they have contingency plans in place. According to Master, CWA is asking members to postpone elective treatments, and the union will cover out-of-pocket costs for any care that's needed. Workers who have chronic conditions will be going on COBRA plans while their Verizon coverage is lapsed.
According to Young, representatives from the company and the unions had met during the day on Friday. The company was awaiting another proposal from the unions as of late afternoon, he said. On Friday the company said it was deploying thousands more replacement workers to fill in for those on strike. 
Away from the bargaining table, the public fight continues. The unions have orchestrated picket lines at Verizon Wireless stores in a number of cities, and the strike has even spilled over into the presidential primary. Striking workers have been visited on the picket line by both Democratic presidential candidates, Hillary Clinton and Sen. Bernie Sanders (I-Vt.).
Young said that "well over a thousand" workers had crossed the picket line to return to work, a number he said the company expects to grow.
Verizon employee Dan Hylton, of Roanoke, Virginia, said other unions have pledged to help the striking workers financially if need be. He has worked for Verizon for more than 20 years, and he has been through what he said were six different strikes. His mother was a longtime employee, too. He said he recalls "a long string of peanut butter sandwiches one summer" when he was a child and his mother walked off the job.
"The company thinks taking away benefits will make people cross the line," Hylton said. "But no one has anything to worry about."
Given the national attention, Hylton said he believes the strike has implications far beyond Verizon.
"It's not just about us," he said. "It's about the middle-class, union jobs going forward that this sets a benchmark for."
Calling all HuffPost superfans!
Sign up for membership to become a founding member and help shape HuffPost's next chapter