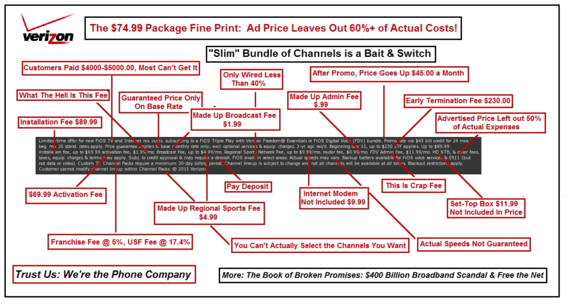 It amazes me how many media stories have decided to just cut and paste Verizon's supplied information about their new FiOS "customized TV plan" without examining the 'fine print'. I guess everyone is just desperate to get anything that smacks of ala-carte pricing for cable TV service, where the customer can pick and choose which cable programming they want to buy -- and is supposed to save some money.
No One Bothered Reading the Fine Print.
The diagram above uses an excerpt of the "fine print" that you can find at the bottom of Verizon's FiOS TV, cable, High-speed Internet and phone advertisements, including their $74.99 special Triple Play which includes Verizon's "customized TV plans" that offer 'slim' packages of specific cable programming channels. (This excerpt is from May 21, 2015.) For example, the packages include the "Lifestyle Pack", with Bravo and Lifetime, and a "Kids Channel Pack", with Disney XD and the Cartoon Network.
And wouldn't you know it -- it's one, big deceptive campaign as the advertised price of the service has nothing to do with the actual costs -- it's missing about 61% of expenses, and when all is said and done, the savings from picking a smaller package of cable channels isn't really there. At the end of the day, it doesn't really let you pick and choose the channels you want to watch. Worse, the $74.99 basic price for the service climbs an additional $45.00 a month after the 'promotion' is over, not counting all of the related taxes, fees and surcharges.
But this is nothing. We found that Verizon's basic 'slim' package, which is advertised at $10 bucks and focuses on the original over-the-air programming, has an additional 220% of expenses hidden in the fine print -- and it ends up costing about $32.00 a month. I'll get to that.
Unfortunately, this Verizon plan is identical to the deceptive practice I detailed previously about my own Time Warner Cable basic Triple Play, where the advertised price is $89.99, but no customer can ever actually only pay that price as it doesn't include many of the actual costs, from the taxes, fees and surcharges, as well as the hard costs, like the cable TV set top box. On top of that, after the 'promotion' period is over, the bill went to a whopping $190.77 -- and continues to rise as there is nothing to stop these increases; there's no real competition.
There are some reporters that actually did investigate Verizon's new cable offerings. An article in USA Today featured one reporter's findings when he called about these new 'slimmed' down bundles; the plan would save a whopping $6.34 on a bill that is currently $210.00. That's it.

"Verizon new plan not as cheap as advertised

"My current bill is for $209.78, and that includes all those TV channels, two DVRs (one each for the bedroom and living room) two phones and Internet service. In talking to the rep, I chose the base price, plus two other tiers, which I could have lived without--but they were part of the deal.

"Verizon's best offer: $203.34. So much for Verizon's cutting the cord compromise."
This 'pick your bundle' is, well, make believe.
I admit I didn't do a channel-for-channel comparison, but it appears that the advertised $89.99 Time Warner Cable Triple Play comes with almost all of the channels in these Verizon packages, and then some, as Time Warner has its own news station, etc. Thus, Verizon's pricing is simply a marketing plan, not real savings or a real choice of letting the customer pick which channels they want to pay for.

How Can I Screw Thee? Let Me Count the Ways.
Going back to that 'fine print' excerpt, which supplies what's not included in the advertised price, we see that the fine print ain't fine at all. It includes:
====WARNING-WARNING: THIS SECTION MAY MAKE YOU NAUSEOUS OR QUEASY--PLEASE PUT ON YOUR SCOPOLAMINE PATCH, NOW====
$4.99 Regional Sports Fee -- It's made up and it appears you pay it whether you get any sports channels or not.
$1.99 Broadcast Fee -- It's made up and it looks like you pay it even if you don't watch the original 'broadcast' channels, like CBS or NBC.
$9.99 "Router Fee" -- This is different from a 'modem', but is required for FiOS. NOTE: Nothing in the advertisement tells you that you can buy your own device.
$.99 Admin Fee -- Called an "FDV Admin" charge, it is a totally made up, non-mandated, non-government charge.
$11.99 Set Top Box -- Unless "HD STB" stands for sexually transmitted baloney, this is the box that connects your TV to the cable TV service. It should be included in the advertised price, as you can't buy your own (or at least it never says you can anywhere we could find) and you can't use the service without the box.
This is only the first set of mostly hard cost expenses that a customer must pay, but are not part of the advertised price; they come to $29.95!

2) The Cable Franchise Fee, Universal Service Fund and "Other Taxes, Fees and Surcharges.
The fine print says: "Other fees, taxes, equipment charges may apply."
For reference, these are the $89.99 Time Warner Cable Triple Play taxes and fees, during the beginning of the promotion, Brooklyn, NY, from May 2012.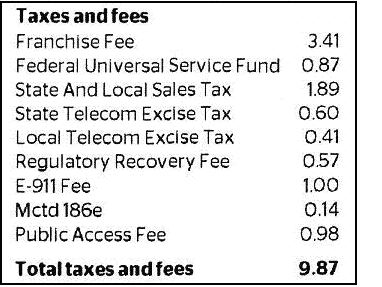 And all of these costs vary wildly by state and company.
This excerpt is from a Verizon Virginia FiOS bill, dated December 2014. It shows that there are different taxes that are state specific, and different amounts than those listed in the FiOS fine print or compared to other cable companies' charges, such as Time Warner Cable in Brooklyn NY. This customer's bill total was $165.85 and it is 'post-promotion'.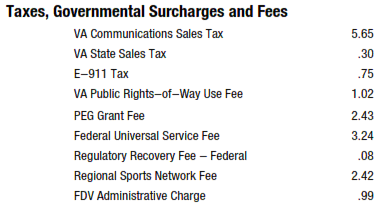 Verizon does not give us a "Rosetta Stone" to explain exactly how these charges are applied or which services are taxed or fee-ed or surcharged. Nor are they itemized in the fine print. Here are my best quesstimates.
Franchise Fee @ 5% -- applies to all of the parts of the cable TV service, including the cable service itself, the set top box, as well as related charges, such as the Broadcast Fee and the Sports Fee. But, if you have any movie channels, DVRs, etc; these appear to also be charged as part of the franchise fee. And note that the franchise fee percentage can vary in the cable franchise agreements, even by even municipality, though 5% is relatively common. It can also vary by what is and is not taxed.
$3.00-7.00 a month for the promotion period is our estimate as we assume many people have another taxable service than just the basic cable service. (Note: My basic Triple Play package started at3.41 and is now5.52 post-promotion and counting, with no add-ons.)
Federal Universal Service Fund @ 17.4% -- is a tax applied to the 'long distance' (which is a call between states) portion of the "Digital Voice" package -- and is most likely calculated at 25% of the total charge. (Note: Verizon doesn't bother to put the percentage of the long distance charge in any of the web info.) And 'international packages' would also be included. There is also a state USF fee on some bills, depending on the state. And, the percentage of tax applied to the bill varies, but it mostly goes up.
$.90-1.95 for USF is my estimate. (NOTE: The previous Virginia FiOS bill excerpt has a massive overbilling of the USF fee).
We will use the average of $6.42 for both fees, combined.
3) Local, State, and Federal Taxes, and Other Admin Fees
Next, we need to add the local, state and federal taxes, (and the 'excise taxes' that are charged to Verizon which they can pass through to you). Most of these are applied to everything but the Internet service. Again, since there is no 'Rosetta Stone' on the application of these taxes, fees and surcharges and different services are taxed federal or state and local, etc., and almost all of these fees vary by state, city, etc., quesstimates are the best we can do.
"Sales tax: 4.5% in addition to the state sales tax of 4% and the Metropolitan Commuter Transportation District (MCTD) surcharge of 0.375%. This makes the total sales and use tax rate in New York City 8.875%."
Meanwhile, there are more made up fees, and the E911 charge, which is for emergency calls to 9-1-1. (Note: Verizon is the provider of this service in New York City, so some of this fee gets paid to them.)
Let us assume it comes to $9.00 for this category.
The Additions to the Cost of Service that are NOT part of the Advertised Price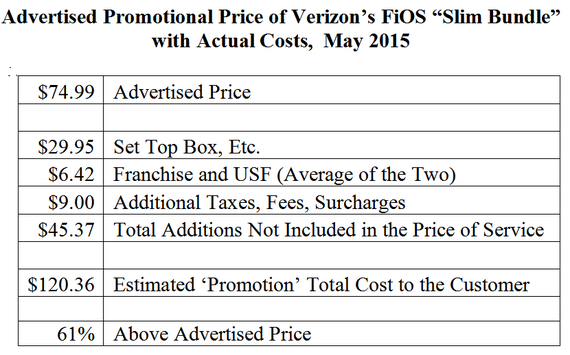 In total, about 61% has been added above the advertised price but there could still be more taxes, fees and surcharges or even other admin fees added to Verizon's bills, depending on the state or franchise agreement.
4) Promotion Ends -- Add $45.00 a Month Plus Related Taxes, Fees and Surcharges - a 60% Increase on Basic Rate.
After the promotion ends (in this case it is two years), the price goes up a whopping $45.00 a month on the base rate -- and all of the taxes, fees and surcharges that are applied to various charges on the bill also rise; that's a 60% rate increase on the base rate.
5) Let's Nickel, Dime & Quarter Customers Continuously -- The Price Guarantee Applies Only to the Base Rate.
The fine print has an interesting caveat. It says that while the price of the base rate is guaranteed, (I assume it means that $74.99), everything else we just outlined, from the router, set-top box, the made up fees, etc., can keep increasing.

As I discovered, all of these different charges go up over time; in just the last four months I have had over $6 dollars of nickel, diming and quartering increases.
6) Start Up Fees

And let's not forget the start up fees, which can include $89.99 for installation and $69.99 for 'activation'. Some of these can be 'waived' depending on the promotion, but this just plays into getting the customer to sign up so they can raise their rates later.
'Up to89.99' for an installation
'Up to69.99' for activation of the account.
Then we have the ETF.
Early Termination Fee (ETF) -- This is in a league of its own. If you decide to cancel your service before the two years are up, there is a230.00 charge, which is prorated, kind of -- i.e., the longer you have the service, a percentage per month is deducted from the total amount owed.
7) Which Brings Me to this "Customized TV Plan"

NOW YOU CAN CUSTOMIZE YOUR FIOS TV-- PAY FOR THE TYPES OF CHANNELS YOU LOVE. STOP PAYING FOR THE ONES YOU DON'T.

"Channel variety that cable can't compete with The Verizon FiOS channel lineup of popular networks has something for everyone in the house. From home design on HGTV to the latest celebrity gossip on E! and every football game on the NFL Network. The best Verizon FiOS channels are always at your fingertips.

"Pick your package -- The best way to choose what TV package suits you is to look at our FiOS channels and consider the following: Which FiOS channels can you not live without?
Wow! Basic TV -- Just $10 a Month -- Nah.
This is one of the offerings that appears on the Verizon site:
Don't Read the Fine Print of this $10.00 'Deal'.
Unbelievably, this package really costs over $32.00 a month -- 220% above this advertised price.

This 'fine print' has our friends -- the $9.99 router, $11.99 set top box, the $4.99 Regional Sports Fee, the $1.99 Broadcast Fee, the $89.99 installation and the taxes, fees and surcharges, including (but not detailed) including the franchise fee.
It specifically says "no sports channels" but charges a "Regional Sports Fee", and these basics left out of the advertisement add $28.96, not to mention at least $1.95 (our estimate) for the franchise fee, but who knows what else the taxes, fees and surcharges are hiding. Let's call it $32 dollars above the advertised $10.00 deal.
Bait & Switch? This plan's advertised price cost is $10.00 and yet the actual costs to the customer are $32.00, hiding a whopping 220% above this advertised price. Is this 'fair and reasonable'? Is this deceptive advertising? Where are the savings for buying this 'slim package'?
Related
Popular in the Community