Automatic voter registration picked up more momentum Thursday as Vermont Gov. Peter Shumlin (D) signed a bill that would automatically register eligible voters when they interact with Department of Motor Vehicles offices.
The bill, which could add up to 50,000 new voters to the rolls within the first four years, passed with near-unanimous support from the legislature's members, including Republicans, who have opposed the concept in other states.
Under the law, Vermonters who go to the DMV to obtain or renew a driver's license will be automatically added to the registration rolls unless they choose to opt-out. The federal National Voter Registration Act of 1993 requires states to give citizens the opportunity to register to vote at the DMV, but civil rights groups have sued various states for failing to consistently abide by the law's provisions.
"Automatic voter registration saves time and money, increases the accuracy of our statewide voter checklist, curbs the potential for fraud, and protects the integrity of our elections," Vermont Secretary of State James Condos said in a statement. "As Secretary of State, I believe voting is a sacred right -- one we must protect and encourage by removing unnecessary barriers. Democracy works best when more people participate."
But in West Virginia, Republicans supported the concept and helped pass that state's automatic registration bill in March.
Voting rights advocates argue that automatic registration is more secure, accurate and cost-effective: It means the state can transmit data on eligible voters between agencies rather than relying on information from paper registration forms that can easily translate to errors on the rolls. Registration rates in Oregon have quadrupled since the system took effect in January.
"This reform is a common-sense, no-brainer idea for any state looking to make voting more convenient and accessible for everyone," said Adam Gitlin, counsel in the Democracy Program at the Brennan Center for Justice.
While the action on automatic registration remains at the state level, Democrats in the House have introduced their own automatic registration legislation, as has Democratic presidential candidate Bernie Sanders (I-Vt.) in the Senate. President Barack Obama recently called on lawmakers to "mak[e] automatic voter registration the new norm across America" while Democratic presidential front-runner Hillary Clinton embraced the concept last year.
Before You Go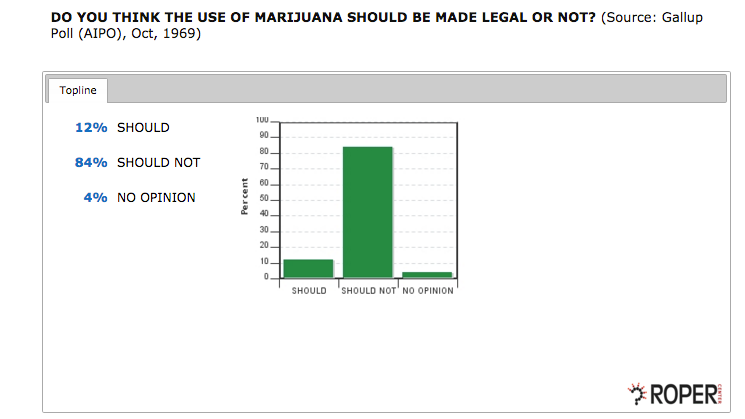 50 Years Of Marijuana Polling
Popular in the Community