There may be no state in the country considered as "safe" for Barack Obama as the Green Mountain State. It is, after all, the home of former governor and current Democratic National Committee Chairman Howard Dean. But I wonder what happened over the past two weeks to explain why fivethirtyeight"s state-by-state survey of electoral outcome probabilities slipped Obama's chances of winning the Green Mountain State from 100 percent (a unique status it had shared with the District of Columbia) to 99 percent (with Rhode Island and Hawaii).
I doubt it is related to the size of Obama's official campaign presence here -- currently one full-time staffer embedded in the Vermont Democratic Party campaign office in Burlington. Attendance at recent Obama county organizing meetings in Chittenden and Addison was respectable considering it is mid-summer and the election is three months from now. After all, grassroots activists had no difficulty gathering required petition signatures, conducting canvasses, registering new voters, raising funds and mounting visibility long before the official campaign arrived in Vermont just two weeks before the March 4 primary. And that effort built a strong foundation for the general election.
No public opinion polls have been published in Vermont since February, but these would probably be a waste of money. Two polls conducted just weeks before the Democratic primary projected Obama beating McCain by margins of 34 and 21 percent. How reliable were those polls? The same polling organizations at the time showed Obama leading Clinton by 24 and 14 percent (Rasmussen 57-33 and Research 2000 53-39). The far less scientific AOL straw poll at the same time showed him with a 20-point lead (60-40), very close to the actual primary results (59.31 percent to 38.59 percent). So go figure.
Well, that's exactly what fivethirtyeight has done. They have adjusted the February data to a current projection of 59.7 percent to 38 percent for Obama over McCain. Since volatility is not a Vermont voting trait, barring some major development, you can probably bank on the prediction holding on November 4.
While most Vermonters are excited about bringing CHANGE to Washington DC, the same does not necessarily apply to their state capital, Montpelier. This is a very unique election year. Neither of Vermont's highly popular Senators, Democrat Patrick Leahy nor Independent (democratic socialist) Bernie Sanders, is up for re-election. And Representative Peter Welch, finishing his first term as one of the country's most effective freshman in Congress, will have no Republican opponent in November, though he will face an anti-war activist in the Democratic primary and a Progressive Party candidate in the general election. So, all attention is on the Governor's race, with Republican Jim Douglas running for his fourth two-year term against Democratic House Speaker Gaye Symington, with Progressive Party candidate Anthony Pollina as her potential spoiler.
So far, Election 2008 looks to be a bifurcated event that will focus far more resources on the state race than on the national contest. Both Democrats and Republicans have already raised the specter of a coattail effect in November. Democratic Party officials talk of Obama drawing enough new voters to the polls to help Symington overcome the State's tradition of voting for candidates irrespective of party affiliation. Republicans cautiously whisper of a reverse coattail effect, with McCain benefiting from a loyal turnout to re-elect Douglas. These may be prime examples of wishful thinking. It is doubtful that "coattail" is going to become a causative verb in Vermont any time soon. Why? Because the ties that connect these local candidates vertically to their national tickets are nebulous when compared to the strong ties that bind them horizontally to other state party officials.
Top Vermont Democrats like Leahy and Welch certainly boarded the Obama bandwagon early in the primary race. But their party has failed to court Obama's most active grassroots supporters who are engaged in politics for the first time.
Perhaps more importantly, while most Clinton supporters in Vermont will certainly vote for Obama, it is not clear what role her state campaign chair, former governor Madeleine Kunin, is going to play at the Denver Convention. She is currently a leading advocate for an Obama-Clinton "dream ticket", choosing for now to play the yenta. But there are forces within the Democratic Party, like PUMA and the Denver Group, ready to cause havoc at the convention, who would be more than happy to seize on "Hillary for VP" as their battle cry, as well as highlighting the party's schism through a roll call vote for President. By late August, Kunin may have to choose between party unity on one hand and loyalty to Hillary and her personal cause of promoting women in politics on the other. And that decision ironically could affect both her state party's prospects of electing another female governor as much as the national party's opportunity to elect the first biracial President.
On the Republican side, Governor Douglas knows he is better off distancing himself from his party's standard bearer. Otherwise, he risks having to defend McCain's erratic personality and unpopular positions before a skeptical electorate. It will be much easier to present his own narrative of a steady demeanor and record of cautious stewardship. In fact, it is his coattails if any that might help Lieutenant Governor Brian Dubie, with whom he forms Vermont's sole surviving Republican "team," ride into office. But this November, it is probably going to be casual Tuesday. And that means "No Ties, No Tails."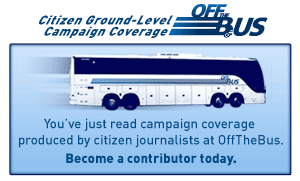 Calling all HuffPost superfans!
Sign up for membership to become a founding member and help shape HuffPost's next chapter