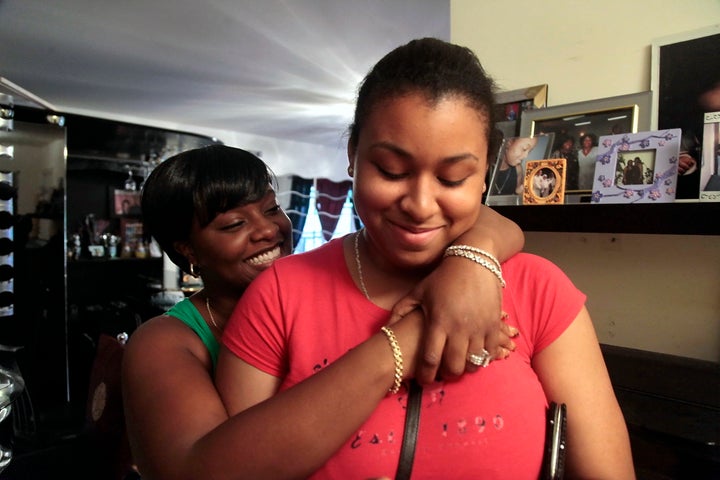 Ask Us Who We Are, the latest documentary by Bess O'Brien of Kingdom County Productions, begins by chronicling the lives of nine Vermont teenagers, all of whom are or were in the foster care system. The film starts with each youth describing what his or her home life was like prior to being placed into foster care.
"When I was about seven or eight my dad started hitting us. He started drinking more. That's when he really became an alcoholic."
"My dad was big, racist, cowardly, no problem hitting women, hitting people smaller than him, a liar. Not a good person to live with."
"I lived constantly in fear, wondering what would be my father's next move."
"Windows would be broke, the stereo be thrown out of the house. My sisters and I would hide all the time, hoping we wouldn't get hit."
"When I would see my mother abusing my brother, I would yell at her and try to distract her from him, and take it onto me."
"I don't think I always knew my mother was a junkie."
"My mother was a prostitute, and my father, he just wasn't in the picture."
"My mom was an alcoholic and she went to bars and came home with many different men on occasion."
"Me getting hit, I thought that was the way my parents showed me they loved me."
It's a harrowing start to a film, but having worked with foster youth myself for over 30 years, completely believable. There are 463,000 children in foster care in the United States, and these nine adolescents tell stories that represent the experiences of the vast majority of all the others. All nine were removed from their homes by the authorities and then entered foster care. Unfortunately, that too proved to be disruptive and traumatic:
"At one point I had a family. Now I don't."
"You don't know the people, you move in, you hope they are nice."
O'Brien does a good job showing the various types of settings where such young people do end up living. In some instances relatives step up to the plate, volunteering to raise these children. One grandmother, who looks to be in her 60s, whose own son returned from the Iraq War so emotionally damaged that he didn't even want his son any longer, takes the boy in. It's not easy for her though, as she talks about the stress, strain and "huge adjustment." Even so, through tears she says, "I took my grandson in, but lost my son, but my grandson is an extension of my son."
Then there are those men and women who offer to serve as foster parents. They are not blood relatives of any of these children, but even so, they open their homes to them. One woman over the last 20 years has taken in more than 100 children. We meet Cliff and Kelley, two gay men who take in a teenage boy, and tell him, "You're coming in here with a clean slate, the past is the past." Another girl has been removed from her home because of abuse by her parents, and her school sends around an email to all faculty, looking for someone to take her in. Her seventh grade Spanish teacher does. Another woman who has served as a foster mother, when asked why she does it, says, "We all have a calling to do something extraordinarily good."
Some of these foster parents go even further; they decide to legally adopt the children. It's a huge emotional risk, because up until the adoption is signed, sealed and delivered, the courts can decide at any point to pull the child and return him or her to the birth parents. I've seen it happen. One couple who decide to go down this path, even though they know it may not work out, say, "This little girl was fearful of strangers, she wouldn't talk to anybody. We decided to take the classes because we know this little girl needed us." Another foster mother accepts a boy who had been in 34 prior homes, and hearing this, asks if she can adopt him, and she does." In my mind, these people are heroic, saintly, or as one person states in the film, "It's a kind of love that is angelic actually."
You would think that foster parents would be furious at the birth parents who have inflicted so much hurt and pain on these children. I know there are those who feel this way, but in Ask Us Who We Are, we encounter instance after instance of just the opposite. One foster mother, who took in a baby, requested photos of the mother so she could put them the girl's crib. Another married couple adopted a girl whose mother had been addicted to drugs, but has now been clean for three years. The couple reached out to this woman, inviting her to their home on a regular basis, so she still has a bond with her child. The father says, "She is part of our family now."

The film shows that the work of being a foster or adoptive parent is not easy. After being treated so poorly by the parents who were supposed to love them and care for them, we hear over and over again the difficulties these children have learning to trust; their unwillingness to let anyone in; the inability to deal with painful emotions; recurring nightmares; the trauma and grief that never completely go away. As one boy says as he describes the alienation he feels, "It feels like you against the world." Some youth use drugs and alcohol abuse as a way to cope, others cut themselves.
Despite all the difficulties though, O'Brien's film ends not just on a positive note, but on something much more. It shows kids who are determined to prove that they can in fact break the cycle of poverty, abuse and despair, that they can lead happy and successful lives. We meet foster youth who are attending college, playing team sports, thriving. One young man declares, "I want to be better than my father. I want to be a great father." Another young woman states, "We can make it... if you help us."
Ask Us Who We Are is an important film to watch, particularly in light of recent disturbing news in the September issue of Pediatrics. This medical journal reported that the number of abused children going to the hospital with severe brain injuries is increasing, tying this to the downturn in the economy and increase in poverty. Dr. Rachel Berger, co-author of the study, said in a Reuter's news article:
"When people are stressed in this country, for instance during a hurricane, as a society we provide help to those people. Here we have an economic recession and what happens during that time is we actually pull back. We really need to think about what the outcome is going to be when we cut programs that help infants and young children."
I could not agree more, and as our elected representatives are about to consider dismantling the social safety supports that so many of these children and families depend upon, they would do well to first view Ask Us Who We Are. It may be a film about Vermont children and families, but it's really about the entire country, and what we believe is important, and what is not.