Vermont Gov. Phil Scott (R) signed a set of new gun restrictions into law on Wednesday, fulfilling what he's called his "moral and legal obligation and responsibility to provide for the safety of our citizens."
The legislative package raises the minimum age for purchasing a firearm to 21, enhances background check requirements for private gun sales, and bans high-capacity magazines and bump stocks. Other measures expand law enforcement's ability to confiscate guns from individuals labeled an "extreme risk" and people arrested for domestic assault.
At a signing ceremony in front of supporters and critics at the state capitol in Montpelier, Scott defended the new laws as an appropriate response to mass gun violence over the past year in places like Parkland, Florida, and Las Vegas.
"Today we choose action over inaction, doing something over doing nothing, knowing there will always be more work to do, but today we chose to try," Scott said. "This is not the time to do what's easy, it's time to do what's right."
Gun advocates booed the governor and let out screams of "coward" and "traitor."
The modest overhaul of the state's gun laws marks a significant change for Vermont, a blue state with a large rural population and a rich tradition of hunting and outdoor activity. Although lawmakers have debated gun control in the past, such measures historically haven't received much support.
Scott himself had previously toed the pro-gun line and carried an endorsement from Gun Owners of Vermont ahead of his 2016 gubernatorial campaign. In the hours after the Parkland shooting in February, he signaled that he wasn't interested in revisiting Vermont's gun laws, which are among the loosest in the nation. But he appeared to change course just a day later, following the Feb. 15 arrest of a Vermont teenager who had allegedly planned a similar shooting at a high school in Fair Haven, Vermont.
The suspect in that case, an 18-year-old, was legally able to purchase a shotgun, but would not be allowed to do so under the new state law.
"As governor, I have a responsibility to provide for the safety of our citizens, especially our kids," Scott said at a February news conference announcing he'd be open to looking at gun policy reform.
He echoed that sentiment in a March statement following the state legislature's passage of the new gun restrictions, saying recent mass shootings had proven that "no state is immune to the risk of extreme violence."
Beginning Wednesday, Vermonters below the age of 21 will no longer be allowed to purchase firearms unless they can show they have completed a hunter safety course. The previous age restriction for long guns, including rifles like the AR-15, was 18 years old.
The new limits on the sale of high-capacity ammunition magazines will also go into effect immediately. The restrictions apply to rifle magazines that hold more than 10 rounds or pistol magazines that hold more than 15 rounds. Dealers in the state have until Oct. 1 to sell any magazines they already have in stock.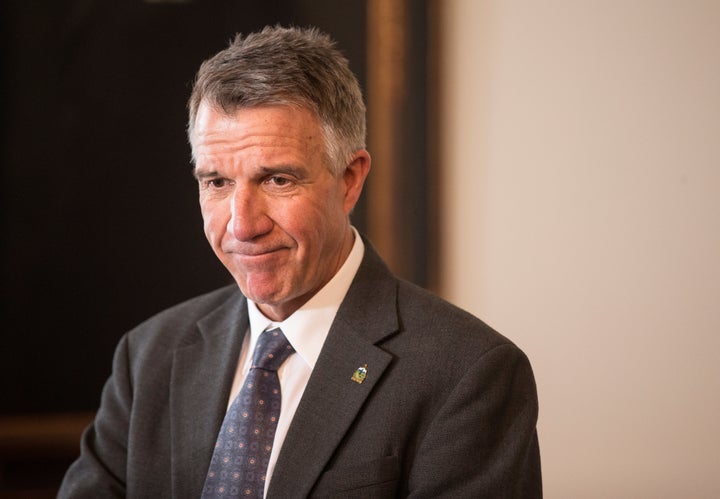 With Scott's signature, nearly all private gun sales in Vermont now require a background check conducted by a federally licensed firearms dealer. Transactions between family members will not be subject to the requirement.
The new law also sets into motion a process for law enforcement to petition for "extreme risk protection orders," which will allow police to confiscate firearms from individuals found to be dangerous to themselves or others.
The state ban on bump stocks, the accessories the Las Vegas gunman attached to his semi-automatic rifles to allow them to simulate automatic fire, will go into effect on Oct. 1 and will prohibit all possession of the devices.
Gun advocates have harshly criticized the new laws, arguing that they'll infringe on the rights of otherwise law-abiding individuals while doing little to protect public safety.
"The tyranny of democracy has overwhelmed the protections of my constitutional, individual rights," Bill Moore, a firearms policy analyst for the Vermont Traditions Coalition, which lobbied against the gun measures, told The Associated Press.
A number of pro-gun organizations in Vermont have vowed to challenge some of the new restrictions, including the ban on high-capacity magazines.
Gun violence prevention groups have meanwhile lauded Scott for supporting what they see as reasonable reforms to state gun laws.
"The cultural shift signified by having these laws in place will be hard for some, but the day-to-day experience of most law-abiding gun owners in Vermont will be impacted very little," said Clai Lasher-Sommers, executive director of GunSense Vermont, in a statement.
"The laws were crafted with respect for our state's long-standing hunting culture, and are supported by gun owners and non-gun owners alike," she added. "We appreciate the courage that the Governor has shown in recognizing a risk to his state and taking proactive measures."
Popular in the Community