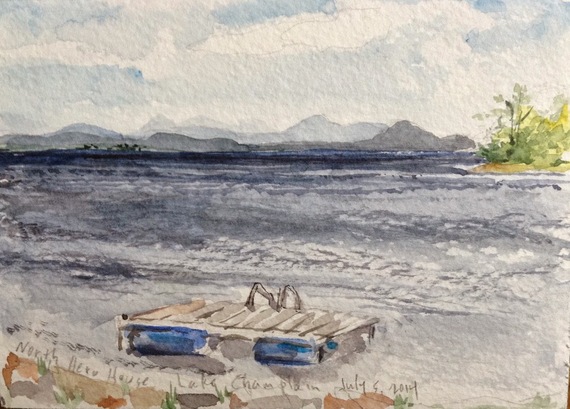 We know when in Rome and we know where the names of Rome, Ithaca and Sparta NY came from. But what about North and South Hero, Vermont? It's unlikely that these towns were named for heroes in general. Can we conclude that antiquity is to blame in this case too and that the name derives from the myth of Hero and Leander? If you remember Hero is lured by Leander, but then loses him and kills herself. It's a melancholy myth to tag onto a town, especially one that exists on the edge of a large body of water where storms and floods are always a threat. Actually any omens that might be presaged by the name are belied by the peace of this hamlet which is just south of the Canadian border.
If you are looking for a timeless redoubt stay at one of the lakeside rooms at North Hero House, a vintage inn and then stroll onto the jetty outside your window on which Adirondack lawn chairs face an old-fashioned raft. There's no surf to speak of, but children paddle their surfboards out past the raft and into the vast lake. Back on shore there's a faded shuffle board deck and a college student manning a table advertising aquatic rentals simply bakes in the sun, undisturbed in her studies, by the threat of prospective customers.
What do people do in North Hero for fun? They ride their bikes to Hero's Welcome, the kind of timeless general store that has just about anything anyone could possibly need during their stay in either of the Heroes.
Watercolor by Hallie Cohen
{This was originally posted to The Screaming Pope, Francis Levy's blog or rants and reactions to contemporary politics, art and culture}