State legislators in Vermont on Wednesday passed a bill that would make marijuana legal for adults. Even if the bill does not become law, the state has already made history by becoming the first to send a marijuana legalization bill to the governor's desk rather than legalize the drug with a referendum.
The Vermont House of Representatives approved a version of a marijuana legalization bill that last week passed in the state Senate. If it became law, adults in Vermont could legally possess as much as an ounce of marijuana flower by mid-2018. Adults would be able to grow six marijuana plants for personal use, with up to two of them mature at any given time. The bill also creates a study commission to develop a retail marijuana scheme with regulations and taxes similar to the programs already enacted states that have legalized recreational marijuana.
It's not clear if Gov. Phil Scott (R) will sign the bill. He has raised concerns over safety, especially with regard to the potential for impaired driving while under the influence of marijuana. However, the bill could become a law even without Scott's signature: In Vermont, legislation becomes law if five business days pass without a signature or veto from the governor, although there can be some delays depending on the volume of bills awaiting the governor's attention.
When asked if Scott will allow the bill to become law, Lt. Gov. David Zuckerman said he's not sure, partly because the governor hasn't kept him close on his thought processes on the issue.
"There's room for this to become law, either with or without his signature, because the majority of Vermonters, like the majority in the country, support cannabis reform," he said. "This governor is not a right-wing ideologue as some national Republicans are, and he's practical. I think he recognizes that the majority in our state support reform of these laws."
According to a recent poll from Democratic-leaning Public Policy Polling, Zuckerman is correct that a majority of Vermont voters support allowing people 21 and older to possess and grow a limited amount of marijuana. They also support the state taxing and regulating recreational sales of the plant similarly to alcohol.
"This governor is not a right-wing ideologue as some national Republicans are, and he's practical."
If Vermont continues down the set by path this bill, it could become the ninth state to legalize recreational marijuana. The other eight states have all legalized via ballot referendum in recent years. Twenty-nine states, including Vermont in 2004, have legalized marijuana for medical purposes.
Marijuana is the most commonly used illicit substance in the U.S., and the trend of states bucking prohibition in favor of legal regulation reflects a broad cultural shift toward greater acceptance of the plant. National support for legalization has risen dramatically in recent years, reaching historic highs in multiple polls.
Still, the plant remains illegal under federal law, and those who favor the end of marijuana prohibition in the United States have been concerned about the future of legalization under President Donald Trump.
Trump said during his campaign that he would support medical marijuana "100 percent" and would respect states' rights on the issue of legalization. But his selection of Jeff Sessions as attorney general ― a vocal opponent of marijuana ― was troubling to those who favor progressive drug laws. Sessions said recently that he believes Obama-era marijuana guidance, which allowed states to enact their own legalization rules, is "not too far from good policy." Still, he's expected to make some changes to the policy that could allow prosecutors to more aggressively pursue drug convictions.
Trump signed a government funding bill last week that contains protections for state medical marijuana programs against federal interference. But a statement he released afterward left some members of the state-legal marijuana industry on edge, as the president appeared to signal that he could ignore those protections.
Kevin Sabet, president of anti-legalization group Project SAM, said his group was "disappointed" by the vote, but that the "fight is far from over."
Before You Go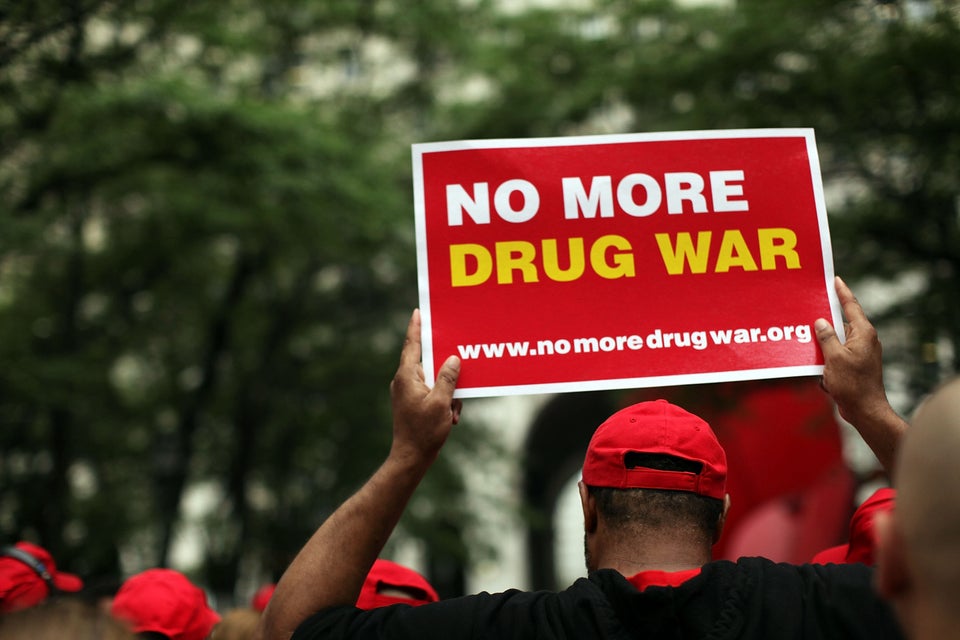 27 Reasons Why U.S. Shouldn't Lead War On Drugs
Popular in the Community