Vermont Gov. Phil Scott (R) vetoed a bill Wednesday that would have legalized marijuana for adults in the state, but offered a path forward for the legislation if state lawmakers make a handful of changes to the bill.
"I think we need to move a little bit slower," Scott said Wednesday, adding that he's not opposed to the idea of legalization in the state, but that lawmakers "must get this right."
Scott said he's going to offer some changes and suggested that he'd be willing to support a revised bill if it addressed his concerns about penalties for the sale of marijuana to minors, more time for a commission to study the prospects for a regulated market, and other safety issues.
Wednesday was the governor's deadline to sign the bill, allow the bill to become law without his signature or veto it. Lawmakers will have the opportunity to address the governor's concerns about the bill as soon as this summer's special session.
The bill would have allowed adults in Vermont to legally possess as much as an ounce of marijuana flower by mid-2018. Adults would have been able to grow six marijuana plants for personal use, with up to two of them mature at any given time. The bill also would have created a commission to develop a retail marijuana scheme with regulations and taxes similar to the programs already enacted in states that have legalized recreational marijuana.
The measure was approved by the state Senate and House earlier this month, making Vermont the first state to ever pass a bill to make marijuana legal through its legislature. Eight states and Washington, D.C., have legalized recreational marijuana in recent years, but all via a ballot referendum. Twenty-nine states, including Vermont in 2004, and D.C. have legalized marijuana for medical purposes.
According to a recent poll from Democratic-leaning Public Policy Polling, a majority of Vermont voters support allowing people 21 and older to possess and grow a limited amount of marijuana. They also support the state taxing and regulating recreational sales of the plant similarly to alcohol.
A New York Times editorial on Wednesday had urged the governor to sign the bill.
Lt. Gov. David Zuckerman, who supported the legalization measure, said he was disappointed to see Scott "disregard the will of most Vermonters" by vetoing the bill.
"Vermont is now lagging behind other states in the region and is missing opportunities to capture revenue from an underground market that would allow us to address highway safety, drug education and treatment, and other needed state investments to reduce the temptation of drug use," said Zuckerman, a member of the Progressive Party.
Advocates for more progressive marijuana laws in the state also voiced disappointment in the veto, but were optimistic that a compromise bill could take shape soon.
"Despite the veto, this is a huge leap forward," said Matt Simon, New England political director for the Marijuana Policy Project.
Tom Angell, chairman of Marijuana Majority, said the veto "likely just amounts to a short delay" and that he's "very hopeful" the state will become the first in history to end marijuana prohibition by an act of the legislature.
"The fact that a bill even ended up on the governor's desk signals a new phase of the marijuana legalization movement," Angell said.
Kevin Sabet, president of anti-legalization group SAM, commended Scott on his decision to veto the bill and voiced concern about a compromise bill.
"Our work is not over," Sabet said. "We will be working very closely with our allies to make sure any piece of legislation does not allow Big Marijuana to come to Vermont."
Marijuana is the most commonly used illicit substance in the U.S., and the trend of states bucking prohibition in favor of legal regulation reflects a broad cultural shift toward greater acceptance of the plant. National support for legalization has risen dramatically in recent years, reaching historic highs in multiple polls.
Still, the plant remains illegal under federal law, and those who favor the end of marijuana prohibition in the United States have been concerned about the future of legalization under President Donald Trump.
This article has been updated with comment from Kevin Sabet.
Before You Go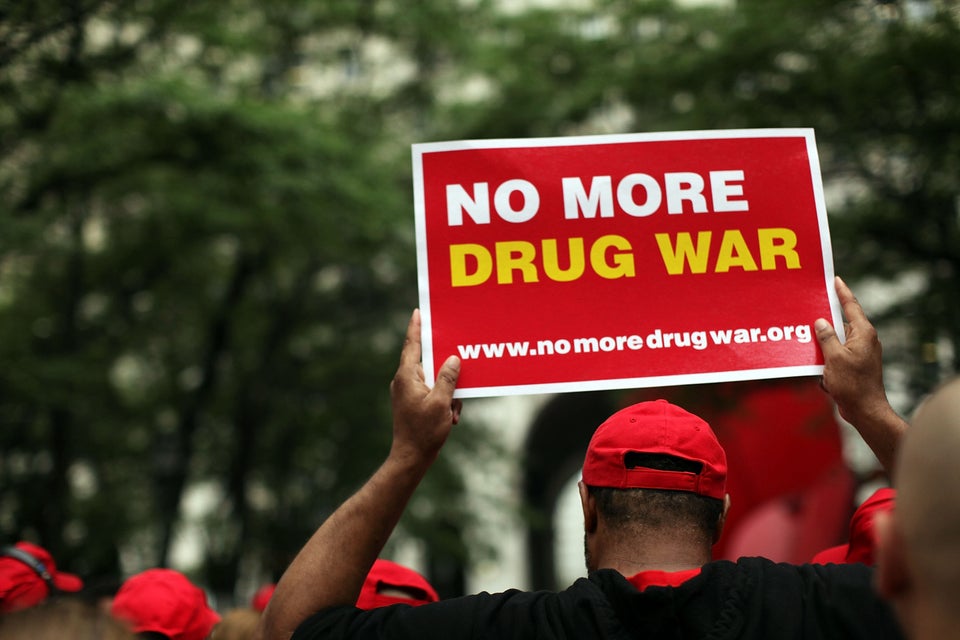 27 Reasons Why U.S. Shouldn't Lead War On Drugs
Popular in the Community