Vermont could become the first state in history to legalize recreational marijuana via state legislature with a new bill submitted Tuesday that aims to end prohibition of the plant.
Senate Bill 95 would legalize the possession, use and sale of recreational marijuana in the state for those 21 and older. Adult residents could possess up to an ounce of marijuana and grow up to nine plants (two mature, seven immature) for personal use, including any additional marijuana produced by those plants. Personal cultivation would be limited to secure indoor facilities.
Non-residents could also enjoy the new laws, legally purchasing up to one-quarter of an ounce of marijuana from a licensed retail shop.
The bill also proposes an excise tax of $40 per ounce of marijuana flower, $15 per ounce of any other marijuana product and a $25 tax on each immature cannabis plant sold by a cultivator.
Forty percent of revenue brought in through marijuana taxation would be earmarked for substance abuse treatment services; public education programs about the risks of using various drugs; law enforcement; and academic and medical research on the plant.
Marijuana would remain banned from being smoked in public.
A Marijuana Control Board would be established to oversee the state industry and enforce regulations.
To date, four states and the District of Columbia have already legalized recreational marijuana use (sales remain banned in D.C.) -- all via a referendum process where voters passed ballot initiatives aimed at loosening their marijuana laws. What makes Vermont unique is that lawmakers have the opportunity to legalize the federally banned substance directly through the legislative process.
Sen. David Zuckerman, sponsor of the bill and member of the state's Progressive party, told The Huffington Post that he's pursuing legalization because it's simply a more rational approach to a substance that is in such widespread use today.
"One can experiment with alcohol, as many do, and use marijuana, as many do, and turn out to be a positive and productive member of our society," Zuckerman said. "Certainly, I've not hidden the fact that I recreationally used while I was in college, and yet I turned out to be a productive business person."
Medical marijuana has been legal in Vermont for more than a decade, and Zuckerman says that experience has led to years of "thoughtful dialogue" that has helped inform state lawmakers substantially on the issue of expanding into recreational legalization. But Zuckerman said that while a vote to legalize could take place as early as this year, he expects discussion of the bill could push the vote to 2016.
Last week, a group of Vermont lawmakers, lobbyists and law enforcers spent three days in Colorado on what was billed as a "fact-finding" trip to learn more about the effects recreational legalization has had on the Centennial State. Colorado, along with Washington, became the first state to legalize and regulate retail marijuana for adults in 2012.
If the measure passes, it's likely that Vermont Gov. Peter Shumlin (D) would sign it into law.
"My bias on legalization is toward legalization," Shumlin said in January. "Let's remember, we have this conversation and we pretend that you can't get marijuana now. In the real world, folks, if you want to get marijuana in Vermont, we're in Lala Land if we're pretending you can't. The question is how do we move to a smarter approach that doesn't promote addiction, that doesn't promote abuse and really accepts the reality."
Earlier this year, policy research group RAND Corporation released a detailed report on the myriad marijuana legalization and regulatory options available to the state. The report noted that Vermonters in 2014 likely consumed 15 to 25 metric tons of marijuana, spending between $125 to $225 million on marijuana. If lawmakers wind up legalizing the drug, taxed it and successfully squashed the black market, the report estimates that the state could bring in $20 to $75 million in revenue.
The regulation and taxation of marijuana appears to be supported by a majority of Vermonters -- a 2014 poll found 57 percent were in favor of changing the state's marijuana laws.
Vermont isn't alone in its legislative route to legalization. Lawmakers in Rhode Island are also expected to consider a similar bill this year. In Maryland, bills to regulate marijuana similarly to alcohol have already been introduced.
Legal marijuana is the fastest-growing industry in the U.S., according to a recent report from industry analysts ArcView Group. Their recent report predicts that over the next five years, 14 more states will legalize recreational marijuana. Along with Vermont, at least nine more states are expected to consider recreational marijuana legalization by 2016.
"Vermont legislators have a great opportunity to show leadership by passing a marijuana regulation bill in 2015, and they should seize it," said Matt Simon, New England political director for drug policy reform group Marijuana Policy Project. "Most Vermonters understand that marijuana is objectively safer than alcohol, and they know it makes no sense to punish adults who choose to use the safer substance."
Before You Go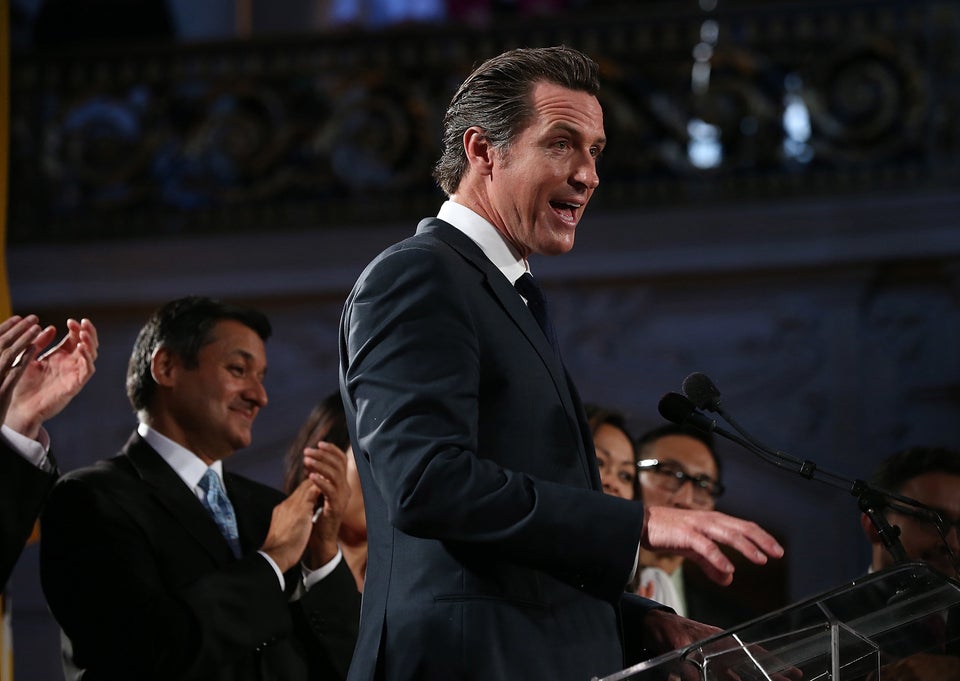 Politicians On Pot
Popular in the Community