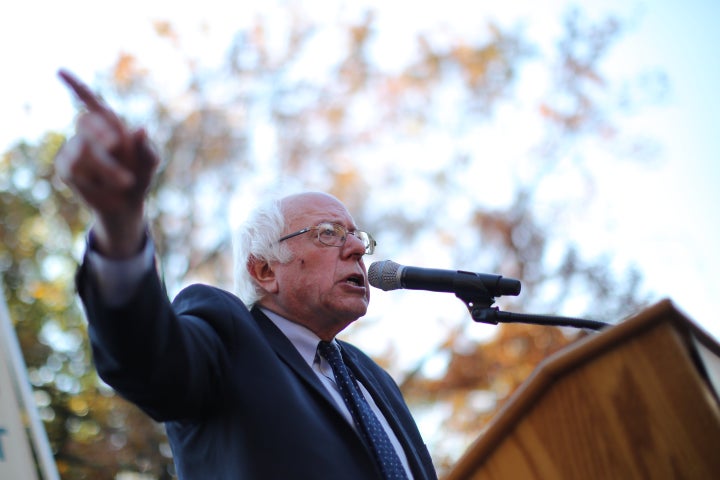 VT Digger, a nonprofit Vermont news site with a full-time staff of 10, reported earlier this month that the mother of Sen. Bernie Sanders' 46-year-old son Levi was an old girlfriend -- not the candidate's first wife.
That biographical detail had never been revealed in any of Sanders' previous 20 campaigns for mayor, governor, the House or the Senate, stretching back to the early-1970s. With Sanders now a bona fide political sensation, drawing larger crowds on the 2016 presidential campaign trail than anyone in either party, it was a legitimate, if not unconventional, scoop for a news site that generally doesn't cover the personal matters of candidates. Sure enough, just 12 hours after its publication, Politico, which specializes in covering the fine details of lawmakers' biographies, blasted out a feature built largely on the very same nugget, titled "Bernie Sanders Has a Secret."
The emergence of Sanders (I-Vt.) as a major presidential candidate has provided a second act on the national stage for a quirky press corps from one of the country's smallest states. The last time Vermont reporters had the inside track on a presidential candidate was the summer of 2003, when former Gov. Howard Dean similarly electrified the Democratic base.
This time, said John Dillon, news director for Vermont Public Radio, the job may actually be a bit easier in one critical aspect. Twelve years ago, Dean was known locally as a moderate, perhaps even conservative governor who became a fire-breathing liberal, anti-war populist to a national audience.
"For the Vermont audience in '03, it was amusing to reconcile the Howard Dean they saw battling loudly with his own party over spending with his ultra-liberal image they portrayed in the national press during the primary," Dillon said in an email to The Huffington Post.
"With Bernie, what you've seen and heard for 30 years is the same Bernie you see and hear now in Iowa, N.H. and Wisconsin," Dillon added. "No change in message at all."
While Sanders may be a more predictable candidate to cover than Dean, there remain challenges -- mainly whether Vermont's news outlets will have the resources to stay with a campaign on a remarkable rise.
The Free Press trekked with Sanders on his first post-announcement trip to Iowa, and will cover him in neighboring New Hampshire. But it likely will rely on others in the Gannett newspaper chain, such the Des Moines Register, for campaign trail coverage. Its editors may also tap Gannett's Washington bureau for Sanders stories, such as Monday's front-page report on how online community Reddit has boosted Sanders' candidacy.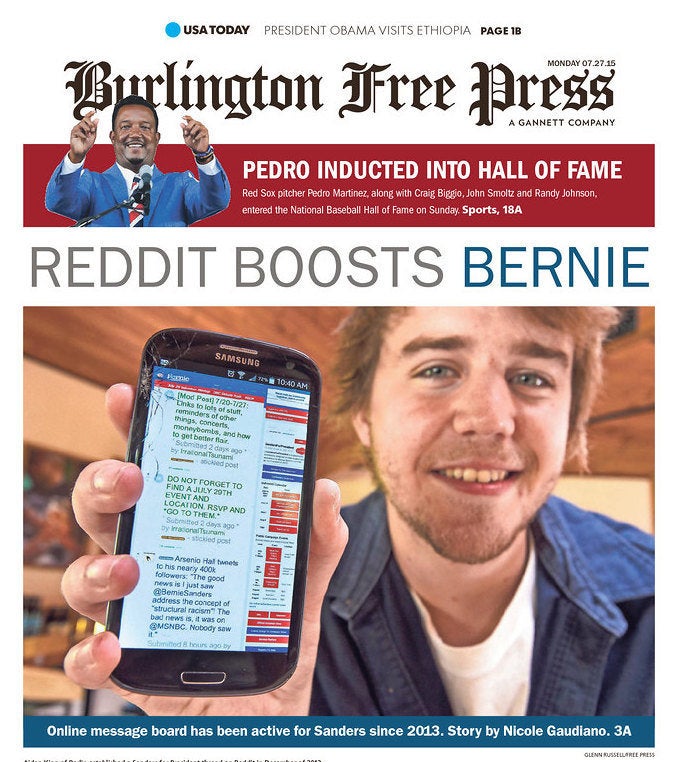 Smaller outlets and alt-weeklies are trying to fill the void. The VT Digger is drawing readers to its section, "Bernie's Bid," while Vermont Public Radio posted audio clips of Sanders advocating positions through the decades that are similar to what he's saying now.
Seven Days, a weekly newspaper, launched a multimedia microsite called the "Bernie Beat," featuring old photographs, campaign literature, digitized stories from defunct alternative newspapers and audio of Sanders singing "This Land Is Your Land" from a 1987 folk album. Unlike many alt-weeklies nationwide, Seven Days remains financially sound, with 100-plus-page issues stuffed with advertisements for local restaurants, arts and entertainment. As a result, it has been able to staff up in recent years, hiring some reporters from the Free Press.
CNN, however, it will never be. So, Seven Days and other local outlets are leaning on their geographic advantages, institutional knowledge and previous experience in Bernie-ology to overcome resource disparities. In June, VT Digger highlighted missing sections from Sanders' official campaign biography. According to Anne Galloway, the site's founder, there are plans to cover the years leading up to Sanders' election as Burlington mayor in 1981 and his time in Congress and the Senate thereafter.
But before getting to Sanders' political trajectory, Galloway said, the site aimed to publish a "definitive" profile of his lost years, from 1964 to 1971. It was that work that led to the discovery of the story of Sanders' child. When the paper learned that Politico was digging into a similar period, it was forced to move.
Sanders' star power may have pushed the Vermont press corps into a faster tempo than normal. But Galloway insisted that it didn't compromise editorial policy. The paper didn't publish details it wouldn't have otherwise simply to get the scoop. Rather, she said the news site was motivated to correct the record because "the public has a right to know really basic information about a candidate's private life."
"We didn't go after this in 2006," Galloway said, referring to Vermont journalists largely ignoring Sanders' personal life during his successful Senate run. "I don't know why we didn't explore this. It wasn't explored in 1990, when he ran for Congress. We need to do a better job to look at the past of politicians. Obviously, he's a presidential candidate. He's going to have to talk about everything."
With haste, news outlets are trying to uncover the next unknown chapter in Sanders' life. Some national reporters have camped out in the University of Vermont library, digging through its 49 boxes of papers on his time as Burlington mayor. The Washington Post, for a Sunday front-page story on Sanders' activist past, visited a different Burlington library as a local chapter of socialists debated whether Sanders, a self-described "democratic socialist," had sold out.
Those who have covered Sanders recognize the inherent challenge in this task. Sanders recoils at taking part in personality-driven profiles. Michael Kruse confronted this difficulty in his July 9 feature for Politico Magazine. For the local press corps, meanwhile, it's a widely experienced frustration. Not only does Sanders eschew gossip, he studiously avoids issues outside of his comfort zone.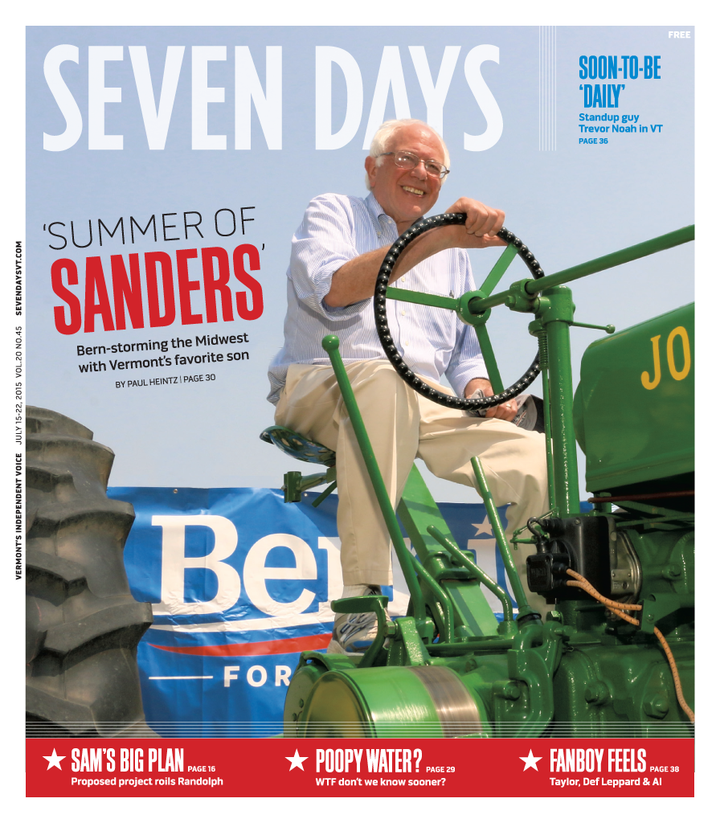 Paul Heintz, political editor for Burlington-based Seven Days, said in an interview with The Huffington Post that he had trouble getting a response from Sanders about gun control after the Newtown, Connecticut, massacre in 2012. And when asking Sanders about foreign policy, he said, the senator is likely to change the subject back to income inequality.
"While I understand that he has his priorities," Heintz said, "I've found it frustrating to get clear answers from him on topics that are quite important, quite relevant, but are not necessarily in his wheelhouse."
Heintz has been thinking about a Sanders candidacy for some time, writing in October 2013 that the independent senator should consider entering the 2016 Democratic primary as the left-wing alternative to Clinton. He said editors began anticipating heightened interest in Sanders last summer, as he started visiting Iowa, site of the first primary contest. The editors wanted to create "the best resource we could for information about Bernie to a more national audience," he said.
These days, Seven days has two obligations, Heintz said: bringing the presidential race to core Vermont readers through campaign dispatches and a recurring feature called "Bernie bits," and to "inform the rest of the world about what we know about Senator Sanders."
"It's been fun, in a way, to watch them discover this thing that we've always known, which is Bernie's been saying the same thing since the early '70s," Heintz said. "We, in Vermont, sometimes make light of that. Sometimes we make fun of that. But I think part of the reason he has found success is that people outside of Vermont see him as authentic and consistent and it's very different from what other candidates appear to be offering."