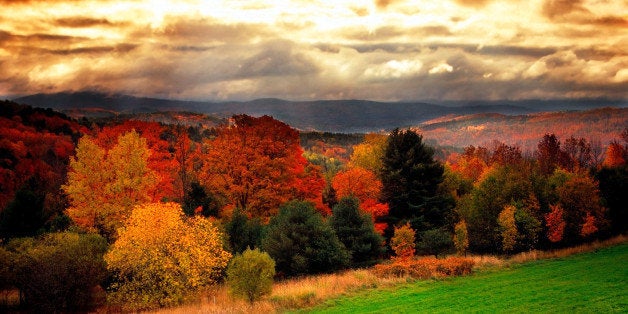 If the question is about fall foliage, the best answer is always Vermont.
Any discussion among veteran leaf-peepers as to which of the 50 states consistently offers the most spectacular fall foliage invariably gets the participants talking red. Red as in anthocyanins, the naturally occurring leaf pigments that produce the scintillating scarlets, captivating crimsons and vivid vermilions that most autumn aficionados insist make the difference between the merely impressive and the truly spectacular.
Of the dominant tree families in the U.S., none produce anthocyanins as copiously as do maples, thus giving Vermont -- where an estimated one-fifth of all trees are maples -- the natural advantage. But there's more to Vermont's seasonal supremacy. In addition to being 80% forest-covered, the Green Mountain State provides all three of the archetypal autumn angles in abundance -- short views of individual trees set against, say, a white clapboard house or russet barn; medium views of small communities of trees congregated, for example, on a 19th-century village green or along a stretch of wild waterway; and long views of undulating tapestries of colors draped over hills and mountainsides. Moreover, it frequently does so in rapid succession, and occasionally all at the same time.
Add to that the state's still overwhelmingly rural, eco-progressive nature and subtract the billboards that you won't see (Vermont prohibited outdoor advertising in 1968), and it's clear to see why -- when it comes to fall foliage -- if it's got to be the very best, it's got to be Vermont.
A thing of beauty is NOT a joy forever
Historically speaking, fall foliage season in Vermont extends from mid-September through late October with "peak week" statewide conveniently encompassing the Columbus Day weekend. (Because Columbus Day comes at its earliest possible date this year, the October 8, the following weekend should also be primo.) Geographically speaking, however, there are actually two parades of color: the first radiating outward from the northeast corner and the second eastward and westward into the Connecticut River and Lake Champlain Valleys respectively from the central spine of the Green Mountains. Early-season leaf-peepers should therefore aim high, while their mid- to late-season counterparts should aim low.
But as they say in the investment business, past performance is no guarantee of future results. Last year, for example, was a dismal year, no thanks to tropical storm Irene who blew through in late August, taking down billions of leaves and supersaturating the soil. This year, however, promises to be much more typical (read: spectacular).
But even being at the right place at the right time doesn't guarantee any gold medals as the bus tour from Wisconsin I encountered at the Trapp Family Lodge in Stowe several years ago found out the hard way. They had in fact arrived just as the peak colors were blanketing the lower slopes of Mount Mansfield. Unfortunately for them, those slopes were also blanketed by view-obscuring, low-hanging clouds for the three days they were there. The moral?
Always have a Plan B
The benefit of Vermont's small size is that if the colors won't come to you, it's relatively easy for you to go to them. Generally all that is required is gaining or losing a few hundred feet in elevation, and Vermont's mountain roads readily oblige, be it the two-lane highway to the next town or the more drastic Mount Mansfield or Mount Equinox toll roads.
And while harvest festivals and crafts fairs only enhance a good day, they can positively salvage a bad one. A substandard day is also a great time to visit a museum, maple sugar farm or one of Vermont's legendary merchants such as The Vermont Country Store in Weston, Orvis in Manchester or Cabot Creamery in Cabot.
Peep early, peep often
Vermont's annual gold rush is no state secret and anyone who has experienced it won't be surprised to learn that the first two weeks in October are the busiest of the year touristwise. So if you plan to go this year, start making reservations now. Weekends can be brutal (in addition, most lodges require a two-night minimum), so if at all possible, go midweek.
Generally speaking, the farther north and east you go, the thinner the crowds and the more reasonable the prices since you outrun most of the less energetic drive-by peepers from southern New England and the mid-Atlantic. Stick to back roads to avoid RVs and bus tours, and hit the road early both to catch the morning light and avoid the morning rush (roughly 8:30-10 a.m.). And finally, don't hesitate to ask the locals, those who drive the roads every day are sure to have the most up-to-date information on local hot spots.
Five Drives
While it's hard to go astray anywhere in Vermont during the height of the season, here are five short (less than 50 miles) linear drives, each of which combines charming towns, quaint villages and dramatic scenery.
Historic US Route 7A between Bennington and Manchester (25 miles): Following the valleys defined by the Taconic Mountains to the west and the Green Mountains to the east, this culturally-rich route links revolutionary Old Bennington, Robert Frost's South Shaftsbury, Norman Rockwell's Arlington and quintessentially picturesque Manchester.
State Route 100 between Killington and Warren (44 miles): Pristine mountains tower above you on both sides of this secluded valley route that hugs the Green Mountain National Forest.
State Route 108 between Waterbury and Jeffersonville (28 miles): Vermont's highest peak, Mount Mansfield, looms increasingly larger on the horizon as you travel up one of Vermont's most attraction-laden trails into bustling, but still charming, Stowe and then up and over boulder-strewn Smugglers' Notch.
US Route 5 from Ascutney to Hartland, connecting to State Route 12 into Woodstock (25 miles): Work your way up the Connecticut River Valley past dairy farms, small villages and America's longest covered bridge before cutting inland to iconographic Woodstock and the 165-foot Quechee Gorge.
US Route 5 between St. Johnsbury and Lyndonville, connecting to State Route 114 and 5A to Westmore (28 miles): This sampler of the substantially less-traveled Northeast Kingdom unites "metropolitan" St. Jay, the covered bridges of Lyndon and the Burke Mountain area before its grand finale along mountain-girded Lake Willoughby
.