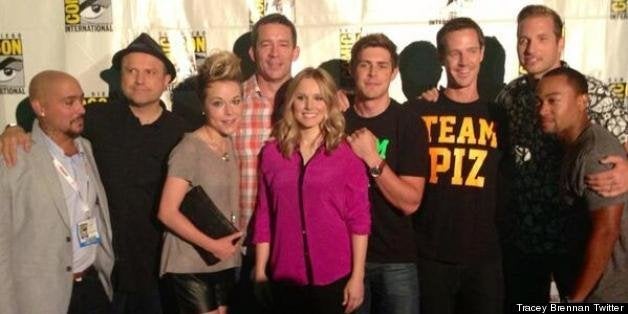 Marshmallows, brace yourselves. The cast of the "Veronica Mars" movie gathered at Comic-Con International in San Diego on Friday to unveil footage of the upcoming big-screen follow-up and to answer diehard fans' questions about the beloved teen series.
The "Veronica Mars" Comic-Con panel, moderated by Entertainment Weekly's Jeff Jenson, kicked off with a video. "A long time ago, we used to be friends. And then it ended," the voiceover said at the start of the footage, according to Cinemablend.
Also, expect to see this moment between Logan and Veronica:
The footage also revealed that Veronica is a lawyer when the movie picks up, according to The Hollywood Reporter. Fans will first see her in a job interview with a prospective employer played by the legendary Jamie Lee Curtis.
"Veronica Mars" creator and the film's writer and director Rob Thomas, Kristen Bell (Veronica Mars), Enrico Colantoni (Keith Mars), Jason Dohring (Logan Echolls), Ryan Hansen (Dick Casablancas), Tina Majorino (Cindy "Mac" Mackenzie), Chris Lowell (Stosh "Piz" Piznarski), Percy Daggs III (Wallace Fennel), Francis Capra (Eli "Weevil" Navarro), Brandon Hillock (Deputy Sacks) -- who asked a question from the audience -- were all on hand to look back, talk about what's to come, and to unveil the first footage from the movie.
Thomas talked about the movie and said (via Cinemablend), "I think the story that I wanted to tell is the one that I think fans want to see. I wanted to get the old gang back together." He added, "I'm a fan of the show, I kind of know what the pleasure zones are for 'Veronica Mars' viewers, and I wrote to those," according to HitFix.
Bell teased fans with her first line in the movie:
"... Ooooh, do you think they'd let me order a Virgin De-Virginator?'" she continued, according to The Hollywood Reporter.
The actress also opened up about finding out the show was canceled after three seasons in 2007.
Lowell came out wearing a "Team Logan" shirt, while Dohring sported a "Team Piz" shirt, showing their love for each other's characters in the long-time "Veronica Mars" love triangle debate.
Lowell, who played the more-than-divisive Piz, told the audience (via THR), "Rob called and said, 'I think we're going to bring Piz back ... The death threats have almost stopped. Why now? I wore this shirt just so I wouldn't get shot."
Not one to be left out, Hansen also joined in the fun:
The fans couldn't get enough.
The audience also couldn't get over Majorino's new look, which Bell brought attention to:
But things took a more sentimental turn when Capra said, "I felt like I fell off the face of the planet" after the show ended, according to HitFix. He added that he was worried he wouldn't be asked back for the "Veronica Mars" movie. "I thought you guys didn't know who I was anymore," he said, leading Colantoni to lovingly rub his head.
Thomas also got sentimental when he admitted to the crowd that his favorite scene was Logan and Veronica's first kiss. "I rewound it, then rewound it, then rewound it -- and my wife entered, and I had tears in my eyes," he said, according to HitFix. "It was an embarrassing moment. I'm watching my own work, a kiss. It just felt so earned to me. I don't know if I was proud of us, or touched by the story, but my wife caught me crying."
So when can "Veronica Mars" fans expect to see the movie on the big screen?
And there may be more movies in store with the cast and Thomas saying they'd be game for a sequel.
Until January or February of 2014, Marshmallows
REAL LIFE. REAL NEWS. REAL VOICES.
Help us tell more of the stories that matter from voices that too often remain unheard.
BEFORE YOU GO
PHOTO GALLERY
Famous 'Veronica Mars' Guest Stars