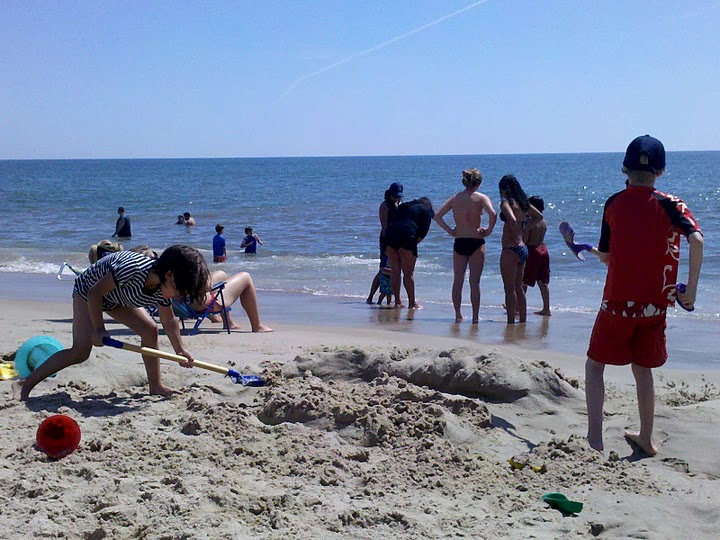 By Veronica Rhodes
If you're expecting a piece about half-naked women frolicking in the surf or making out with each other on the sand, you've come to the wrong place. Hot as they may be, those are not the kinds of destinations I'm looking for these days when I research my next lesbian vacation...for our family of four.
Like any other couple with two young children, Em and I want to spend our vacations in places where we're all comfortable -- we want fun, safety, and entertainment for the kids, good restaurants for us, ease and relaxation for all. Unlike our straight counterparts, though, we also have to look for destinations where we don't feel like freaks. Is it too much to ask that we be able to use our precious days off in a place where both kids can call us both Mom without watching heads turn?
The funny thing is, being a foursome has made travel easier in some ways. Before we adopted our children, Em and I experienced most of the usual gay travel discomforts, like that moment at the check-in counter when the well-meaning clerk would say: "Oh, this reservation has you down for one bed -- let me change that to two for you." These days, we don't have that problem. Two women checking in accompanied by kids who bear little resemblance to each other are... what are they, exactly? Sisters, cousins, in-laws, what? In any event, nobody ever questions the two beds any more.
Still, at some point during our stay it becomes clear that we're a family, and we'd prefer it if that moment was not traumatic to anyone. So a few years ago, when we decided to take a little summer trip of our own -- for the first time, just the four of us -- we had to find a destination. We thought maybe we'd go to the beach, a mountain lake, anywhere cool and refreshing where the four of us could relax and have fun. We set a 200-mile limit to keep the drive under four hours, then looked at a map to see what our options were.
It became clear at once that we had an unexpected problem: Destinations that proclaimed to be "family friendly" may as well have had "STRAIGHT" stamped across their brochure pages, where beautiful couples snorkeled with their equally beautiful children by day, then danced in the moonlight by night (with no kids in sight). And resorts that claimed to be "gay-friendly" tended to be of the adult variety, not suitable for children. Where was the place that was both family and gay friendly?
Mind you, we don't want to spend our time only with other gay and lesbian families. We just wanted a place where all kinds of families could relax and play together, with no sense of anyone's being an outsider. We considered going to Family Week in Provincetown, which would certainly be gay friendly, but that was way outside our 200-mile limit and had a whiff of separatism about it. Someplace on the Jersey Shore, the Poconos, right here on Long Island? They all seemed family friendly, but we didn't spot any destinations that suggested we'd find other gay families there.
We finally settled on a beach town on the Delaware Shore, where there's a lovely diversity of family types by day and a reputedly hot gay bar scene by night -- not that we've had the opportunity yet to check that out. In five summers there, we haven't had a single moment of awkwardness, a feeling that's truly delightful in its absence. People look at us in confusion and ask why we drive four hours to the beach when we live on an island ourselves, but we tell them it's a gay thing. Just don't go driving down there yourselves hoping to spot the wild women on the beach. It's probably just us, digging a hole to China.
Veronica Rhodes is the pseudonym of a New York writer, editor, and gay adoptive mom of two girls. Read her blog on Red Room.

REAL LIFE. REAL NEWS. REAL VOICES.
Help us tell more of the stories that matter from voices that too often remain unheard.