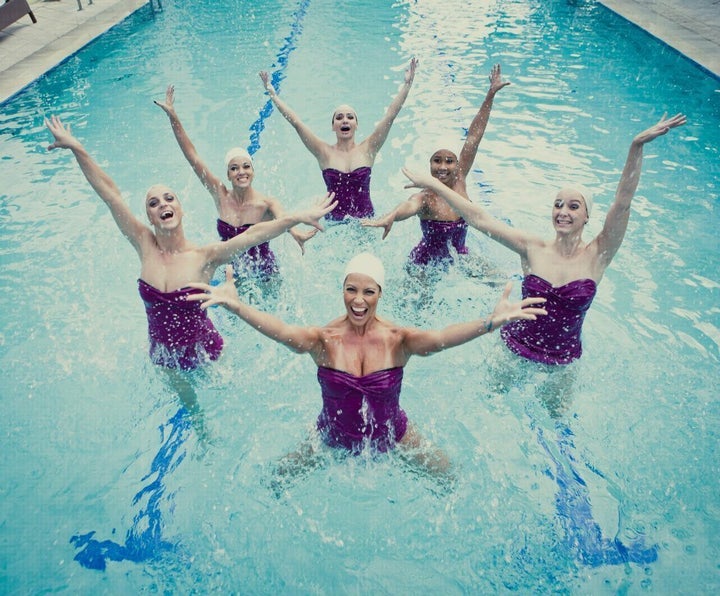 Imagine a cocktail party in a revamped Wynwood warehouse, a satellite soiree during Art Basel. At one point, the house lights dim and women dive into a narrow pool in the floor.
Donned in bathing caps and Esther Williams-style suits, the swimmers dip, jump, and flip in synch. This is Verso, Miami's very own synchronized swimming show team.
They've performed at experimental art shows in the Design District, art fairs during Art Basel Miami Beach, and in Miami Beach Swim Fashion Week shows.
HuffPost Miami spoke with Julie Lucas, one of the principal members of Verso, about this very Magic City-themed nightlife crew.
Scroll down for a slideshow of Verso, shot by Miami photographer Stian Roenning.

How would you describe Verso?
Verso Performance is a synchronized swimming show team that takes basic synchronized swimming and turns it into entertainment performance. Synchronized swimmers use strength, flexibility, endurance and a lot of personality and charisma to entertain the crowd. Verso takes competitive synchronized swimming and incorporates dance, art, and theater to create a whole new performance experience.

How long have you been doing it?
Most of us have been doing "synchro" for over 15 years. Some swimmers started as young as 6 years old and have continued since. We are elite athletes who have competed at Nationals, US Opens and even the Pan American Games. Now that those days are gone, we have fun performing professionally.

What's your practice routine like?
We customize our shows according to the audience and theme of an event. A big part of the creation of the performance is the brainstorming. When you have 12 girls so passionate about synchro, many ideas are generated. We often have crazy ideas, experiment with new moves and try different patterns… some fall through and others are exceptional.
Once we have a theme, we work on the music and create a routine. Then our practice begins. We start with "land drilling," which is practicing our upside-down leg movements on land with our arms up, then we put counts to the music. We artistically play with patterns that create illusions/shapes and then finally it is taken to the water for swims. Long hours of training are needed to establish perfect synchronization.

What music do you prefer to perform to?
Anything with a defined exciting beat. Each of us have different styles and routines like dance music, pop songs, classic pieces, Latin flavors, retro throwbacks, and experimental sound works... We know that with each routine, one of us will absolutely love the music and get inspired to create a terrific performance.

Do you compete?
All of us got to know each other from different competitive teams in the past. Most of us do not compete in the sport of synchronized swimming anymore. We definitely have to stay in shape so we often get together to practice or swim laps. Some of us compete in marathons and triathlons while others participate in different sports activities and dance.

What's the most important skill of a synchronized swimmer?
The most important skill of a synchronized swimmer is the ability to stay synchronized. It's not as easy as it looks, especially when upside down.

What are the backgrounds of the three principal swimmers? Who else swims with you?
Monica grew up in the U.S. and is very well reputed in the arts industry (aslo known as TM Sisters). She has shown her work all over the world. Sarah is from Colombia and started synchronized swimming at the age of 8 and is extremely creative in her design and choreography. I'm from France and have competed in gymnastics and rhythmic gymnastics prior to starting synchro in the US. All three of us have medaled in national competitions and participated in international meets.
Our other swimmers used to either be part of the same synchro team we grew up on, competing teams, or teams from other countries. Most of us have known each other since we were young. The synchronized swimming community is small. As a matter of fact, we know each other so well that we can recognize each other by our toe points.

What's the strangest South Florida event you've performed at?
The strangest and most experimental performance was Whirl Crash Go! at Locust Project, an art gallery in the design district. An above-ground pool was installed inside the art gallery for us to perform in. The performance incorporated roller skaters, booty dancers, video projection, and audio sensitive lights. The gallery was decorated with swings hanging from the ceiling and large fragmented mirrors everywhere. It was amazing.

The most fun?
Miami Swim Fashion Week events have been very exciting and colorful for our group. We also love performing experimental contemporary routines that have a distinct theme and a storyline. Our team just absolutely loves synchronized swimming and being able to move creatively in the water.
REAL LIFE. REAL NEWS. REAL VOICES.
Help us tell more of the stories that matter from voices that too often remain unheard.
BEFORE YOU GO