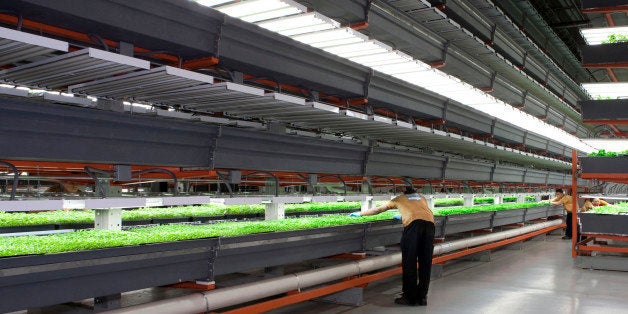 Could the future of modern agriculture be found completely indoors?
That's the question on the mind of Caleb Harper, the research scientist behind the CityFARM project of MIT Media Lab's City Science Initiative.
On any given day on the fifth floor of the glass-walled Media Lab building, a team of 15 researchers led by Harper can be found operating the project's small indoor vertical farm. The CityFARM team includes mechanical engineers, biologists, architects and more, who manage pests, monitor water chemistry and grow produce such as tomatoes, leafy greens and herbs.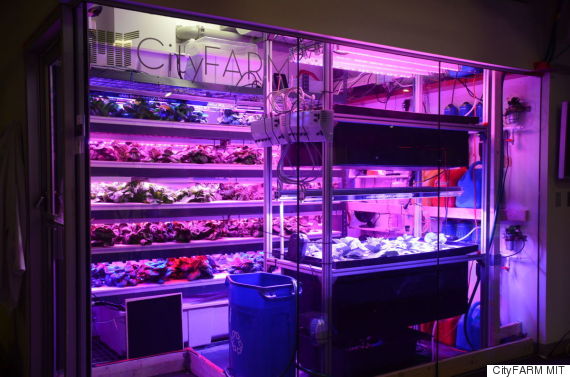 MIT's CityFarm research project, aglow with LED lights.
The goal of CityFARM, Harper explained, is to create a sustainable, scalable, open-source vertical farming system and solutions that can be shared by others in the still-nascent industry -- like buzzworthy projects just announced in Jackson, Wyoming, and Newark, New Jersey.
"What I'm trying to do is be like the Linux foundation for [agricultural] technology, to develop the cross platform that can go between these farms," Harper told HuffPost.
Plants at most vertical farms are grown hydroponically, or without soil, nourished instead by the recycling of a nutrient-rich water solution. Some such farms rely on aeroponics, where the water solution is misted onto the plants' roots. The farms are typically several stories tall, allowing for crops to be stacked in an enclosed space. Photosynthesis is brought about by artificial light, and sometimes augmented by natural light, like in a greenhouse.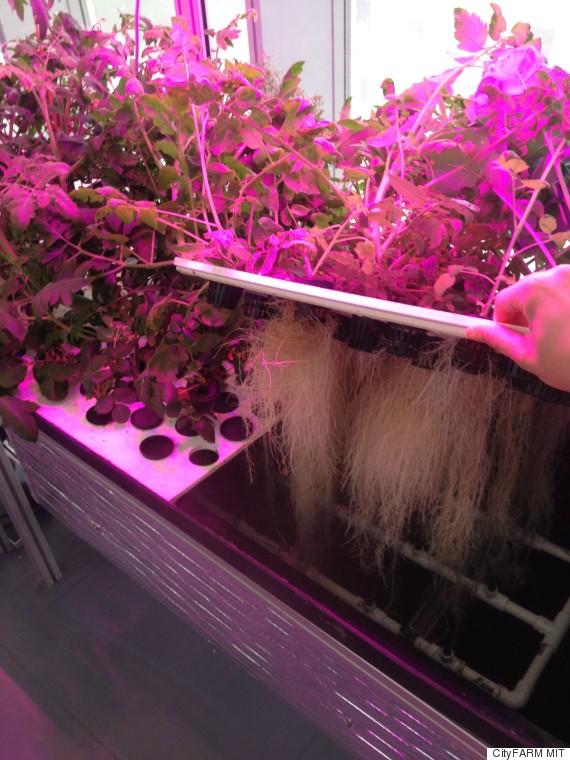 Produce grown at MIT's CityFarm research project.
The benefits of vertical farming are many, according to advocates such as Dickson Despommier. He authored what could be considered the industry's Bible, The Vertical Farm, in 2010.
According to Despommier's theory, by as soon as 2050 the world will run short on land suitable for the amount of traditional farming that will be required to feed a growing population. Vertical farming, he argues, would make for more efficient use of the limited land. It also comes with a number of other benefits, including year-round crop production regardless of climate and a shorter distance between farms and consumers.
Further, all the produce grown in vertical farms is, due to the nature of its cultivation, organic and free of any chemicals, herbicides or pesticides -- meaning that the food is both local and healthy.
The industry is growing so quickly, according to Maximilian Loessl, the Munich-based vice chair of the Association for Vertical Farming, that it can be difficult to keep track of where new vertical farm operations are being built. Though all of the world's vertical farms were based almost entirely in Japan as recently as seven years ago, about 100 companies were already spread throughout the world by 2012. Loessl says there are 24 farms currently operating in the U.S., ranging from large commercial operations to smaller research facilities like CityFARM.
These aren't just pie-in-the-sky startups chasing after the latest micro-trend either, Loessl argues. He points out that major companies like Philips and General Electric have entered the industry to help develop lighting solutions.
"These companies wouldn't invest hundreds of millions of dollars if they thought it would be a trend that would fade out," Loessl said. "I think vertical farming is here to stay and that we're just at the very, very beginning of really seeing the potential it has in making the world more food secure and more food safe, providing clean and local food to basically any location in the world."
Still, success is no guarantee. VertiCrop, a large vertical farm founded in 2011 in Vancouver, British Columbia, declared bankruptcy earlier this year. Harper points out that no farms have yet released data proving that their operations are profitable. None most likely are, he says -- at least currently.
What's holding many farms back is the struggle to simultaneously increase their yield-per-square-foot and decrease the cost of production -- particularly the cost of powering round-the-clock lights, which is high.
Another factor, Harper argues, is that many operations are working in a "black box mode," trying to address too many production concerns completely in-house rather than attempting to collaborate and share information with other farms. He likens the current state of vertical farming to the automobile industry prior to the Industrial Revolution -- and hopes his initiative will help spread information to ensure a better, sustainable bottom line.
"Before Ford, everyone was designing a car, every single component of it. Some of them were too slow, some were unsafe, some use too much gas, and some people at the time said cars will never work," Harper said. "It's going to take this industry to come together to really make a big impact."
Harper also questions whether consumers will embrace produce grown in such an unusual and unfamiliar way.
"People are incredibly skeptical of science and technology in food and are scared of it," Harper said. "How do we talk about that? Will people accept or understand it, and ultimately will they buy it?"
Carl Zulauf, a professor at Ohio State University's Department of Agricultural, Environmental and Development Economics, agrees that the consumer response to vertical farm produce will also be key to whether the industry growth will continue.
"Marketing becomes preeminent," Zulauf told HuffPost. "Will people buy into it and what aura will they assign to that product? If that aura isn't a good aura, it will be hard to get a premium price out of the product."
Marketing is already front of mind for Mark Thomann, CEO of FarmedHere. The company operates a massive, 90,000-square-foot farm in a formerly abandoned warehouse in Bedford Park, Illinois.
FarmedHere says it's been "growing in leaps and bounds" toward profitability since it launched the suburban Chicago facility, its third and largest farm, in 2013. Today, its basil, arugula and other greens are distributed to more than 400 grocery stores in the Chicago area, including Whole Foods, and will later this year launch a retail partnership with local Jewel and Target stores. Thomann declined to disclose more specific financial information about the company.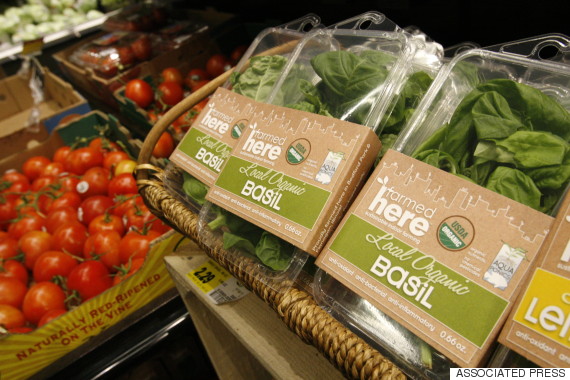 Boxes of fresh basil sit in the produce department at Mariano's grocery store in downtown Chicago on the morning of Tuesday, March 19, 2013. (AP Photo/Martha Irvine)
FarmedHere is also converting their fluorescent lighting to LED lighting, a change that five years ago would have been too costly. It's not only more affordable today but also more energy-efficient and, according to their research, better for crop yields. The company is also building additional growing operations within the facility to help them meet demand, which currently exceeds output. Thanks to utilizing ever-evolving technology, Thomann believes the next facility the company builds could look very different from those they're operating today.
"What we're doing could potentially be a major significant way to grow produce and other types of crops in the future," Thomann told HuffPost.
Recognizing that educating consumers about how the produce is grown is also important for the company, FarmedHere welcomes field trips of Chicago Public School students and their parents to come and see the facility for themselves.
As for the naysayers: "I like the skeptics best because they're the ones I like to prove we can do this, that this is something we can do," Thomann said. "We are trying to feed the world sustainable, healthy, organic, local food. It's why we exist as a company and why the category is continuing to improve."
Related
Popular in the Community