A Texas veterinarian is accused of keeping pets that were supposed to be euthanized alive to take blood and plasma from the animals instead.
Lou Tierce, a Fort Worth veterinarian, is being investigated by authorities. A criminal complaint alleges he kept a pet thought to have been put down alive for six months to use it for blood transfusions and "other experimental treatments," the complaint said, according to KDFW.
On Tuesday, authorities swarmed the veterinarian's office and took two dogs from the clinic as evidence.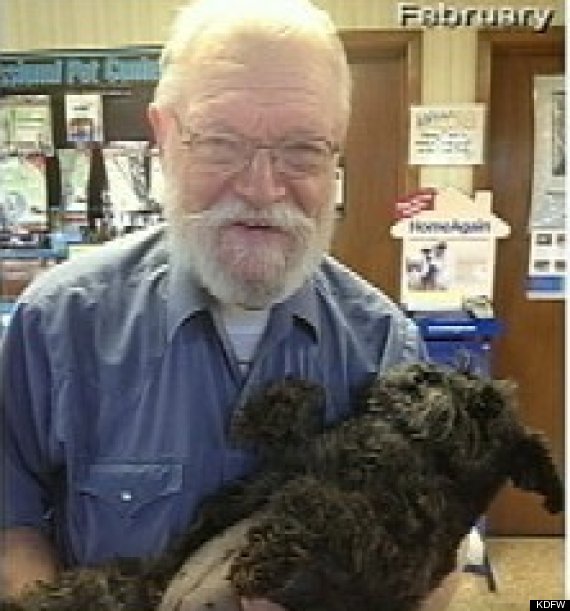 Dr. Lou Tierce
Jamie and Marian Harris said they took their 170-pound Leonberger dog, Sid, to Dr. Tierce in May of last year. The 5-year-old pooch was thought to have been euthanized due to a degenerative spinal condition.
"So I brought him in and had our tearful goodbyes, and we went over very specifically our plans for burial of Sid, and that was the end of it," Marian Harris told KDFW.
Former clinic employee, Mary Brewer, alerted the family after she said she discovered Sid was still alive.
"I remember coming in and them extracting blood from Sid, and basically shaving him, extracting his blood for the other animal upstairs," Brewer told KDFW.
According to the criminal complaint, Brewer quit the day she found out Sid was still alive and spending 24 hours a day in a cage, covered in his own feces and urine.
The Harris family said they drove to the clinic and managed to rescue Sid while two friends stood guard. Sid was taken to another vet, who said the dog had been tapped for blood transfusions, the Star-Telegram reported.
"[The vet] could not find a blood vein on this dog," attorney for the family, Jim Eggleston, told The Dallas Observer. "There was evidence this dog has been bled -- a lot."
Brewer said Sid wasn't the only victim of Tierce. Among other possible animals, Brewer said a cat that was supposed to be euthanized was also kept alive instead.
"He was brought in to be euthanized because he had an abscess in his mouth and couldn't eat, and Dr. Tierce changed his name to Graling, had us put him in the dog ward and left him there, and this time that I came back in in 2013, he's still there," Brewer said.
Fort Worth police and officers from the Texas Board of Veterinary Medical Examiners spent several hours at the clinic on Tuesday. Investigators plan to meet Wednesday with the district attorney to discuss the possibility of filing criminal charges against Tierce.
Tierce has so far declined to speak to reporters.
Calling all HuffPost superfans!
Sign up for membership to become a founding member and help shape HuffPost's next chapter
BEFORE YOU GO
PHOTO GALLERY
10 Worst States For Animal Abuse Laws