A grand jury found there was "insufficient proof" to charge Kristen Lindsey with animal cruelty, according to a press release from Austin County District Attorney Travis J. Koehn.
Lindsey made national headlines in April after posting a photo of herself holding an orange cat with an arrow through its head. She captioned the photo with, "My first bow kill, lol. The only good feral tomcat is one with an arrow through it's [sic] head! Vet of the year award… gladly accepted."
Warning: The graphic photo Lindsey posted can be seen at the end of this story.
Amy Hemsell, who lives in the same town as Lindsey, said she believes the "feral tomcat" was actually Tiger, a beloved pet who went missing from a farm near Lindsey's home around the same time Lindsey posted the photo. Hemsell told The Huffington Post in an email that Tiger's owners wish to remain anonymous. She said she was a petsitter for Tiger for three years.
"All the [cat's] markings are identical and he has never returned," Hemsell said.
Hemsell remembered Tiger as a friendly cat that got along with animals and people. "He loved everyone he met," she said. "He was my protector on the farm when I had pet sitting jobs there -- he never left my side."
The district attorney's office explained that for a veterinarian to face charges under Texas law, prosecutors would have to prove either that she killed a cat in a cruel manner or that she killed a cat kept as a pet without the owner's consent.
The release states that American Veterinary Medical Association guidelines say a "bolt to the head" can be a humane method of killing an animal when performed correctly. "Evidence is insufficient, based on the online photograph alone, to determine whether the animal was killed in a cruel manner," the release states.
Furthermore, the DA's office says there was not enough evidence to determine whether the cat killed by Lindsey was indeed Tiger. Hemsell guessed this is because the cat's body was never found. The office has not returned The Huffington Post's request for comment.
The Texas Board of Veterinary Medical Examiners has yet to decide whether Lindsey will be able to keep her veterinary license.
Hemsell and Tiger's family are establishing the Tiger Memorial Education Fund, which Hemsell said will be dedicated to educating the community about cats, starting a trap/neuter/return program, and assisting the public with getting their cats spayed and neutered.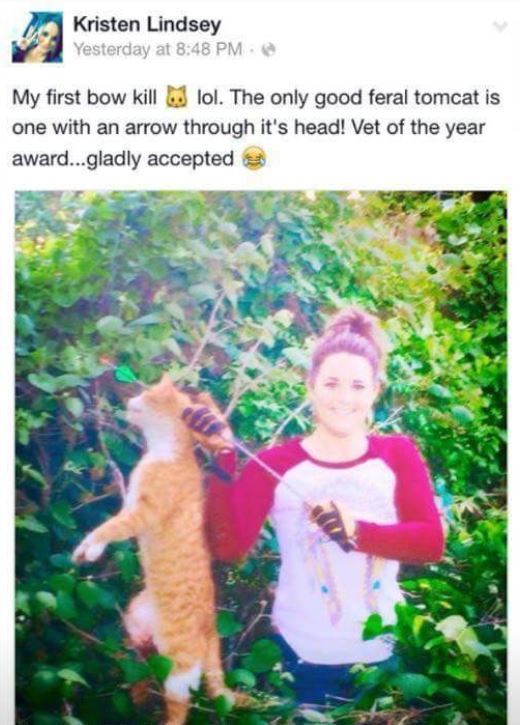 This article has been updated with Amy Hemsell's comments.
CORRECTION: A previous version of this article referred incorrectly to Hemsell as Tiger's owner, citing an April story that ran in The Eagle. She was the cat's pet-sitter.
Like Us On Facebook |

Follow Us On Twitter |

Contact The Author
Related
Popular in the Community