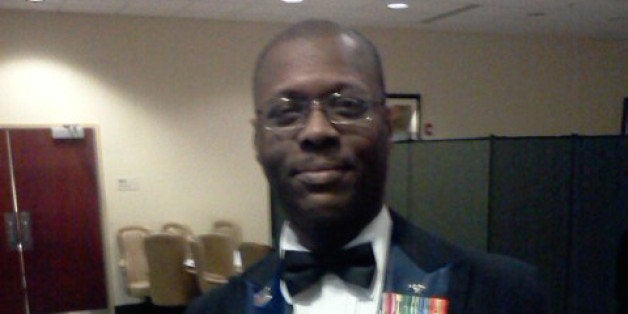 This article is part of a special Huffington Post series, "Invisible Casualties," in which we shine a spotlight on suicide-prevention efforts within the military. As part of the series, The Huffington Post contacted military service members and veterans who have considered suicide to learn what saved them from that irrevocable step.
Both times Joe Sanders attempted suicide, he had friends and professional help close by. Both times he was able to stifle the impulse to end his life and instead accept that he needed to get help.
A little luck didn't hurt, either.
Sanders, 48, is an Army reserve sergeant major, the highest rank for enlisted soldiers. The son of an airborne Army Ranger, he grew up in Atlanta in a proud family that valued the ideal of service.
When things went bad, he said, "I had people I knew I could turn to." It was 2005. Sanders was going through a divorce and custody struggle. He had a stroke and recovered physically, but it was followed quickly by depression. His brother, recognizing the signs of severe stress, called to say that if Sanders needed to talk, he was available.
Sanders shrugged off that offer for help. One night he decided to leave the decision up to chance. He loaded his revolver with one bullet, spun the cylinder, put the gun to his head and squeezed the trigger.
It clicked on an empty chamber.
But the near-death experience shocked him out of his despair, and at 1 a.m. that morning he found himself knocking on a friend's door.
"This was a guy who had told me, anytime you need help, come get me. Anytime. And he took me in," Sanders said. The friend kept him safe overnight, and in the morning they went to a mental health clinic. But recovery wasn't all that easy.
Five years later he felt the world closing in on him again. His second wife, also a soldier, was deployed. He was going through separation anxiety, and was left to care for her children. "No matter what I did, I felt I was doing something wrong," he said. He was certain he had let everyone down, and at that moment, at least, it seemed like ending his life was the answer.
He got in the car and hesitated before turning the key. "I thought, what happens if I start the car and don't open the garage this time?" He turned the key. "I sat there with it running for a second and then did an inventory of my reasons to live." Startled by the length of the list, he shut the engine off, got out, opened the garage door and drove straight to the military chaplain at Fort Gillem in Georgia (a base that has since been closed) and then to see a suicide prevention officer.
Together, they worked up a suicide safety plan, which counselors often customize for each patient considered at risk. It contains a list of triggers -- thoughts or events that feed the individual's suicidal thoughts. A checklist of coping strategies, ways to counter each trigger. And a list of people to call for support.
"They said, 'You go on home now and we'll call in the morning to make sure you're okay, and we'll call you in the evening and continue checking on you until everything is okay and you're not feeling as stressed,'' Sanders recalled.
Well, he said, "that was quite effective."
Looking back on these close brushes with death, Sanders concludes that the most effective suicide prevention tactic is simply to listen. When he's not on duty with the Army, Sanders works for a VA homeless program in Atlanta. Out on the streets, he checks homeless vets for warning signs of suicide and uses his own experiences as guidance.
"What I found helpful to me was, if someone takes you seriously and takes the time to listen to what's going on with you," he said.
"No one can understand exactly how you feel," he acknowledged. "But you just say, 'I don't need fixing, I just need you to listen.' And then having people call and check up on you. That shows people really do care."
Despite the Army's extensive suicide prevention programs and resources, Sanders said that until he went to a friend, he was unaware of where to go for help inside the military. And he was afraid that if he did ask a military therapist for help, it would affect his career. Luckily, he said he had understanding superiors "who made it easy for me to go get help."
"It depends on the command climate," he said. "Some commanders are so afraid of having a soldier who is suicidal return to duty" even after he or she has been treated and cleared. But the command climate is changing, he said, with a greater understanding of mental illness.
Still, when someone in the ranks is seeking mental health counseling and decides to tell a superior, "I would advise the soldier, as a sergeant major, not to give them any information that may be harmful" to his or her career, Sanders said.
To see all the articles, blog posts, audio and video in this series, click here. If you would like to share your story, send an email to impactblogs@huffingtonpost.com.
If you or someone you know needs help, call the national crisis line for the military and veterans at 1-800-273-8255, or send a text to 838255.
Calling all HuffPost superfans!
Sign up for membership to become a founding member and help shape HuffPost's next chapter
BEFORE YOU GO
PHOTO GALLERY
Companies That Work To Hire Veterans