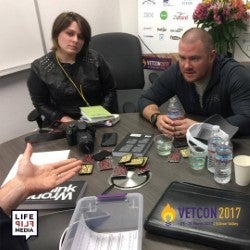 Contributed by LifeFlip Media CMO, Theresa Potratz.
As day one of the inaugural veteran-entrepreneur conference closed, it's clear the event is breaking molds. Taking place in GSV Labs, this event is drawing VC capitalists, Silicon Valley heroes, and veterans alike while drawing press attendance from The Wall Street Journal, Forbes, Inc, and more.
Termed "vetrepreneurs," these retired military professionals experienced an action-packed first day, with Box hosting a pitchfest where 15 semi-finalists completed in front of venture capitalists for $10,000 in funding as well as $5,000 in legal assistance from conference sponsor Cooley.
One semi-finalist drawing from discipline and grit developed during their service is vetrepreneur, Diana Tsai of Veterati. In a world where less that 10% of the c-suite is female, Tsai is CEO of the company aimed at connecting veterans and non-veterans with mentors. Access to mentors provides help in finding employment and in the case of veterans assist in navigating the civilian world after their service.
Drawing successful companies from beyond the standard veteran-community, the event welcomes diversity bringing in Unshackled VC, as a judge for the pitchfest. Unshackled has made their mark as a group poised to help immigrant founders succeed.
When asked what prompted the creation of the conference, Ian Faison replied, "Veteran founders are building startups across the United States but don't have streamlined access to Silicon Valley resources and investors. Similarly, VCs and angels are looking for ways to access quality deal flow and invest in veteran led startups. Many firms have a thesis around finding leaders with integrity committed to solving global problems. But where do you find those founders?"
Wrapping the first day up was speakers including the CEO of Grunt Style Daniel Alarik, who gave an impressive address.
"We have the best customer service on the planet," Alarik declared referencing Grunt Style. "And I have the numbers to prove it. In the last 30 days, we've received 227,000 phone calls and emails. The average pickup time is 14 seconds. We don't have an automated system. We only use hold for customer service." He continued his jaw-dropping stats citing that email response times were at the 7-minute mark.
Grunt Style's customer service and their commitment to "sell pride" is what other vetrepreneurs are hoping to learn from -- and given the mindset of having their comrade's six, or back, it's no wonder the event has drawn sponsors like Fiverr, Hubspot, and Facebook.
VETCON is nearly sold out with two more action-packed days to go, making #VETCON2017 a vital hashtag to follow.
___________________________
Landmark Life Coaching's Mission is to honorably and respectfully serve courageous groundbreakers and transitioning veterans to persevere in defining and executing their future by providing an atmosphere of comradery and trust that honors their dedication and commitment. This will empower our clients to feel whole, honored, respected and fulfilled in defining and living their life purpose.
Charlie Mike Podcast is where our Nations Combat Veteranpreneur's talk about how they transformed their combat experience into a groundbreaking entrepreneurial success. We will discuss their experience in relation to what I have defined as their VisualReality; their personal vision of building a successful business leveraging their combat experience to bring the core strengths of a combat veteran into the entrepreneurial realm.
Veterans Coach/Podcaster/Speaker/Writer dwayne.paro@landmarklifecoaching.com
www.landmarklifecoaching.com
www.charliemikepodcast.com