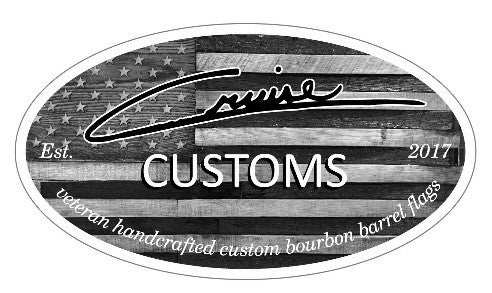 Chris and Amber Cruise started their new venture, Cruise Customs, after receiving feedback from many people about the Christmas gifts that they made for their veteran fathers. They wanted them to have a unique gift that they would love to have in their home and show their pride in America. Chris being a veteran himself and his wife being from Kentucky they had decided to combine those two important aspects of their lives in one creative patriotic product. They created the Bourbon Barrel Flags which come from Bourbon created in Kentucky. Every flag is individually made with the customer in mind and incorporates a story within the final product that comes from the patriotism of the client, the reason they are having the flag made and the rich history of the materials being used.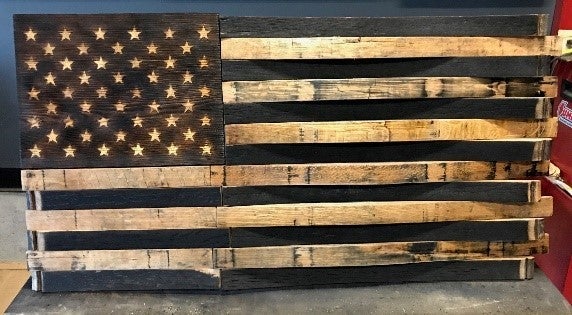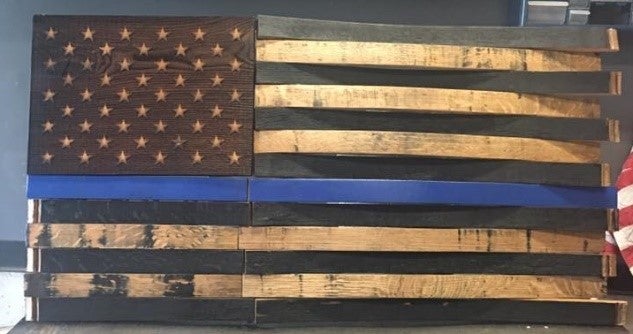 They have incorporated various technologies such as laser etching for logos either on the stripes of the flag or in the field of stars. This provides a personal touch to the flag for the individual who is buying the flag. Below is an example of this with the flag they made for the CEO and Founder of Grunt Style, a well-known brand within the veteran community.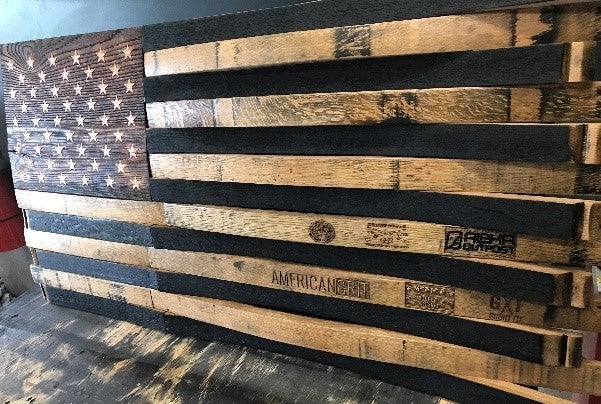 The vision for Cruise Customs LLC is to provide a transition place of work for veterans. Chris and Amber want to be able to give back to the veteran and first responder communities by providing a place for them to do meaningful work, heal and prepare themselves for a successful transition into a new future. Chris remembers the struggles he faced in preparing for and executing his transition. He believes that if he can provide some form of support to his fellow veterans and the first responders in transition that this is his way. He has found that woodworking is therapeutic for veterans with anxiety and PTSD as it gives them something to pour their focus and energy into, at the end of the day feeling like they have created something of real significance.
"We know that making American flags for patriots and veterans is meaningful for the craftsmen that create these works of art."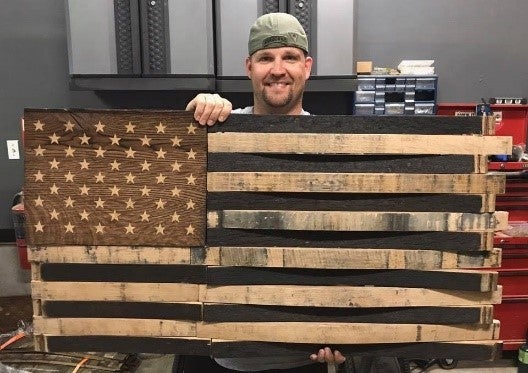 They plan to grow and hire as many transitioning veterans as they can as a way to support them in finding their new purpose. There is quite a metaphor within the repurposing of the Bourbon barrels; they once served a great purpose and they now make them into works of art with a new and equally important purpose. This is the same thing they hope to provide for veterans in transition so they can find their new greater purpose as well.
They have been reaching out and networking within the veteran community to be able to partner with those that provide a complimentary product or service. This will allow them to grow exposure to their product and provide value to other businesses in the veteran and first responder communities.
Cruise Customs American Flags provide a product that is beautiful and people are eager to have in their homes, offices, and businesses. The flags have meaning and a story behind every one. Our flags not only are a work of art, but customers will know they will be helping veterans find their way in "the real world" and are built by American Heroes with American tools.
Chris and Amber were recently on their local news showcasing their new venture. Check out the interview in its entirety below.
_____________________________
Landmark Life Coaching's (www.landmarklifecoaching.com) Mission is to honorably and respectfully serve courageous groundbreakers and transitioning veterans to persevere in defining and executing their future by providing an atmosphere of comradery and trust that honors their dedication and commitment. This will empower our clients to feel whole, honored, respected and fulfilled in defining and living their life purpose.
Charlie Mike Podcast (www.charliemikepodcast.com) is where our Nations Combat Veteranpreneur's talk about how they transformed their combat experience into a groundbreaking entrepreneurial success. We will discuss their experience in relation to what I have defined as their VisualReality; their personal vision of building a successful business leveraging their combat experience to bring the core strengths of a combat veteran into the entrepreneurial realm.
Dwayne Paro - Veterans Coach/Podcaster/Blogger/Speaker
Support HuffPost
The Stakes Have Never Been Higher
Related
Popular in the Community