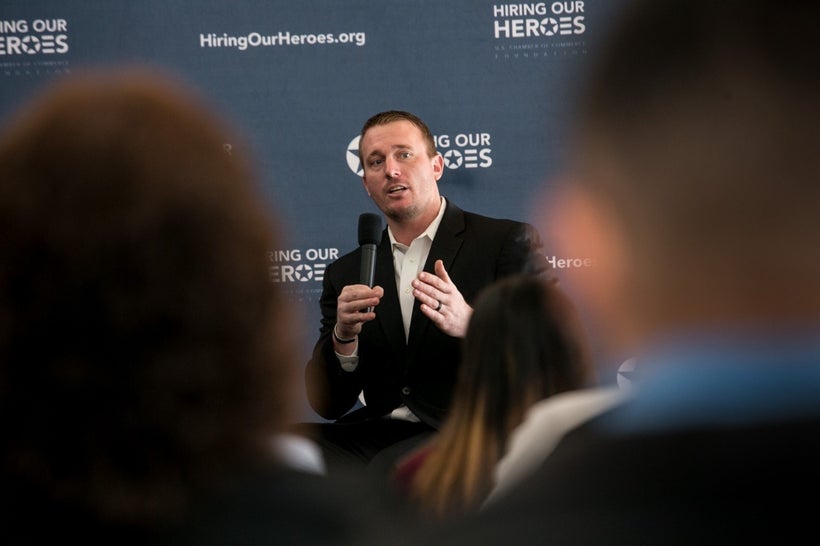 When I first joined Hiring Our Heroes and Toyota as a Personal Branding Ambassador in 2012, it seemed the phrase veteran employment was nearly always followed by the word crisis.
Unfortunately, this wasn't alarmism at work. A decade into what is now America's longest running war, there was a startling double-digit unemployment rate for post 9/11 veterans. For me, though, it wasn't just about the numbers. I knew these veterans and I knew the employment struggles they were facing. I was one of these veterans. My personal transition out of the Marine Corps was tough and I watched my friends encounter the same challenges in their own transitions.
I didn't hesitate when I had the opportunity to use my voice to advocate for my generation of transitioning veterans, and over the last five years, an incredible evolution has taken place thanks to the concerted efforts of so many. The DoD, for example, enhanced its transition education programs across the services. Veteran-focused partnerships in the private sector have also changed the landscape for veterans with the development of tools and resources to empower transitioning service members.
With these tools in hand, service members have taken ownership of their transition into the civilian workforce. This ownership is a critical component in a successful transition process – service members, who are educated about the process and the workplace culture they will encounter, are much better prepared to excel from day one in the civilian workforce.
Service members are well aware of the importance of researching and planning. After all, no Marine has ever headed off on an overseas deployment assuming he knows all the local customs and that all the local citizens speak English. Instead, he learns about what he should expect and even brings along a translator. It's what allows Marines (and soldiers, sailors and airman) to be so effective.
Today, service members are bringing this mentality to transition. They are using the tools that are available to them to research civilian career opportunities, develop a strong resume and personal brand, and become educated on the hiring processes and workplace culture.
These days, the phrase veteran employment is no longer synonymous with crisis. In fact, recent research shows that veterans are now a top-tier priority for human resources professionals today. Together, we are writing a new chapter in the veteran employment story.
I've seen the change with my own eyes, as well. When I travel to veteran employment events with Hiring Our Heroes, I speak with a lot of employers. Years ago, the questions I heard were focused on why employers should hire veterans; today, I'm more frequently asked what employers can do to attract and retain top veteran talent.
So this Veterans Day, I wanted to share four tips for employers who are looking to not just recruit but empower and retain veteran employees:
Avoiding Culture Shock. Despite all the research your veteran employees are doing to prepare for the new culture they'll encounter, there will likely be some nuances of your company they'll need to learn on the job. Many larger organizations offer employee resource groups (ERGs) based on shared traits, and a veteran ERG can be a great way to foster camaraderie among veteran staffers. It also provides formal or informal mentoring opportunities amount employees, which helps veterans assimilate even faster. At smaller organizations, mentoring between newer and more established veteran staff can play this same role.
Transparency Counts. As service members, there is a high degree of transparency in the promotion process. The timetable for evaluations, advancement opportunities, and pay raises is readily available and universally known. As civilian employees, veterans can be easily empowered by straightforward communication from their manager on this front – a simple conversation about evaluation periods and expected timelines for career advancement can make a big difference.
Making a Difference. In my experience, the common denominator amongst all veterans is that they all want to live their lives with a purpose, to serve something bigger than themselves. They want to know that they are making a difference in the world. As you talk with veteran candidates, remember that while it's important to share details about the position, it's equally important to share with them the mission of the company.
Let Them Know You're Looking. Throughout the transition process, service members are often told that to find the right cultural fit, they should consider positions with companies that are veteran ready. So if your organization is both looking for and prepared to empower veteran talent, make sure you're communicating that publicly. Attend veteran-focused hiring fairs. Sign up for an employer account to search through veteran resumes on ResumeEngine.org. Mention 'equivalent military experience' in the position requirements shown in your job listings. If your company is looking to hire veterans, take advantage of the opportunities to communicate that.
The cultural divide between our nations' veterans and civilians still exists, but it's shrinking. As long as we continue to build the bridge from both sides, we'll find that middle ground in no time.
REAL LIFE. REAL NEWS. REAL VOICES.
Help us tell more of the stories that matter from voices that too often remain unheard.
This post was published on the now-closed HuffPost Contributor platform. Contributors control their own work and posted freely to our site. If you need to flag this entry as abusive,
send us an email
.